UNVEILING BOWIE IN AYLESBURY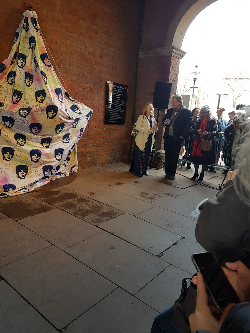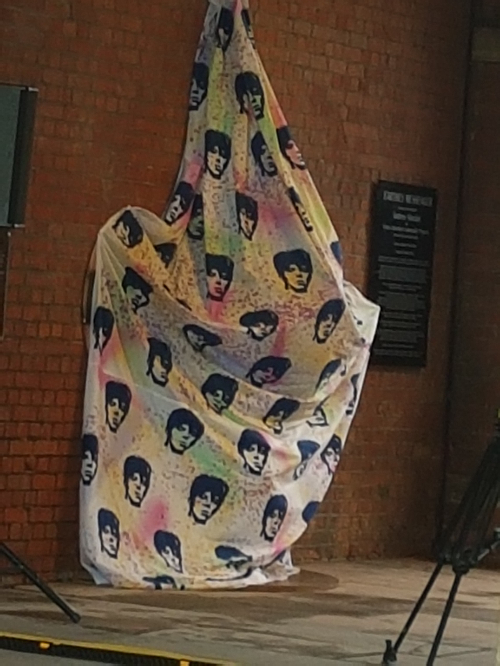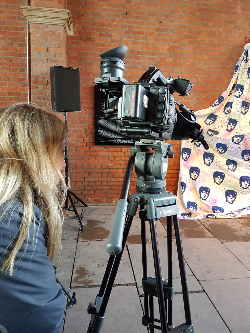 On the Sunday 25th of March in the market town of Aylesbury , England the world's first David Bowie statue was unveiled and yes we were there !
We , being creatures of the night ( like most glam rocking legends are , natch) headed to Aylesbury the night before the unveiling on the Saturday to settle in and get our bearings so the Sunday would run like clockwork. We arrived late afternoon (dark , late afternoon) after a slight detour to an antique centre near Bletchly where some nice glam records and jewellery were purchased. We had never been to Aylesbury before so didn't know what to expect. We checked in to the hotel had some food and a glass of shiraz and headed out into the darkness of the night. What with the rain and wind I must say that Aylesbury was the furthest place / thing from anything remotely connected to glam rock , let alone the worlds first David Bowie statue! We got our bearings and made haste back to the hotel to prepare for the next day.
What a difference a nights rest and a new morning can make. We arose to brilliant sunshine and after the months of darkness , rain , wind , snow and ice it did seem like the glam gods were shining down on us all that day. We had good vibes and were all ready for the day (and what turned out to be ) night ahead.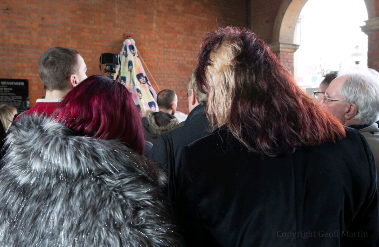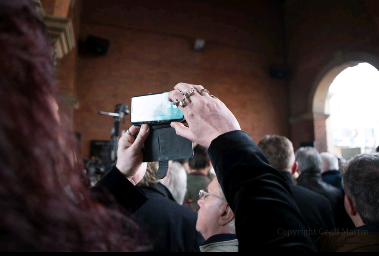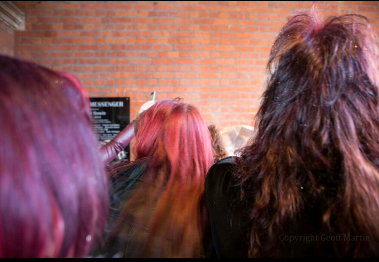 looking on....waiting...waiting...waiting......
We had worked out the route to the venue , well I say route it was , at most a 2 minute walk across a road and through a car park , so off we set to wait for the unveiling. We arrived and there were barracades around both end of the arch to keep out people until they were ready , we had wrist bands so we got to go into the section under the arches and after being collared for a short interview , then we took our places and waited for the event to begin.
There began to be quite a bit of activity around the statue and then people started to appear , namely , Steve Hogarth (Marillion) , Howard Jones , David Stopps , Rob Stringer and Andrew Sinclair and they took there places under the arch ready to start proceedings.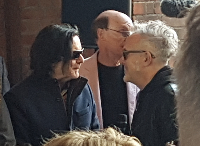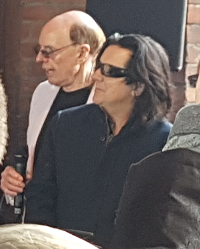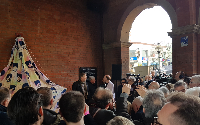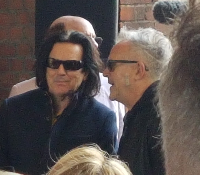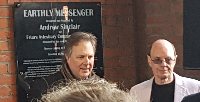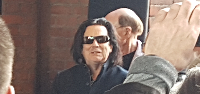 Then the P.A buzzed and the sound kicked in and it was off we go. David Stopps started proceedings and spoke to Rob Stringer (Head of Sony Music , no less) about how he had given him his first job in the entertainment industry the highly position of junior door man at the Friars club there in Alysebury. After a short few words about the fee for the said job , Rob then started to thank David for doing the statue and said how proud he was of him , and telling everyone in the town that the statue was all David and Sue's doing , and he thanked them for doing it! Many a true word said. Then it was approaching the time of the unveiling ,David looked around and asked "does anyone know the time?" , then as if the glam gods had planned it the town clock chimed the hour! Over to Steeve and Howard to unveil the statue. They did with a little hitch nothing major then a gasp was heard in the air , it was here , this was it , WOW! Then lost of photographers headed into a scum to get some pictures, as they did. After that then Andrew Sinclair ( the artist ) went into how he invisoned the piece and how it came to fruition. Here below is what we saw that day.......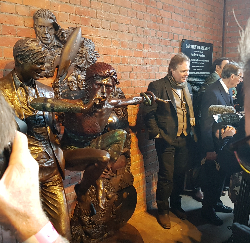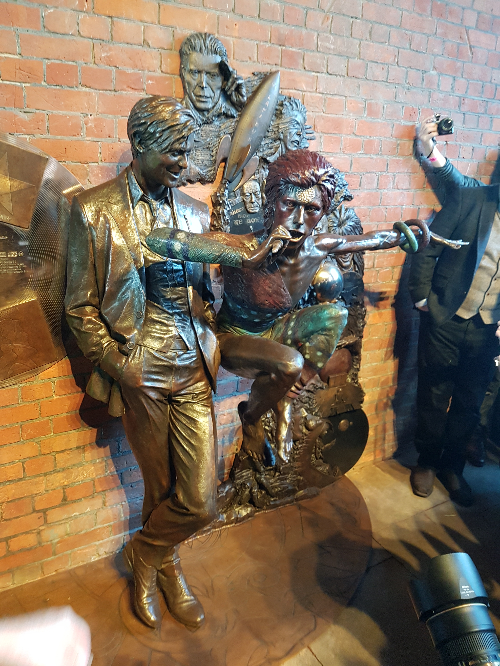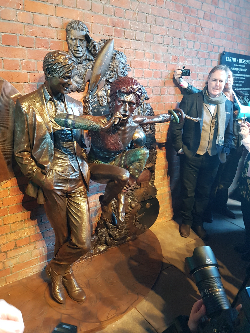 Then it was off to the champagne reception at the waterside theatre just across the way , not until a quick hotel stop for a hairspray refresh and a shiraz was made!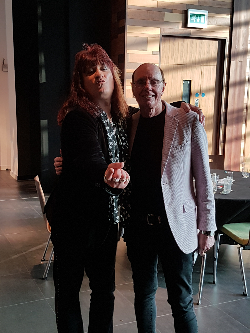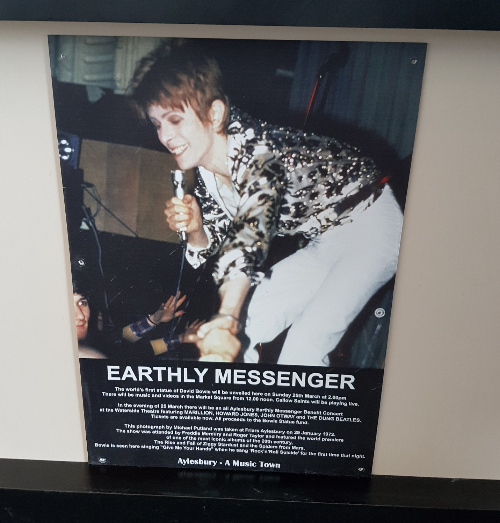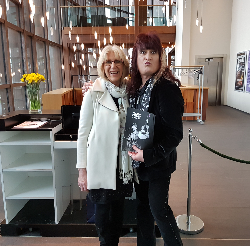 Taken at the reception. The guy is David Stopps and the lady is Sue Stopps , without whom......
So we arrived there at the Waterside theatre and I said hi to Sue and thanked her for her work (no less than two years to get this thing from inception to fruition)
" A labour of love" I said , and she agreed , what a nice pleasant lady who I wish we had more time to chat to , but the place was a bustle with people and excitement nearly 500 bowie fans in one space along with glasses of bubbles and a bar too , so you can image the atmosphere was electric and time for recorded words was short. Also as an a-side they had produced these lovely flyers and postcards for free take a look below things of beauty for sure!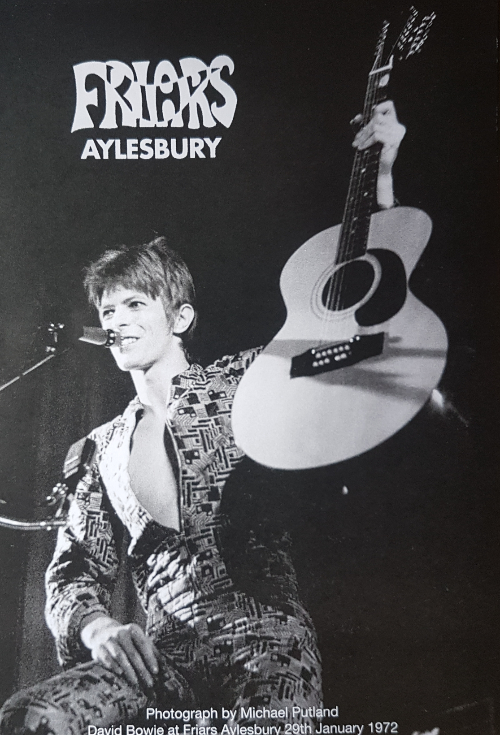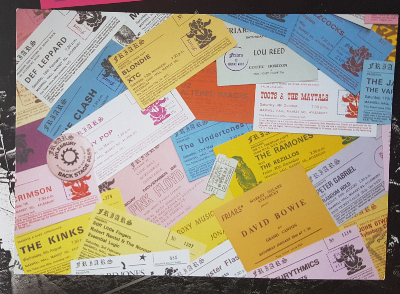 The merchandise stall was abundant with goodies , I had most these already because I had pledged to the fund so you got most of the merchandise before the day , but , Ali wanted a pink shirt and a keyfob , also there was a dvd I didn't have and a programme info type thing about Frairs and its history all must-haves really. At this point the bubbles were flowing and we had only had the quickest of breakfasts so the hunger pangs were rife , but hey, when you are partying at the worlds first David Bowie statue unveiling party , hunger seems unimportant .That was until trays of bowie cupcakes appeared , not being into cupcakes I declined , then I thought why not? 4 cakes later the deed was done. Thank you merchandise stall ladies. Also later I thought not for me however , but to get to eat David Bowie would have ticked quite a few of the peoples boxes , but that's another story HAHAHA!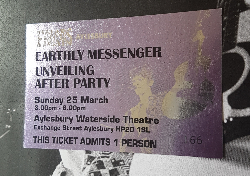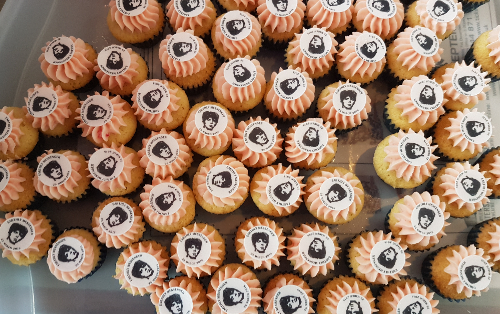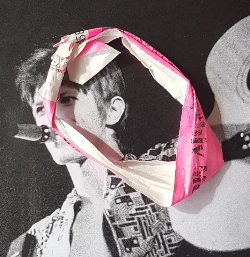 After the merchandise was purchased and cup cakes devoured it was time to move on round the corner and catch the wonderful Charlie Fowler as "David Live" for a stripped down run through the classics just vocals and piano , I gotta say of all the Bowie tributes..................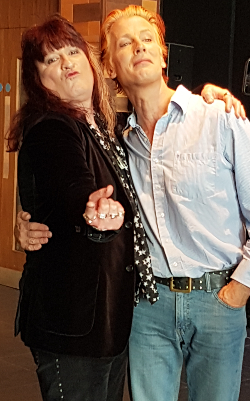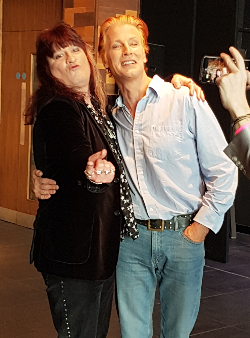 Charlie not only looks the part ('76 era) but sounds it too! There is no hiding when its that stripped down , having never seen their tribute before they are on the MUST see list this year for sure and we can not wait!
So more wine was comsumed and more chat followed and then we caught back up with Geoff and Kathy Martin who we had bumped into at the unveiling.They had only just made the unveiling in time and were stood behind us (hence the great photo's of the back of our heads above) and when we had taken some photographs of the statue ( it was a free for all , we had some photo's but decided to go back later...or as it turned out the next day!) we chatted with the couple and had many , many things in common not only Bowie and whilst they had head back to the hotel to check in (the same hotel everyone was at including Howard Jones , the Travelodge) we aggreed to meet back up at the party and hey! here we were.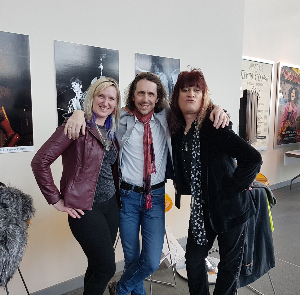 Kathy , Geoff n me . ali and Finn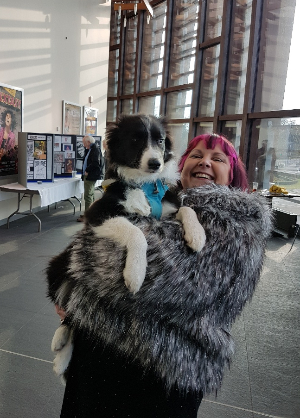 So we all were chatting away as you do when you click with good people ( yes there still some of us around! ) and yeah Ali was bonding with Finn the border collie pup (who has his own instagram no-less). Just good vibes all round and before we knew it it was time to leave the party , as were were the last there (natch..). So we made our way down the stairs and (as we thought ) off for a Thai meal, however things didn't work out like that. After fizz and numberous shiraz's the call of nature was to be obeyed, so off I went...and when I reappeared it transpired that Geoff and Kathy's friends who were to meet them at the concert later ( we didn't get tickets..) couldn't make it and they asked if we would like the tickets! Talk about say what???? So back to the hotel is was to re adjust and get ready for a nights rock n roll that we did not expect at all!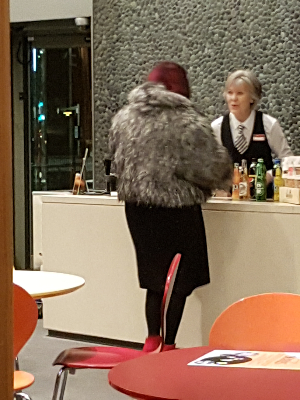 yes this summed up the night quite frankly Ali getting drinks and que the rock!
The show had four acts on the first "The Dung Beatles" Yes a Beatles tribute , not much to say but it was mainly later stuff and a sing-a-long was had by many .Next up was "john Otway" and then "howard Jones" , but we were still chatting high on the days events to notice , however , Kathy appeared we refuelled and then took our places for the headline act "Marillion".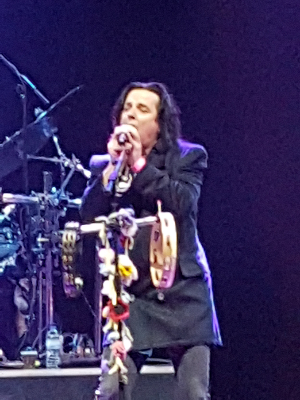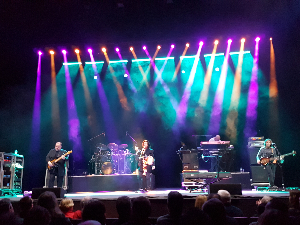 Now I do remember Marillion from back in the day , but they are far removed from anything glam rock , however the main show was professional and precise and quite fun it must be said. However the encore was of course a Bowie tune "Heroes" (natch..) for which all the bands rejoined the stage including David Live's Charlie and it was truly a moment after the days festivities.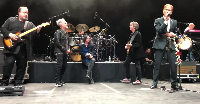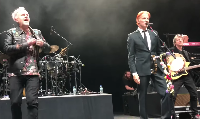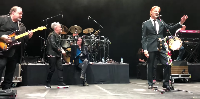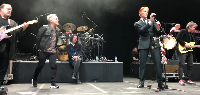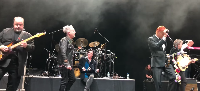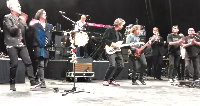 After the song the band got David and Sue Stopps up to say thanks and just generally wind things up. And within a blink of a glittered eye it was show was over. Then the loud strains of jean genie came over the P.A and we danced again. glorious just glorious!
Then off out into the foyer again and yes where more partying was to be had.......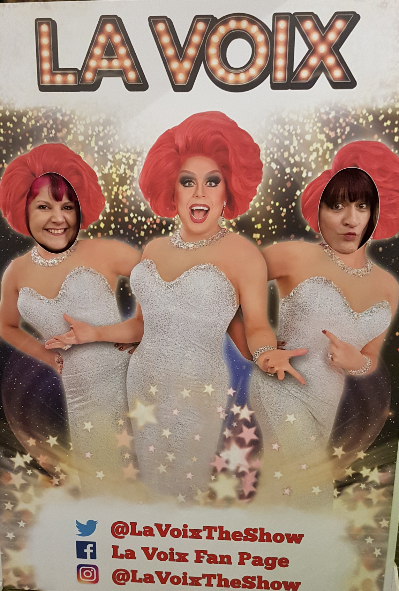 Then back to the hotel and yes more partying until..well I can not remember , but a good time was had by all!
The next day....It was time to go and get some breakfast . I had slept in yesterday's make up and my hair was up before I was , but eat to the beat we must ,so off I went to the breakfast bar. As I stepped out of the lift all I heard was "I love your hair!" to which I replied "and good morning to you too" today was going to be ok after all , if a little slow! As I made my way to the buffet focussed on the job ahead I grabbed some food and notice one of last nights casulites with his wife , greeting were exchanged and "a little slow" was mentioned at least once , then as I finished the food run I spotted Goeff and Kathy at a table I had just past "Hey1 How are you?" .."a bit slow" was mentioned , yes you get the drift we like a party! Then off to the room ...food , shower and dress , eat to the beat baby! We then checked out and made out way to the statue site which we had left less than 24 hours before. Well as I write this that what happened kind of but not after three lift trips to find the car keys and a parking ticket later.
When we were walking to the site we bumped into Geoff and Kathy again spoke and "a little slow" was mentioned then off to the statue it was and when we got there we saw the Sculptor (Andrew Sinclair) and his wife and friends heading away we said hi but there was no mention of slow at this point. Then we were under the arches and there it was in all its sun drenched glory (plus a few other fans..) it did (and does) look AMAZING!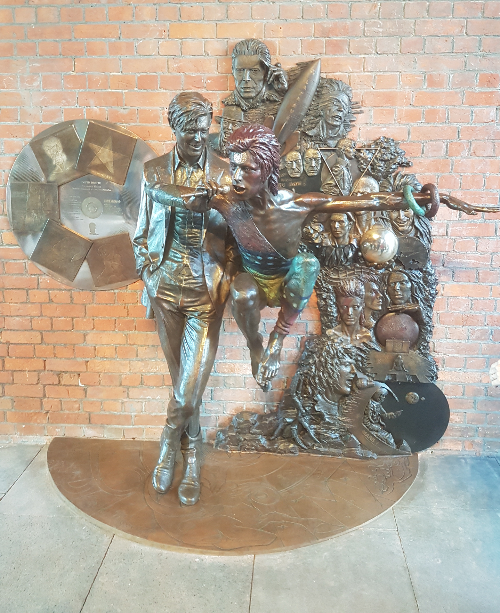 Bathing in the sunlight the world's first David Bowie statue!
Then it was time to leave and head home , but on the way back to the car park who should we bump into again?? Yes Geoff and Kathy we had only met the day before but for all our years on the planet we met up more times than close friends do , kinda summed up the whole event.
We got back home and back to work the next day , we hit ground control indeed! Then I got a text from Ali quite early ,which is usual anyway I saw it was an image and then I opened the image it was a picture of the statue and it had been vandalised! I could not believe it , after all the love that had been there not two days before and some good for nothing had taken the time to try and ruin two years of work in a flash of a spray can! There was black paint on the statue and "feed the homeless first" sprayed on the floor , funnily enough if the idiot had looked into the statue at all he would have know that it was all privately funded and no public money was used , however being as it had been vandalised public money would have to be spent to clean it up! Also a uber fan put up a £5000 reward ( to be donatated to a homeless charity) if the idiot gave himself up. However no-one came forward..... Douche bag! I will not show the damage here because it was really upsetting and as time goes on and I realise the gravity of the statue I don't want anything negative on this page or indeed this whole website , but should you wish to look just search on YouTube. Luckily the statue was returned to its former glory! Many thanks to the hard work of those involved!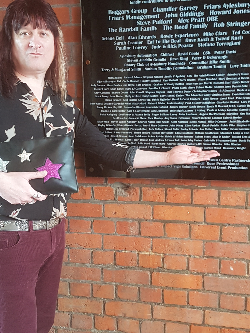 Above is me ( no make up ) with nothing but pride for the whole thing and yeah it has my name is on there. As I said as time goes on and I have time to think , as you do , the gravity is still hitting home about it all really , no one anywhere can claim to have the first David Bowie statue and we were there to celebrate it. Music is mostly a personal thing ,but , also it brings together people in way nothing else does , the co-joining of fan and artist , fan and fan , and fan and non fan is a fantastic thing to behold. To have a place were Bowie fans can go have a little me time or have a chat to other fans or strike up a conversation with someone they don't know can only be a good thing. More positivity and less negativity is the way forward.
I do urge everyone to make the trip (ours will be annually at least! ) it will be worthwhile and have a lasting effect for sure , but isn't that what art is about ?
If you want to get involved just email Sue Stops here and see how you can help out , they still need support and if you email Sue she can tell you how and hey why not! If you do , don't forget to say suitsandtheplatformboots.com sent ya!
love on ya!
Photographs copyright Michael Putland , Geoff Martin and suitsandtheplatformboots vaults.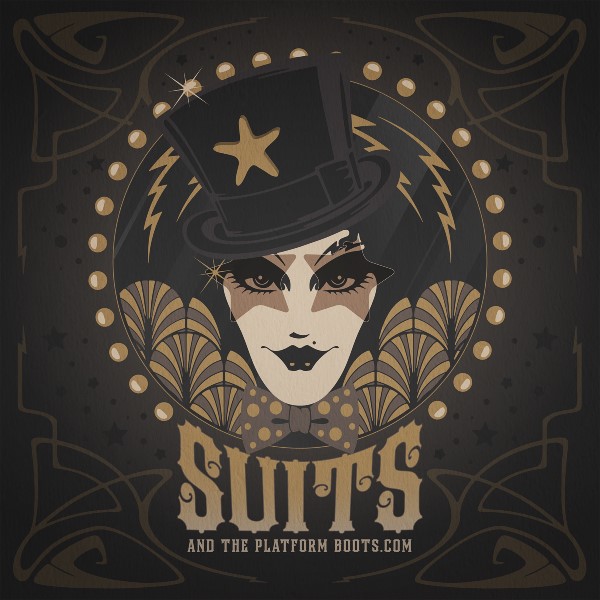 c.suitsandtheplatformboots.com 2018