"Nothing Is Anywhere" by D Generation with Danny Sage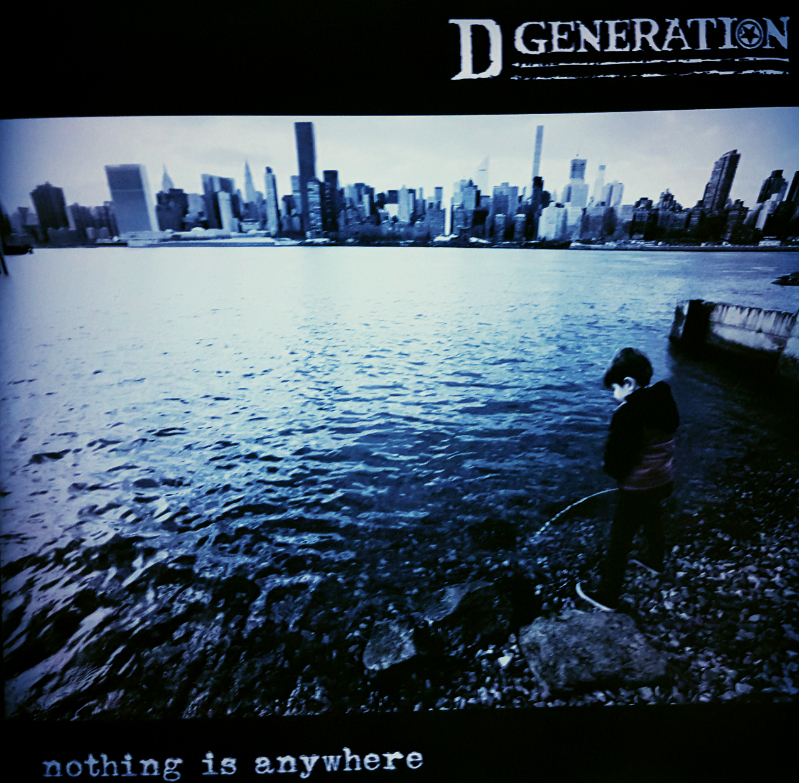 Today we are joined by Danny Sage, guitar player and driving force behind "Nothing Is Anywhere" the latest and possibly last full length record by D Generation. Read on to see what was behind the whole vibe of the record. The ups, downs and yes a love of Bowie and Mick Ronson.
Hi Danny, thanks so much for talking to us today. So "Nothing Is Anywhere" is the latest (and last?) D Generation album and that is what we are talking about today. So Danny after all the years of inactivity in the DGen camp, what stirred the creative juices to make you and the rest of the band want to record again?
Danny Sage ; We got asked to do Azkena festival in, I think 2011. It's the biggest festival in Spain. It was prestigious, it was a good offer and it was a great bill, Cheap Trick, Clutch, Queens Of The Stone Age, Bad Brains and us. It was nice to be offered but, typical us we didn't do it, but we did do some other festivals though. Anyway, those got us back onstage. I said "If we're going to rehearse and learn twenty songs, we should only really consider offers if we don't lose money". So we took any reasonable offers after that. So I think we did maybe fifteen or something shows or maybe more? A few months later, Jesse (Malin, Vocals) and I wrote some new songs. It was winter time, we were in New York. We got together with Michael (Wildwood, Danny's brother and DGen Drummer) and we wrote "Piece Of The Action" and "Apocalypse Kids". It all went from there. Those songs felt really good, so we kept going.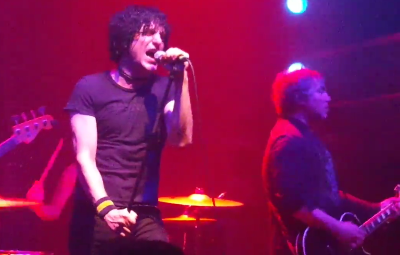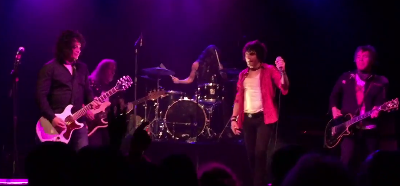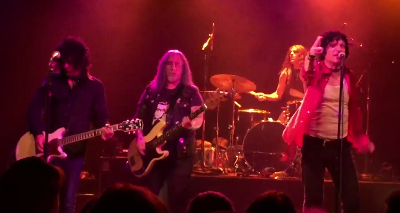 Oh yes! Great songs. What was it like being back together, was it tough or did it just slip back into place? I know Michael is your brother and you did some things with Jesse, but what was it like on the whole?

D . S ; It was fine. The songs came kinda easy. It was a bummer not to have Rick ( Bacchus, Guitar ) and Howie ( Pyro, Bass ), but they don't live in NYC. At that time we were just doing the demos anyway. Lots of songs, kind of quickly.
So did you write all the songs before Rick and Howie arrived back on the scene? I know Rick gets some writing credits, was that just little changes he did or did he come in with full ideas too?
D . S ; The early songs were just me and Jesse, or me, Jesse and Michael. Like "Lonely Ones", "Militant", "Dance Hall Daze" and those other two. Then other ones came later. Or, things like "Queens (of a)" that was over a year later, but we finished the lyrics. I wrote a verse, Jesse wrote a verse and Rick wrote a verse. Stuff like that. We asked Rick for songs, but most of his "A" material went on his record. Rick also did what I think are really important contributions even if they were "smaller", like we had "21st Century Blues", but we had no title. The song is nothing without a title. I asked him and he came up with the title immediately. That title made that song. It made it exciting and cool for me. He came up with it in three seconds. It made the whole vibe of it for me. He nailed it.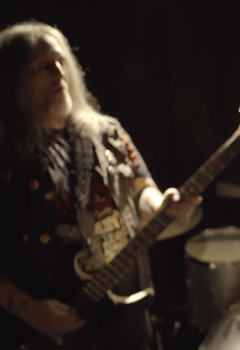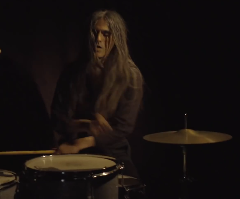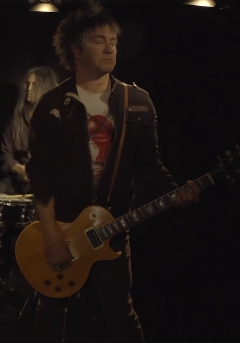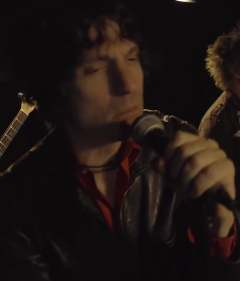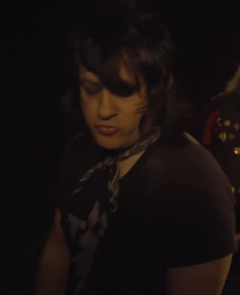 Left to right Howie Pyro ( Bass ) , Michael Wildwood ( Drums ) , Danny Sage ( Guitar ) , Jesse Malin ( Vocals ) and Rick Bacchus ( Guitar )
Awesome! So as an aside before the album, the single "Queens Of A" was a record store release how did that happen?
D . S ; So "Queens...." was finished in like 2012 / 2013 or whatever, that and "Piece Of The Action" which Mark ( Lewis ) and I knocked out earlier, 'cause we were asked to be part of Record Store Day. So we got Rick to record his guitar and got Howie to NYC to record his parts. I went back and re-did my solo and added those back up vocals and it was done. The first pressing sold out before it was even pressed which was nice to hear. "Queens" was specifically for RSD, we thought it would be cool to do. It wasn't that cool! Cool record though.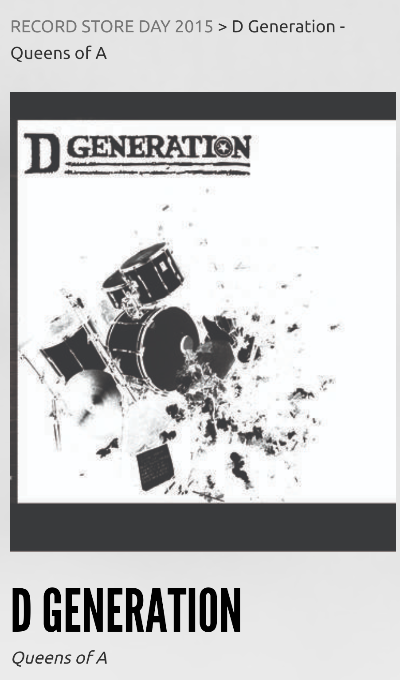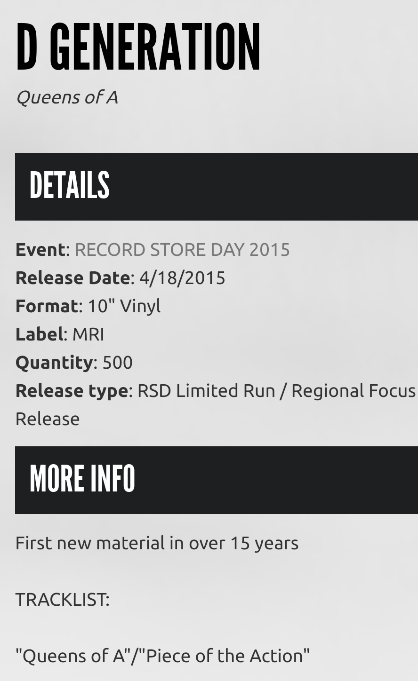 Yes there is a lot of love out there for your still. You were and still are a major part in people's lives. So did the pressing selling out spare you on to put something out yourself and was the idea for a full length album or just an E.P of new stuff as a taster for the fans?
D . S ; Nah, we had a lot of songs. It was always gonna be a full length album. There are a lot of out takes. In fact it was going to be a double. It just didn't happen.
Wow! A double! The Record Store Day thing, yes a cool thing to do yes but not only that but it gave us fans some new DGen material, so thanks for doing it.
D . S ; I thought "Queens" and "Piece Of The Action" picked up right were we left off. Great songs, good package and great words. I thought they were better than anything on "Through The Darkness". I felt like they were classic DGen things, only better.
Yes "Piece Of The Action" has that sleazy NYC sound we know and love and dripping in attitude and "Queens.." was foot to floor. Yes better writing and better sonically than anything on "Through The Darkness", although "Through" did have some killer toons.
So with no money and no label how did it come together to record the whole album?
D . S ; The recording took like four years. We had no label, we had no budget we had NO money. So we did it when we could, when Jesse and I had money and also the time. We also had a detour to Los Angeles on October 2012, so that took time out. Jesse and I put all of this stuff on our credit cards. It was pretty hard and stressful.
I hear ya! Do you still have the outtakes?
D . S ; Of course we have the outtakes, just doubt they'll ever see the light of day, especially after what happened with "Nothing Is Anywhere".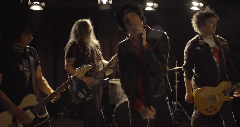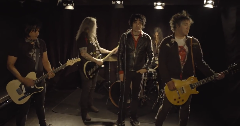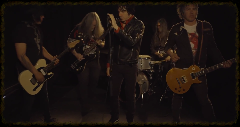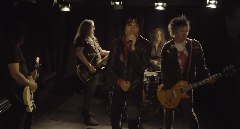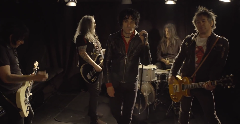 So the outtakes are still there and we can live on in hope! O.k. so that is some great background leading up to the record, now let's go track by track of the record to show people what they are missing or what people may need to revisit.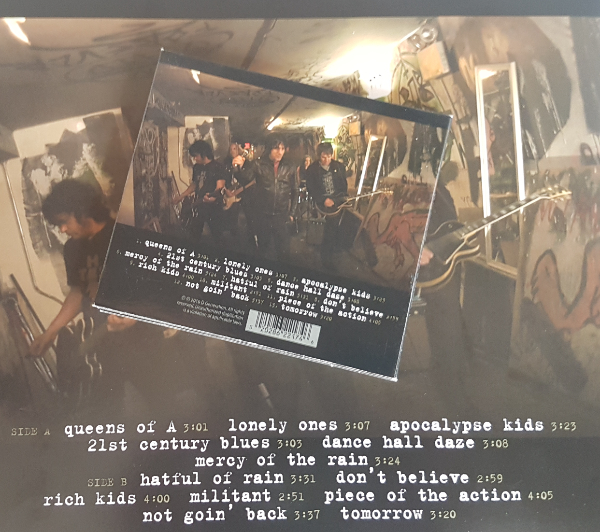 O.k. "Queens Of a" we know a little about anything else that springs to mind? A great opener for the record in my opinion?
D . S ; I didn't like it when Jesse brought it in. It was very "rock". Kind of obvious. But we changed it , and I think the lyrics are great. A very personal snap shot of our life in the East village. I think that's a song that everyone from the band brings something in. It's kinda classic DGen.
Yes totally and it works a treat. "Lonely Ones" sounded to me more like something from "No Lunch", was it a favourite?
D . S ; Like the stupid cliché goes , "they're all like children". I don't like one more than the other usually. "Lonely Ones" was an early one.
Great melody on that one and very catchy.
D . S ; The thing I do really like about it is, it's one of those songs that shows we are a lot more than people seem to understand. To me there are reachers to like Simon and Garfunkel, The Modern Lovers, The Jam, Blondie, The Replacements and a lot of self-references in the lyrics all of which adds a depth that I think we get usually zero credit for. But which I think is really cool. Its all there, if you bother to read the words.
Yes very true, I think a lot of people just see the punky look and hear the fast toons without realising just what you said is there too. There is so much more to the band than what first meets the eyes and ears. I totally hear lots of influence in your music, Blondie for sure, The Velvets. You were (are) a New York band and all that melting pot that is NYC had an influence on the band and I think this record does show all of that. It still has crunch but better paced and much more melody, more if you like, well, mature?
D . S ; Well, thanks. I agree. Funny you can't please people. I don't try. I please myself.
You did a video for the next song "Apocalypse Kids" (click here to view the video) . I love this song. Again it was like you were singing about yourselves and we, the fans clung onto that and we were all singing in harmony. Thoughts on that track...
D . S ; Haha I'm glad. This was also an early one. It came really easy. Jesse brought in the first chords, I came up with something about "credit card kids". That was the working title. Then I came up with the bridge, again very quickly and we had the song. Jesse and I wrote the lyrics later, in the basement of Bowery Electric and we were just going line for line. He would say a line and I would finish it. I think it came out really good. The lead guitar track I did in one take, just playing along. Its noisy and sloppy so I was inclined to keep it. I'm glad I did.
Yes a DGen classic. Who shot the video?
D . S ; The woman who did the video, Caroline Jaecks, did a great job with zero budget. Great video I thought. Very cool. She and Dave Steckert , who did "Militant" and "Piece Of The Action" did great pieces for us for next to nothing. We were very lucky to have them both.
Yes cool video it's like the viewer was seeing you go all around NYC and we are seeing what you were seeing, yes great idea and no budget!
D . S ; Yeah. Both really great directors. They worked with us out of love because it was surely not for money.
Good things come to good people I guess?

D . S ; Yeah. We have always been lucky to know good people.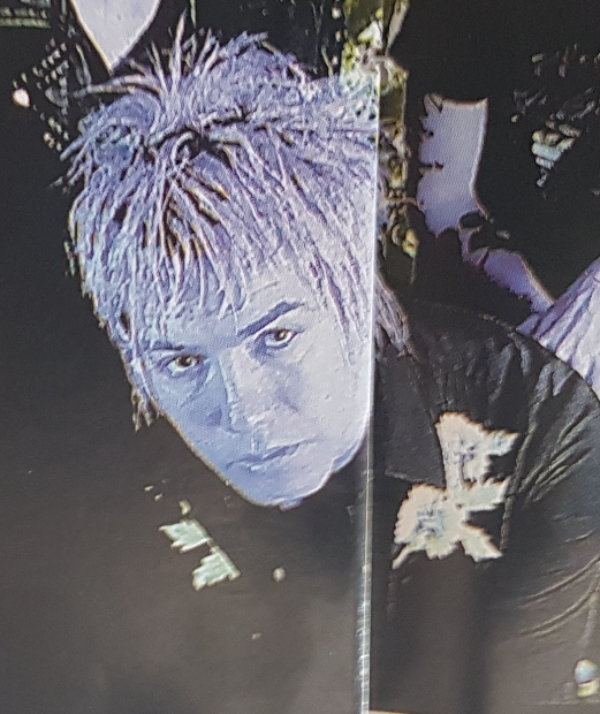 Vintage Danny
Indeed. 21st Century Blues next a really nice groove to this one....
D . S ; It was one of the last ones we wrote. It was almost after the fact. Typically Jesse, the album is done and he says to me "we should write more songs". Which I guess is healthy or something, but also annoying. So we sat at his house and wrote that one and "Rich Kids". They both came out good, so I'm happy he pushed for that
Yes last minute bonus tracks kind of??
D . S Like I said, I thought Ricks contribution to this one made it happen. He also sings a cool part on the choruses. It's the three of us, me, Rick and Jesse. And it sounds great. And I think its one of Jesse's best performances.
"Dance Hall Daze" kinda your history again?
D . S ; "DHD" was like from our childhood. Those words were like when we were in high school, hanging out on St. Marks place losing your virginity, dancing all night, taking drugs etc... I tried to make the guitar parts incorporate like "John I'm Only Dancing", "I Want You To Want Me" and like a T.Rex kind of thing. A very upbeat, teenage fun thing. It was immediate and it went well with the verse and Jesse's lyrics.
Oh halcyon days for sure?
D . S ; Well I don't know about "halcyon", doesn't that also mean calm? But yeah.
Oh Yes! I hear the Ronson vibe on there but also there are a lot of bowie influences on the whole record. Not only the "To Be Played At Maximum Volume" liner note for instance?
D . S ; Ha, you got the "to be played at maximum volume". That was my nod to old Ziggy. I was pretty crushed when Bowie died. Him and Mick Ronson were huge inspirations to me. I still haven't listened to "BLACKSTAR". I can't handle it.
Oh man totally we cried for days, such a loss. I can get through some of it but yes some is too painful still but maybe in time we all can. I think everyone should have got the nod to Ziggy. I'm sure everyone reading this will have ( if not more reading up glitter fiends)!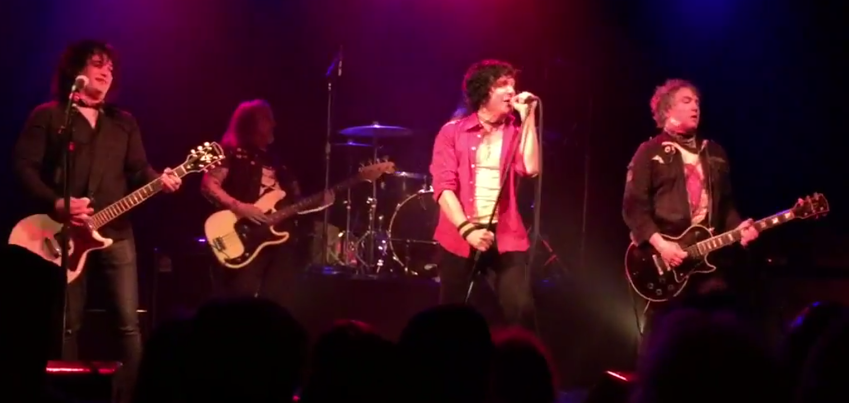 O.k. Mercy Of The Rain. I love the "so what" line in the chorus. Its like a underdog's tale were we all have our day in the sunshine. More of your own stories?
D . S ; "Mercy Of The Rain" was kind of different which I like. Big chorus which I like, we could have done more of those over the years. Yeah lyrically it was about New York, the world and people and their attitudes. What we have observed here the last twenty years or whatever. I think it came off really well. Kind of an odd mix of like AC / DC and Television and of course the Sex Pistols hahahahaha. I think that shows again how eclectic our likes are. I tried to make my little solo sound like Billy Gibbons. I think it sounds like Billy Gibbons was staring down Avenue A at five am or something. But not as good.
Hahaha not a sight you want to see that hahahaha. O.k. "Hatfull Of Rain" kinda reminds me of old DGen but a more mature version of yourselves yes?
D . S ; "Hatfull Of Rain" wasn't gonna be on the album. I had sequenced the record without it. But Jesse really liked it and I thought it was good so we put it on. Again, I think lyrically its very good. We wanted to write a song like "Dog Day Afternoon" and we did.
Yes has Al Pacino heard it? He may get flashbacks haha. "Don't Believe" nice mid paced and cruises along with a snarl to it also though. Thoughts?
D . S ; I love "Don't Believe". I wrote a lot of words for this album but Jesse wrote these all on his own and I think they're great. I think he really did a good job. I also think it's a cool song. I'm glad its not another "rager". I'm glad we were brave enough to do something mid tempo and darker. It's dark in a subtle way but a lot (most?) of our stuff is. It is if you get it, sorry. But it's there if you look. I think this song really hit the nail on the head in a lot of ways.
Yes totally, attitude is not just speeding though a song and ranting, there are far cooler ways to do it and you did it here and again that word mature appears again. "Rich Kids" again nice groove kinda a sister song to "Mercy Of The Rain" in a rhythmic way at least, yes?
D . S ; I suppose. I think it has more of a kind of bounce. I was doing those stabs, I asked Brian Thorn (engineer and mixer of the album) to slap some reverb on it and he said "like what?", I said , " like the old Trojan Records" . I think it came off. I love Rick's playing, his sound. I left him at the end, him alone, that's how good the tone is. Just very pretty. I thought of the song as like going for something like "The Pretenders" or "The Clash" would do, that kinda feel anyway. Lyrically again it's NYC in the past ten years y'know. "I'm an artist" all these people talk a good game but produce nothing. "Bullshit artist" more like?
Hahahaha I hear ya. "Militant" (click here to view the video) was a "Chrome Locust" song wasn't it? Re-worked and just a little nod to DGen past?
D . S ; Yeah, not sure if it was a Chrome Locust song, no idea. It's all Michael. All attitude. Good guitar tones, crunch. Some of the best sonic aspects we ever had. It's pretty gnarly in every respect. Probably more so than most of what we've ever done. So I think it should have satisfied people who might suggest we softened. Hardly.
Yes it worked on that level for sure. Now "Piece Of The Action" (click here to view the video) we have touched on this before. I love this track, it's like the Velvet Underground distilled through the world of DGen's Vibe. Also sonically wise too, I love it. Also there was a performance video for it, a very nice slice of what DGen is and can be. Anything else come to mind about it?
D . S ; A lot. It was maybe the first or second thing we recorded that became "Nothing Is Anywhere". We actually played it live a few times in maybe 2012, 13, 14 but I don't remember. But I do remember putting it in the set lists. And I think its another example of people bringing their special talents (whether they know or care ) to a song. I spoke to Howie about it, and we talked about the approach and I just said "Play like you play". We talked about the Beatles song "Rain". He, I and Michael played together for years even before DGen. We play well together. He gets what we are talking about, so he executed it. I think his playing on that song is great, I think it's a very unique song. I didn't know what people would make of it. I didn't care. I think its one of the best songs we ever made.
Oh man I totally agree, please yourself first and others will follow. I think the song is on another level and a different thought train to most of your other material. The space in it makes it brooding and not in a comedy "dark" vibe. It's love or hate with it and that makes great rock n roll, well, for me anyway. O.k. "Not Goin Back" sounds very Springsteen to me, you?
D . S ; Funny, I always hear, like, the gap between the first and second "Clash" albums. But of course we like Bruce, obviously. But I never thought of that. That song was for me a specific thing of me and Jesse, in the winter of maybe 1980 or 1981 in the East Village. It's another little postcard from that period and place.
History, history, history just nothing but coolness all through the record. O.k. last track and I get goose bumps for this one. "Tomorrow", melody, vibe, playing the whole sound is just a total joy beginning to end. Melancholy without being sad. Negative, in a way, but with a lasting positive feeling, just a fabulous way to end the record. DGen's swansong ? I hope not but?
D . S ; Well, maybe but unintentional. It's funny too 'cause I'm very cynical. But I put this song last because it was hopeful. It's sad, it's about people who grew up with us who are sadly no longer with us but in the end, it's about perseverance. That's how I take it anyway. "Nothing Is Anywhere" was meant to be like a concept album or whatever. I mean, not that rigid but Jesse and I spoke initially about a theme and we agreed that the theme should be New York City and our lives from then until now. And I think we kind of covered it all. And did a good job of it. If it's our swansong I'm O.K. with that. I think it's our best work.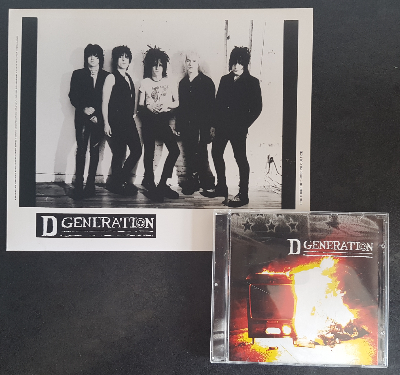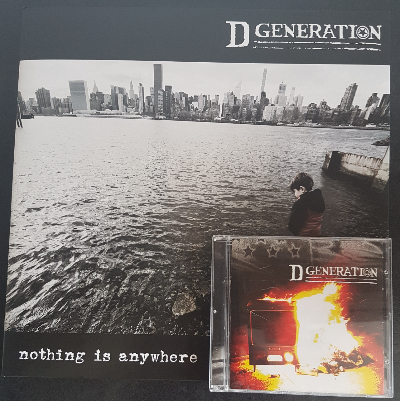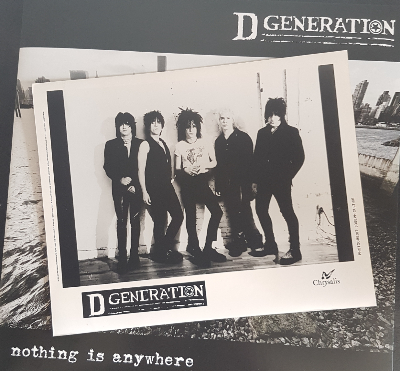 Dgen history first to last?
Oh man totally agree with you and nothing but love for it from here! I hope it isn't the last of DGen but that, as they say is in "the lap of the gods". I did grab the cd from a big chain here in the U.K. , so it was around . I had to order the vinyl but that was here quickly, the white vinyl was a little harder to find but I grabbed it (collector geek alert). You mentioned earlier after what happened to "Nothing Is Anywhere"? Well what happened? How was it received and how many units did it sell? I'm guessing from your earlier comment it didn't reach your expectations?
D . S ; I have no idea what it has sold to date. Probably not a lot and definitely nowhere near what I would have liked. But I'm pretty sure no one sells many records, no matter who they are. Those days are over. It got great reviews and the people I value love it. I love it , I regard it as our most fully realised work, by far. It says what it set out to say and it rocks. And sonically it's how the band should have always sounded , I think. I'm very hard to please and even I'm pretty happy with it. That's all I can control and that's all I care about.
Right on. You said you and Jesse funded it so do you still have copies or are they with a distributor? What kind of deal did you get? They did a great job by the way it looks great!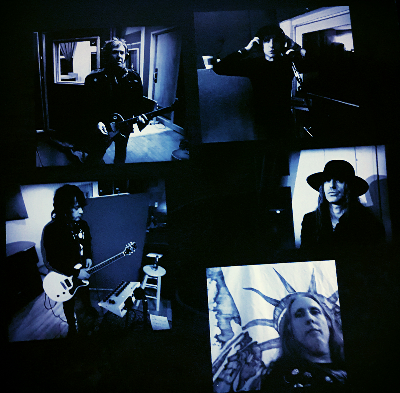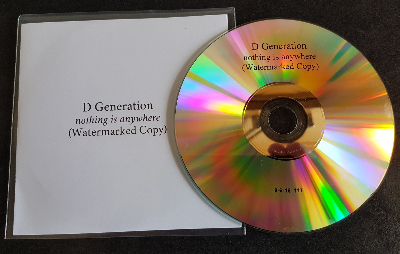 D . S ; We got paid. We signed with the people who run "Megaforce" . Its was our label thru them. They were fair but I have no idea about anything else you would have to ask them.
Oh is "Megaforce" still a label? Was Eddie Truck involved? Did you re coup what went onto your credit cards?
D . S ; I never knew if Eddie was involved. I like him a lot just a great guy . loyal as hell. I know Eddie from the radio and not as a label guy. We did an interview with him and its extensive and cool. (click here to listen) .We just worked with Missi Callazzo and that's it. We delivered a fully realised, finished album. All they had to do was put it out. As far as being recouped ? Yes they gave us good money but I will never be recouped.
Yes it was a great interview with Eddie, loved it and great press for the band. Any story on the artwork for the record?
D . S ; I sketched out the idea first then we hired a photographer to shoot it. I went down to the east river on a freezing, snowy day and it was nice for just about half an hour and that's then we shot it. The title came from conversation with Michael, where talking about NYC and how crazy it all has become, how almost everything is gone and just out of sheer frustration one of us shouted out "nothing is anywhere". I thought it had that cool Ringo-y thing to it so we used it . I think it sums everything up. Now more than ever.
It sounds like you are tired of NYC but you still live there yes?
D . S ; I still live in NYC, I don't really enjoy being here, it's full of awful rich people who are not from here or even a city and don't know their proverbial ass from a hole in the ground. It's an effort to cross the street anymore, they have no clue and quite frankly are just in the way. That said, it's my home and I can't see me living anywhere else. I like the parks, the buildings and the scenery still though.
So Danny you are an artist on your own as well as with Dgen are there any plans for more music from you on your own at all?
D . S ; I doubt highly if I will make any more music for public consumption, it takes a lot of time and effort and money too and the fact is no one wants to pay for it. Not just mine, anyone's! Its all become a shell game where people just rip artists off. The nerd who creates an algorithm has a thirteen million dollar wedding and the people who produce the art get zilch. And no one gives a fuck. You can buy someone's entire catalogue for pennies. Worse still everyone makes all these crazy arcane excuses as to why it's all "good" for people who actually make the music. In my experience, at least when the likes of Sony were out to supposedly "fuck me", they gave me and my bandmates a package worth a few milliion dollars to work with. Given the past few years none of it is good for me or my friends who do this! It might be good if you're huge enough and cut a side deal with the likes of Spotify or whoever but if your a "cult" artist or you don't have tons of sales you're pretty much fucked. I don't care to be part of it.
I hear ya Danny its a sad state of affairs but, great music should still be heard and through your hard work we got "Nothing is Anywhere" and my world for one is a whole better place for it! So thank you! O.k. Danny onward and upward for you and yours and thanks for your time.
D . S ; Hey man , thank you for asking. Be well . DS.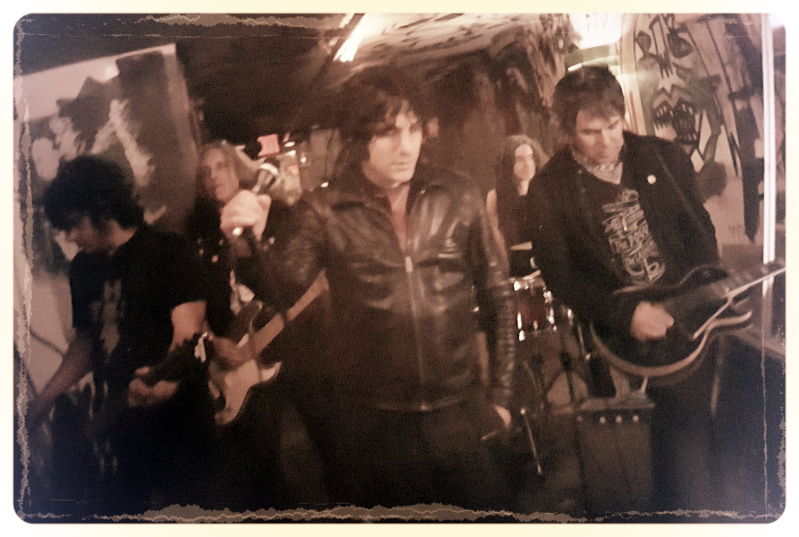 interview conducted May 2018
Photographs copyright Joseph Quever , Dave Steckert , Howie Pyro and suitsandtheplatformboots vaults.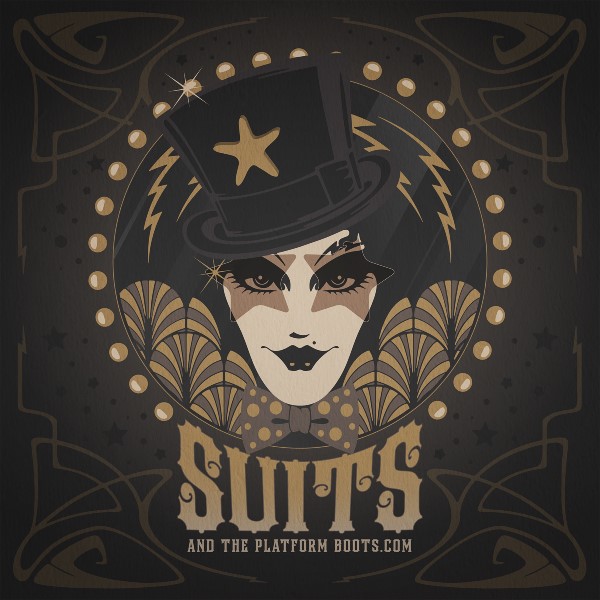 C.SUITSANDTHEPLATFORMBOOTS.COM2018