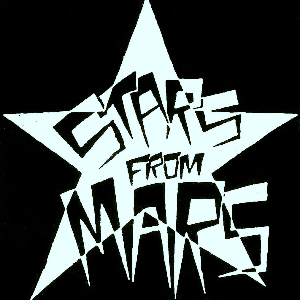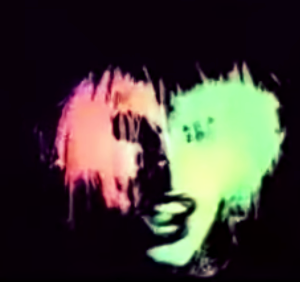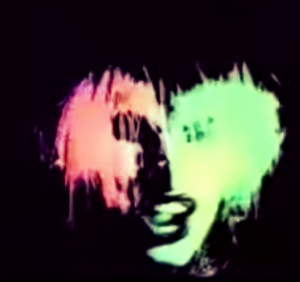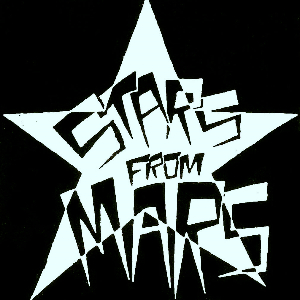 Let us talk about some uber cool, underground, trashy, true glam rock shall we? Yes? Good because today we have the main man Dazzle Starr here to talk about the Stars From Mars plus much more! He takes us on his trip , part of which was being taken under the wing of one of the biggest Hollywood bands of the 80's and how that led to him forming his own band, the Stars From Mars. Then onto why that ended and what he is up to today now in the moment. Its a wild ride and oh, did I mention probation and Arthur "killer" Kane? No? Read on..
O.k. Dominic / Dazzle thanks for joining us today. I, like many know you from your days fronting the Stars From Mars, that totally out there uber cool underground sunset strip act, but I want to get your whole story, so, let's get started. How and when did your journey lead you into wanting to form a band and get you out into the neon nightlife?
Dazzle Starr : I go by Dazzle and not Dominic. I started playing music because my neighbour's in Hollywood were a band called L. A. Guns. They took me under their wing at 16 years old. I referred to them as my "street family" back then and I slowly transformed into Dazzle just a year later.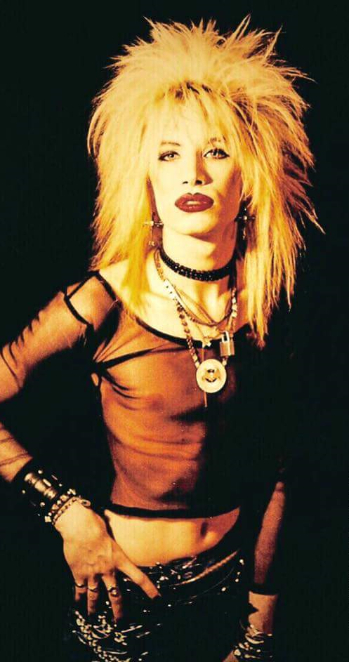 "Transformer" The main man, Dazzle Starr
WOW! 16 and in the full neon glare of the sunset strip whilst being guided by L .A . Guns, that must have been fun to say the least! What stage were they (L .A . Guns) at this point?
D . S ; 1986
So just about the time when they signed?
D . S ; No they got signed in '87.
They were being courted for a time before being signed fully though ,Yeah?
D . S Not really, Maybe 2 years tops. Hanging with the L . A . Guns daily, they used to pat me on the head like the child I was. Them and their neighbours from a group called Sam Man & The apps. This all took place in Silverlake , Ca. in 1986. I was 16 years young...
So you said you transformed into Dazzle, what influences and experiences did you go through to get there?
D . S ; I wasn't looking to transform into anything. Literally some sort of over baring high spirit with a very bright light came into my body in a dream and I woke up the next day and I was him (the person that was in my dream) someone named Dazzle. From there my soul could not be changed from my entire being from that point on. Then and even higher spirit of a glam king came into my dream again checking on me and from there I came to an understanding that I will carry on as Dazzle for the rest of my time on this planet.
So we have the timeline and the group of people you were hanging with. With all this going on all around you how did you make the steps into your own music?
D . S ; Walter Adams (Faster Pussycat's original bass player) started a group and asked me to sing in it. This was early '87. So I said "Fuck It" and played my first show ever at The Whisky a Go-Go. This was when bands used to get paid to play. Arthur "Killer" Kane stepped in to produce a song that was released as a 45 one sided vinyl single here in the US. That was my start into the sunset strip music scene. Oh! Yes and breaking my probation as a kid to do a three week tour from San Fran all the way to Texas and back. I was on home studies thankfully and then probation ended in '88 just as I left Walters band to start my own.
Talk it how you walk it! What was the probation story?
D . S ; My friend and I burglarized a music store to start a band. We got snitched on by some girl who would hang out at our garage. It was her boyfriend, who, was a junkie and they (the store or the police) offered a reward, so there you go!
Wow living the high life huh? What was that band called and what band did you go on to form after leaving that band was it Stars From Mars yet or something different?
D . S ; The band was called Demolition Gore Galore. "Mad" Marc Rude played harmonica with us (from L .A . Guns) and Mick Cripp's twin brother Robert Cripps on bass. Mick filled in for his brother when he (Robert) was sick and no one could tell hahaha! Ya know now that I think of it I did try and start a band in between DGG and Stars From Mars, but I didn't feel it was time to get on stage with that line up I had put together, so about 6 months later I formed Stars From Mars.
Demolition Gore Galore, didn't that have Kery Doll in the line up too? I remember a compilation record with a DGG track on it.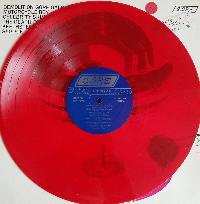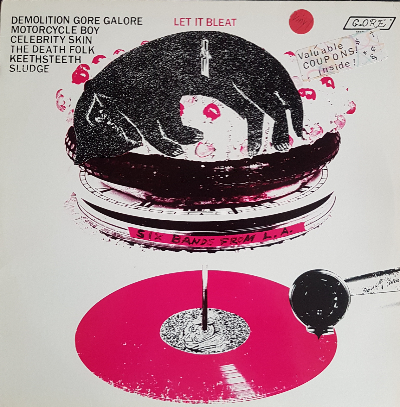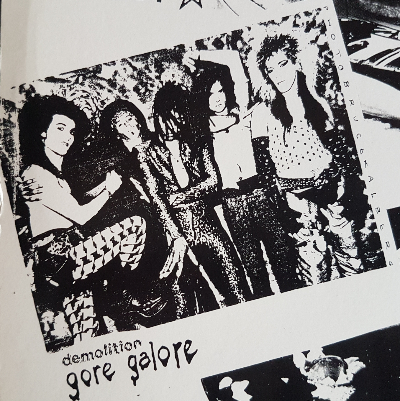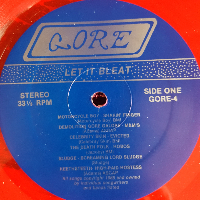 "Let It Bleat" U.S.A. LP. Includes 2 DGG tracks , "M & M's" and "Endorphin"
D . S ; Ya, Kery was our drum programmer and would show up on stage at times.
So onto Stars From Mars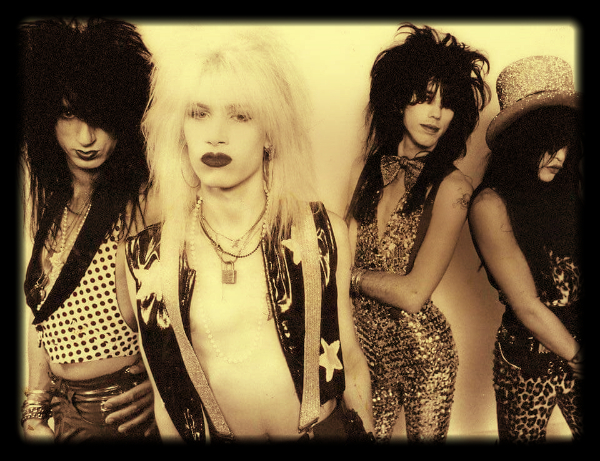 D . S ; Our original name was New Wave Hookers. We didn't keep that name for long, so I jotted down about 15 band names and one of them was Stars From Mars. When Alice (Starr) who was my bass player at the time saw SFM on paper he said to me "let's go with that one" so that's how the name came along.
So New Wave Hookers has a certain ring to it, but SFM was way cooler and way more accessible. So how did the line up for SFM come about? Were you friends before hand?
D . S ; No, none of us were friends before SFM but we ended up being family in the end.
So how did you all meet? Were cosmic forces at work or was it just partying on the scene?
D . S ; I had a vision of Hollywood to get rid of all the clean cut glam scene and start a more gutter, dirty queen glam explosion. To get Hollywood into a more focused version of Glam, not just guys wearing make up, but living for the artform of true glam rock. A bunch of us lived in rehearsal studios without showers etc. We were all just in the moment at that time, but we had the direction in our minds to really cause a scene in Hollywood that would then make a dent on the universe.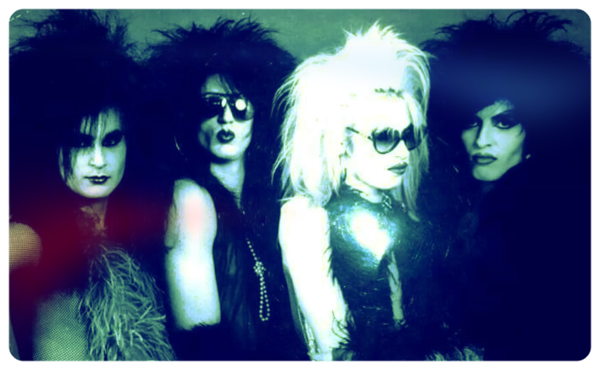 For sure a clearing of the decks was needed and a need to go for a more true glam vibe, rather than red necks in rouge. So how did the line up come together? Was there a core of you and someone else or just you?
D . S ; Well after DGG finished I went on a crusade again to find the right members which I felt had the star quality to play the parts in the project. The first member I found was a brown haired kid named Alice. I put him on bass guitar then I found Lucky to play guitar and found Stacey Starr on drums. I bleached Alice's hair out and put him in my place for vocals for a couple of months.Then I switched back to vocals because the size of the crowd was more fulfilling with myself centre stage.Then he joined forces with our friend Brian to start "The Ultras". Alice and I remained close friends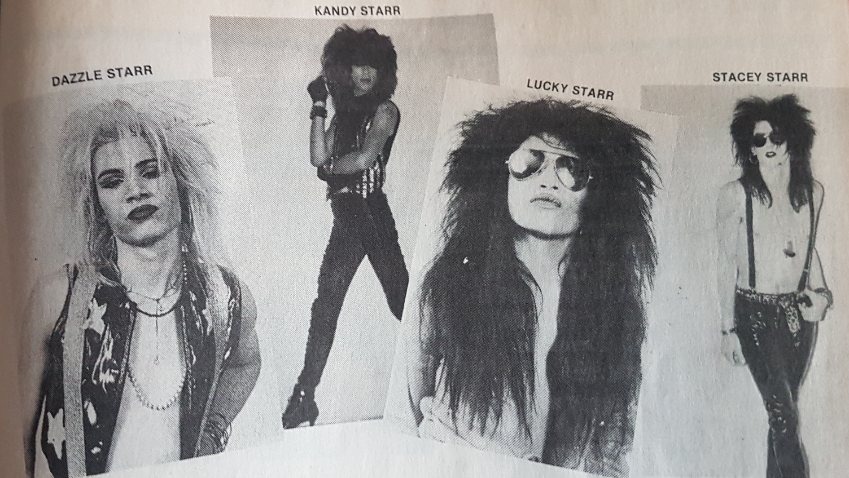 Stars From Mars line up Dazzle, Kandy, Lucky and Stacey.
So you could say that the stars aligned. O.k. so with the line up stable how long did you spend writing before gigging and was there a very linear thought path running through what you wanted the music to sound like, what you wanted the image to be and the whole vibe of the band to come across or did it just happen?
D . S ; I had a couple of songs already recorded. We recorded about 3 songs per week on a little recorder that I had, through a echo machine. I brought the demo, once it was done (and the press kit) to The Whisky and The (Coconut) Teaser, because they knew of my previous band. They digged the demo immediately. Then after two months after finding the coolest women's clothes from several thrift stores we went straight to the stage.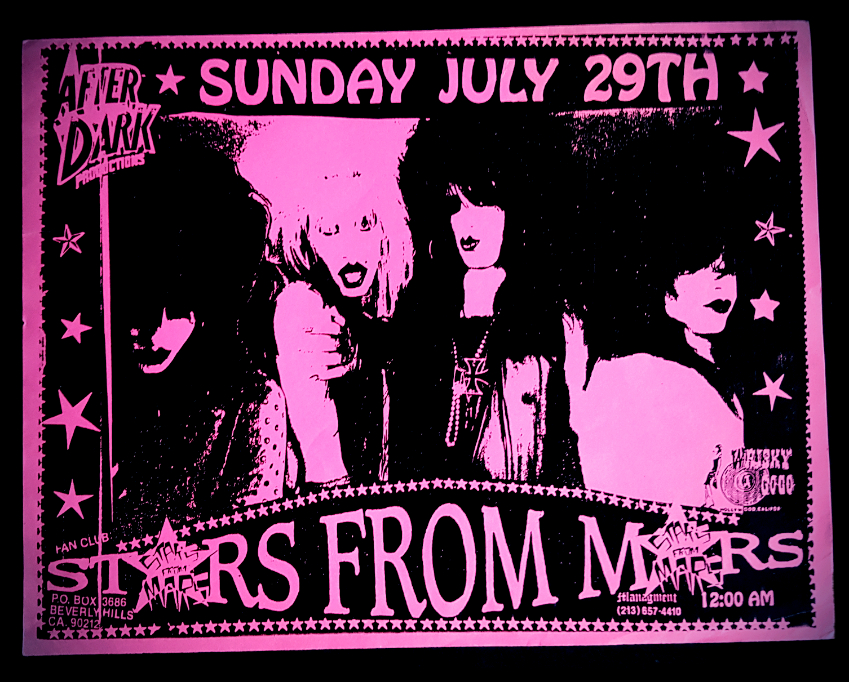 Beautiful, so real and true to the glam rock ethos, if there is one that is. So what were the songs you recorded?
D . S ; A song called "Girls Galore" and the other one was "Arthur and Babs", which was about Arthur Kane and his wife Babs.
WOW! So you knew those two?
D . S ; Oh Ya
They were in a lost world at this time weren't they?
D . S ; Arthur was drinking pretty heavily back then in '87. He was a hoot though to hang around with.
It was very sad what happened to Arthur in the end, but he did have his day in the sunshine again with the Dolls, so he must have a little peace at the end?
D . S ; Arthur wanted nothing else but to have the Dolls put back together. He used to call David Johansen, David Johasbeen hahaha. He got his dream back and I believe he died happy.
So between recording and the live shows was it just "let's party"?
D . S ; Between shows we would mostly go clubbing or it was me making our clothing for the next show and writing songs. One night stands out of course from the beautiful baby's on the Strip. You name it!
Wild times, wild times. So could you sum up your time in Stars From Mars? Best time? Worst time?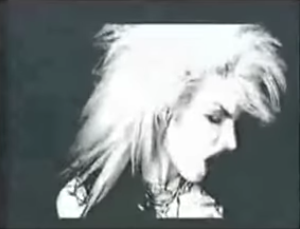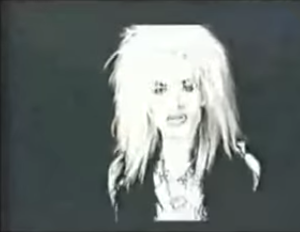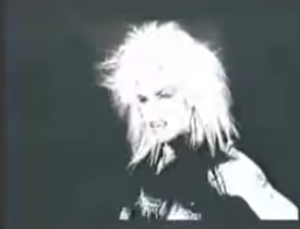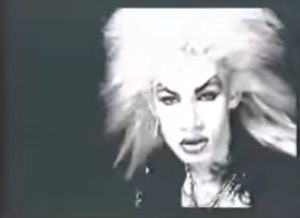 "We Got Tonight" video stills. Glam to the max!
D . S ; I would have to say from our first show on for about 2 years were absolutely amazing. Our fanbase were the ones who kept us going. The worst time was when my band went into the studio to record "We Got Tonight" (Click here to watch the video on YouTube).That was were I was leading my group in a more upbeat direction. Some of my band members had changed and they just didn't feel the vibe for that song. If you listen to the first chorus in that song I have one of my band members singing back-up saying "We Got Tonight" but by the time the second chorus came around the rest of the band left me in the studio by myself and I had to then sing all the back-ups on my own. In fact Aeriel Stiles played lead guitar on that song and he really digged it , but he only played the lead part. He went on to play a couple of shows with us which was great! He is my favourite glam guitar player and you know he wrote every song on the first Pretty Boy Floyd record (Leather Boys With Electric Toys). Funny that song ("We Got Tonight") became our slogan and most memorable song considering what happened when it was recorded!
Great song Dazzle. Yes Ariel is a great player and "Welcome To The Freakshow" by Doll is a great record! Pretty Boy Floyd owe him a lot! Back to SFM, It's a shame a parting of ways happened for the band. However you were a very important part of that scene and will last forever through it, thanks to the vibe you generated. O.k. Dazzle thanks again for your time and just before we go what fills your time now? I saw that you did a guest appearance at a recent Blackboard Jungle show in LA, yes?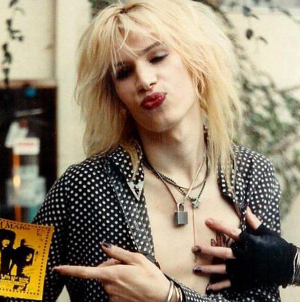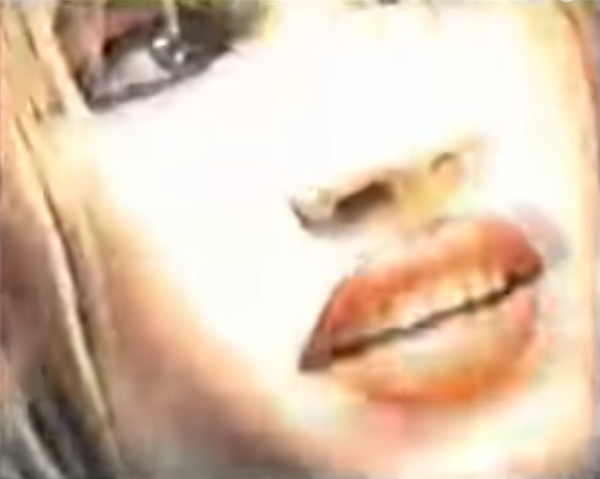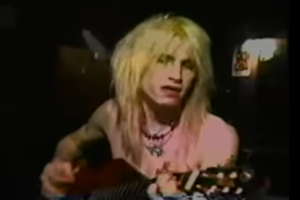 D . S ; Well I am actually playing guitar in a band with London LeGrand (Brides Of Destruction) and also finishing some Stars From Mars recordings for an album and planning a big come back. We will be playing next years Blackboard Jungle show and a few others before that. Stay tuned and lock up your children because finally after all these years we are now ready once again. Look out because we are back to take over. To recreate what we created back then on the Strip once again!
Glad to hear it! Everybody get ready to enter the world of Stars From Mars once again ..hold on tight!!!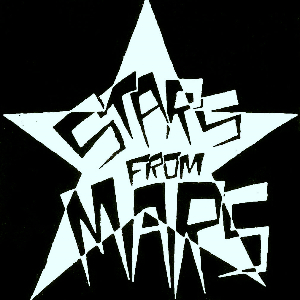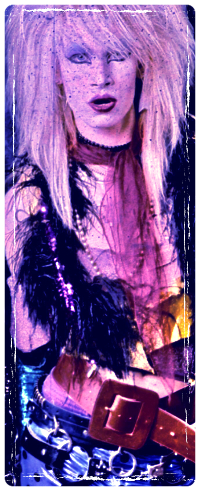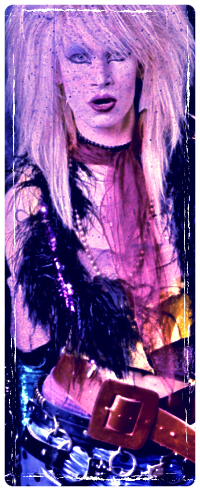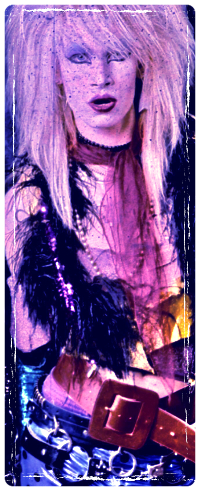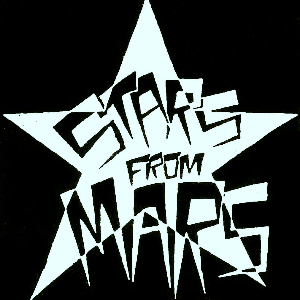 Click here to find Stars From Mars on Face Book
Interview conducted June 2018.
Photograph credits, Stars From Mars, Dazzle Starr, Rockstar magazine and the suits and the platform boots vaults.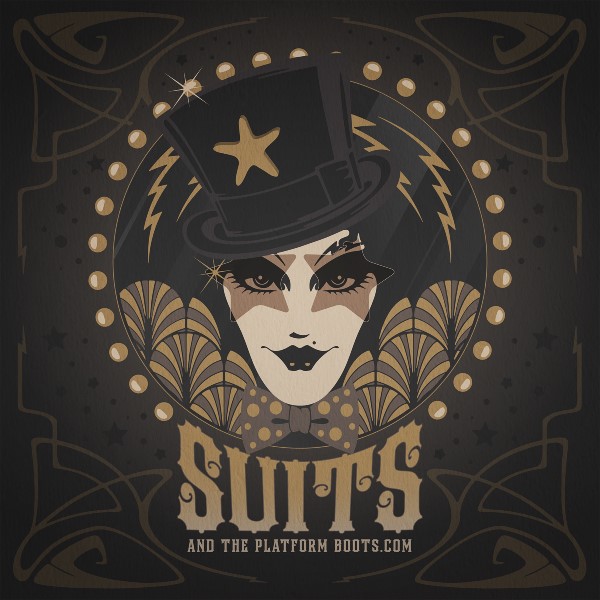 C.SUITSANDTHEPLATFORMBOOTS.COM 2018