As we know, Punk Rock and Glam R

ock are very close companions, so I thought after getting a AWESOME glam rock mohair jumper, why not sp

read the word in the both the glam rock and punk rock world about this killer artist of

the mohair!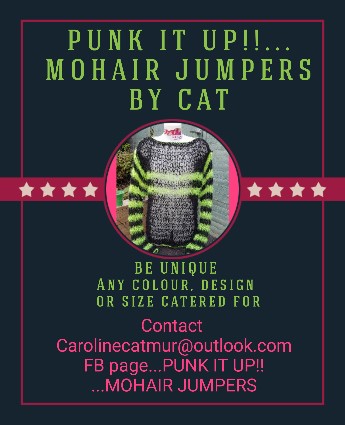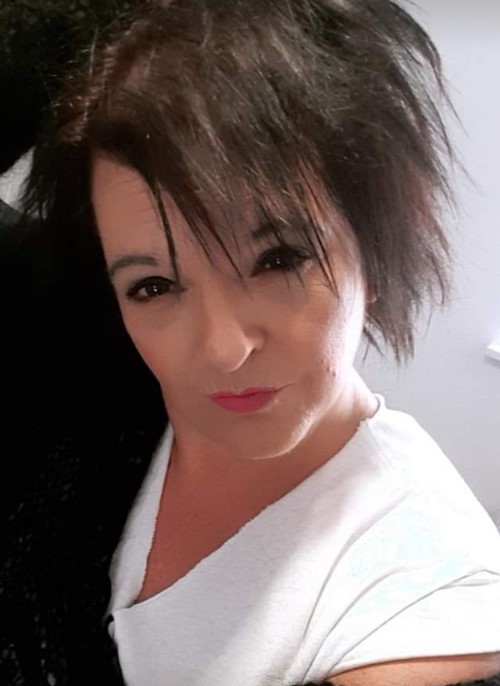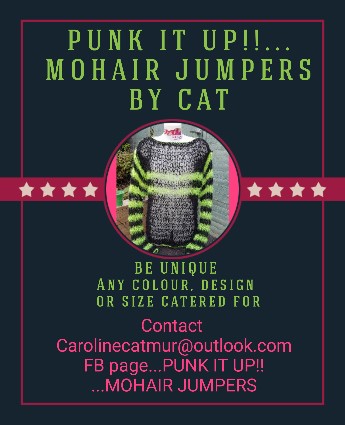 Welcome one and all the one and only Caroline Anne Catmur the keeper of the mohair. She is a

knitting rock 'n' roll machine ready and waiting to make your own creations come to life!
Caroline thanks so much for joining us here today. I want to say I am over the (glittering moon) with my bespoke glam rock mohair jumper its gonna turn heads to say the least. JOB DONE! So I thought I could help spread the word of your amazing work. So let's talk about the business and how it got started, but first at what age did music grab you and what artists in both the musical and fashion sense influenced you?
Caroline Anne Catmur ; Hi, music grabbed me from a very early age, dancing to "Top Of The Pops" albums in the dining room. Mum used to buy one every few months
side note; ("Top Of The Pops" lps were studio bands playing the hits of the day, budget issues and an introduction to many of the music of the era)
So what bands tripped your trigger?
C . A . C ; I used to like the weirder side of music, as my dad put it. At thirteen / fourteen I was heavily into Adam Ant, The Banshees, The Cult, The Cure and Bauhaus but also along with a lot of punk and Bowie.
Nice set of names there for sure.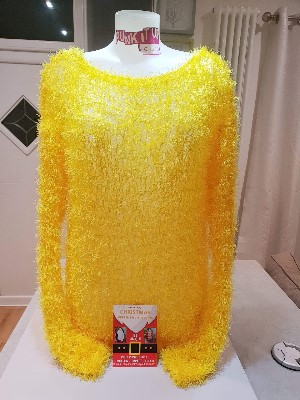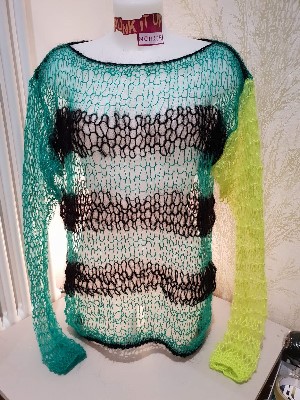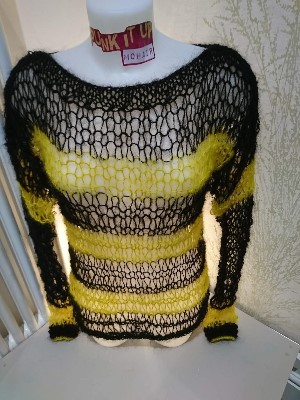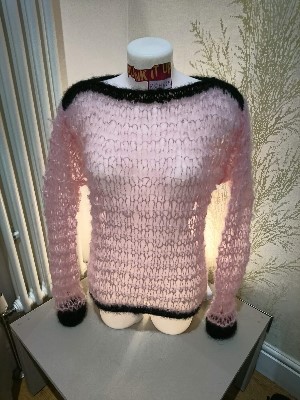 C . A . C ; My musical tastes stretch also as far as The Specials, Fun Boy Three.
Where was all this taking place?
C . A . C ; The Stourbridge area (Midlands U.K) and coming from the same area and same era as them I've followed Pop Will Eat Itself since they started up and The Wonderstuff (from a VERY early age). PWEI are still a very firm fave for me, I've made Davey (Bennett, bass player) a couple of jumpers.
So how did knitting enter your world?
C . A . C ; Back when I was fifteen / sixteen I asked my mum to teach me to knit as I loved the holey punk jumpers. Then I knit quite a few for myself and a few friends. Also I'd make my own clothes too, i'd buy muslin cotton and make it into Bow Wow Wow nappy skirts and also Indian Sharis and spray dye them. I suppose I was adventourous (as my dad said) having false dreadlocks at school and Banshee like make up and home made clothes. In fact I'd buy something and just hack it up and come up with something completely different.
So how did PUNK IT UP jumpers come to life? It's a big change from making a few jumpers for friends to making it into a much bigger concern?
C . A . C ; Well December 2017 saw me without a job. We had moved house and I had had a few knee operations leaving me with arthritis and standing for hours just wasn't cutting it for me. So I just thought I wonder if I can still make punk jumpers as I noticed a lot of people were still wearing them. So I did one for my brother in law Simon and I put it on Face Book and from there so many people asked me to make them one.
Nice, instant success. So how did you cope with the demand?
C . A . C ; Between January 2018 to December 2019 I was just so busy. I was knitting for nine to fourteen hours a day most days with no time off apart from a summer holiday.
Well it's good to be busy I Guess?
C . A . C ; Yes and now I have diversified as a lot of people were asking for full knits also. I now knit most styles. I use mohair mostly as it's what PUNK was all about jumper wise, but I also use other wool or yarn for vegans and allergy sufferers.
All bases covered then. So the people reading this out there how do they go about creating a one off bespoke jumper?
C . A . C ; If a customer wants something special I ask them to sketch a pic, or like with your jumper I can create something, also it depends on what the customer wants really.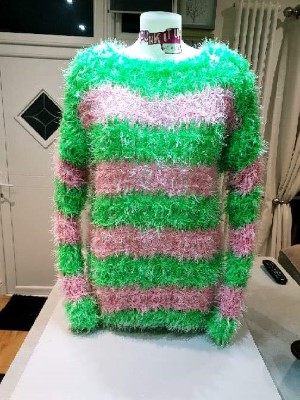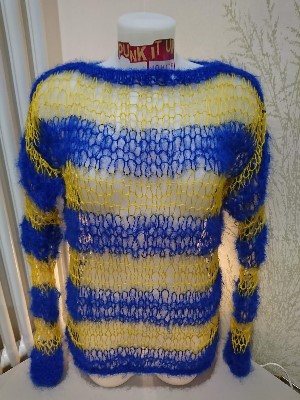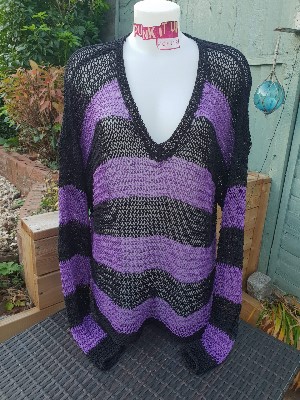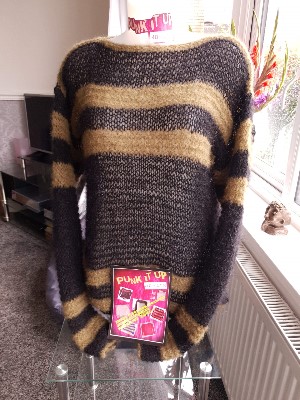 Coolio, it seems it takes a lot of your time up does it get in the way of life?
C . A . C ; Well I love working from home as I'm able to incorporate my knitting into family life, although I do get told off about the hair from the mohair being everywhere by my hubby.
So how many jumpers have you made up to now?
C . A . C ; I've done one hundred and seventy nine so far.
Awesome work. They really are a true style icon these jumpers, everyone and anyone can rock one of these creations. So any other famous customers?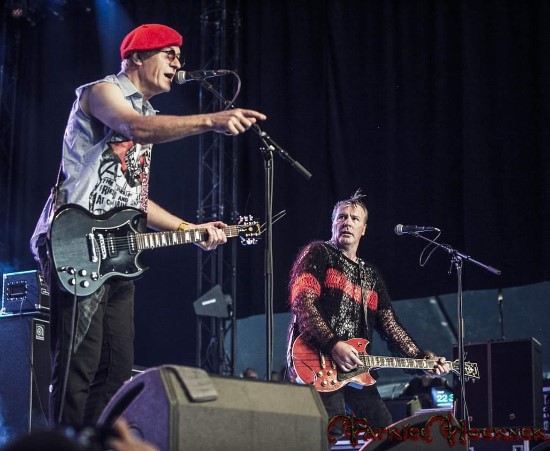 C . A . C ; Well there's Davey from PWEI. I've also done ones for Stephen Straughan and Gus Gouldsbrough who play with Captain Sensible plus some other punk rock bands.
O.k. Caroline thanks for dropping by and continued good luck with your Punk It Up jumper line it is great work and let's hope it keeps you busy for a long time!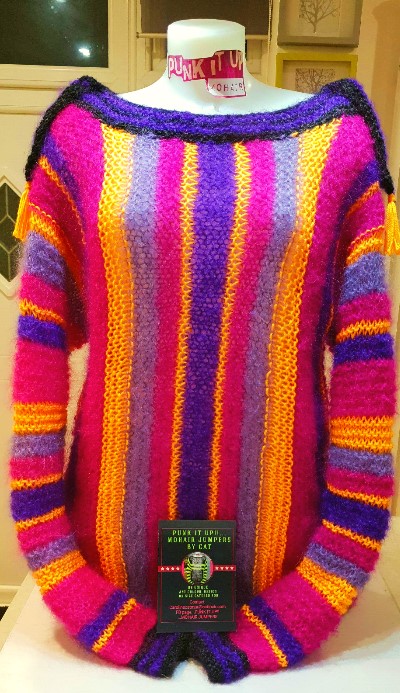 Click HERE to email Caroline
Click HERE for Punk It Up's Mohair Jumpers Face Book page
!!!STOP PRESS!!!STOP PRESS!!!STOP PRESS!!!STOPPRESS!!!STOPPRESS!!!STOPPRESS!!!STOPPRESS!!!
Caroline is now branching out into mannequin art also! Below is the first of many, just contact her by the above and discuss what you would like. All bespoke. All cool.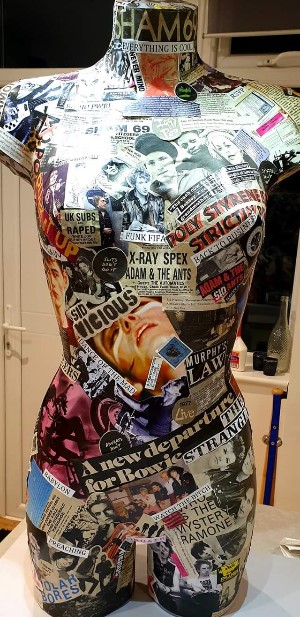 Interview conducted January 2019.
photographs courtesy of Caroline and Punk It Up jumpers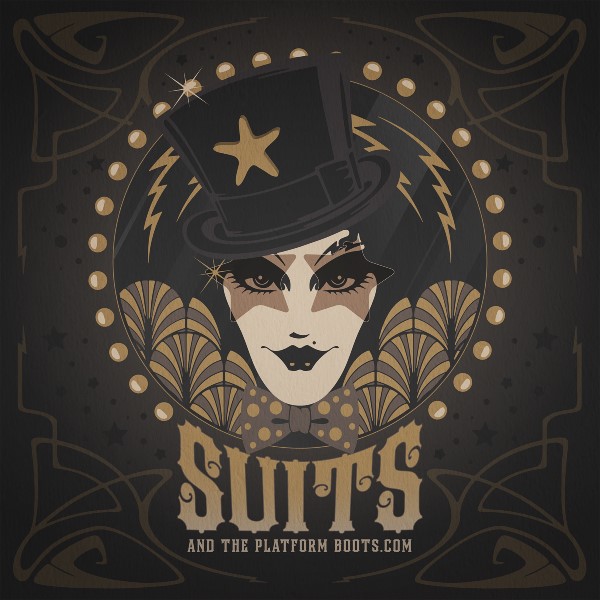 c.suitsandtheplatformboots.com 2019