LOVE SELLS ( and much more!) by THE BANG GANG with Scott "THE BITCH" Earl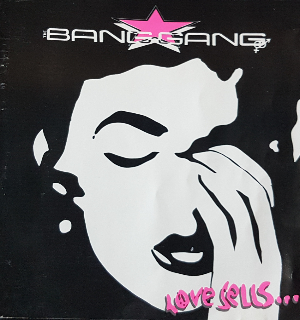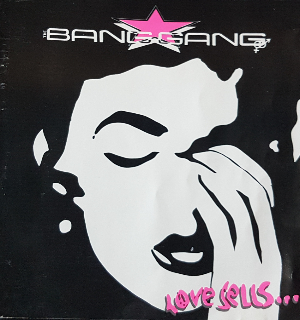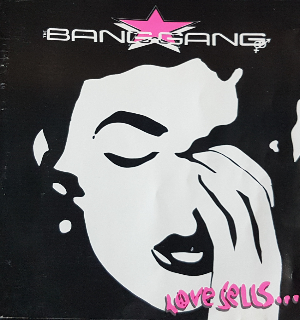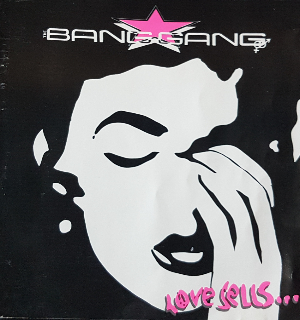 joining us today is non other than "The Bitch" himself Scott Earl , Bassist and mouth piece of those "drastic plastic" stars of Hollywood , The Bang Gang. Here we discuss the bands major label debut "Love Sells" and tales of getting banned first , signed second all on the Sunset Strip!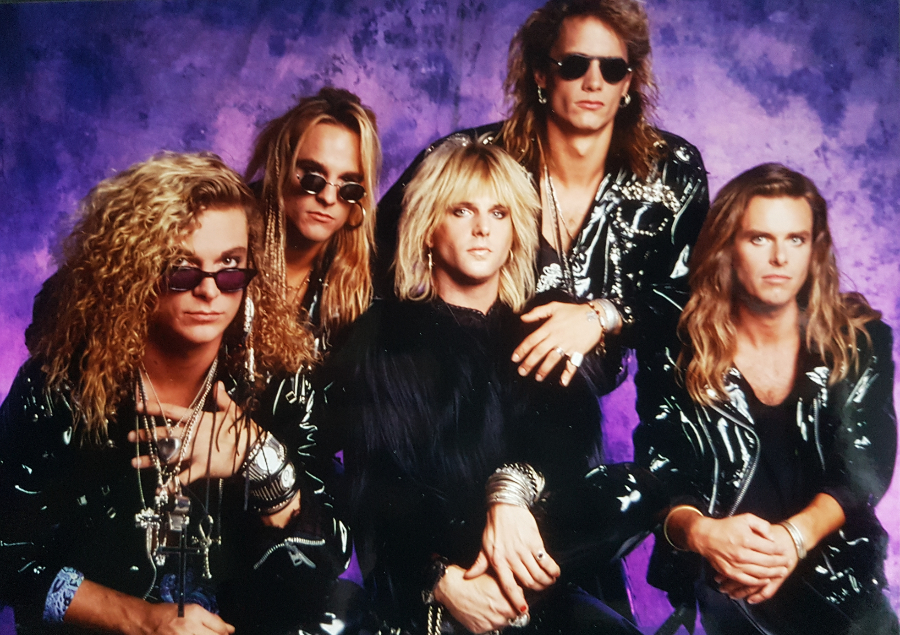 The Bang Gang left to right Scott "The Bitch" Earl (Bass) , Scott Stevens (Guitars) , Jet Silver (Vocals) , Achon Inc (Drums) and K.J Kristoffersen (Guitars)
Hi Scott thanks so much for your time. O.k. I remember back in the days of tape trading (Kind of like file sharing but only unreleased stuff) your demo landing over here in the U.K. and it was a firm and very fast favourite of mine. Could you tell us how that demo came about and how long was it before the "Love Sells" sessions?
Scott Earl ; So I was in a band called TKO on an independent Record co. "Combat" out of NYC. We couldn't get a major label to sign us and everyone kept saying move to L.A. The plan was me to go first check out the scene and the other guys would follow. Our drummer Ken Mary had just got the gig with Alice Cooper (Nightmare Returns tour) and I just felt it was time to leave Seattle. I started writing songs for what was going to be the next TKO record and that's when I connected with Jet Silver. I had met him a few times before in Seattle , we had girls we were seeing at the time that were friends. Anyway he had just moved to LA and we started hanging out. I played him some of my new songs and he just started writing lyrics. Plus he had a few of his own. I got sick of waiting for Brad from TKO to move so we decided to do a demo. I played all the rhythm guitars on the demo and my friend Brent Hoad played the leads.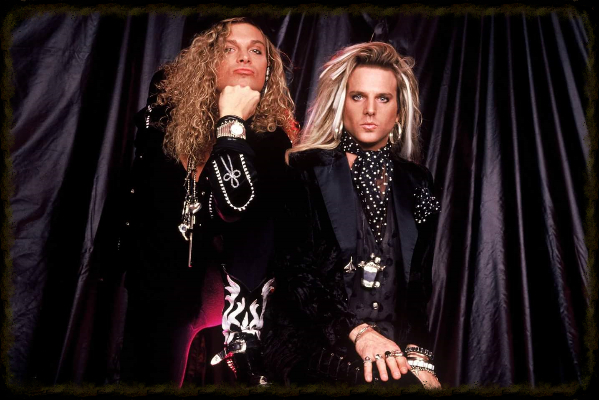 Scott and Jet
How did you choose the songs for the demo , or were they the only ones you had finished or the ones you were happy with?
S . E ; Lol. We just did what we had. We believed in every song. You really can't tell how good a song is until you record some version of it. I think we started with 4 and I believe we went in a few more times and added like 6 more before we really put a band together.
So demo before the band , not your usual way of working for most bands but hell , did it work! So your live shows became the stuff of HOLLYWOOD legend, how long after the recording of the demo was it before you played live?
S . E ; Well like is said I was working on what I thought would be TKO stuff so the demo first was just to see if we had anything worth pursuing. I don't remember exactly how long it was before we started playing gigs , but I would say it was a year at least. We went through a few guiatrists and drummers and KJ (Kristoffersen) from Culprit and TKO ended up moving down from Seattle after he heard the demo to be one of the guitarists and was instrumental in writing the next batch of songs. It's funny all the first guys that ended up being in the band were from Seattle but we formed in LA. We had interest from an attoerney David Kotikow who did not want us to play Hollywood until we were ready.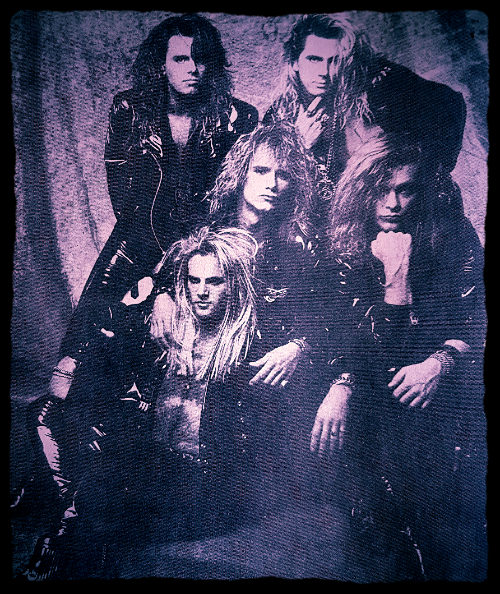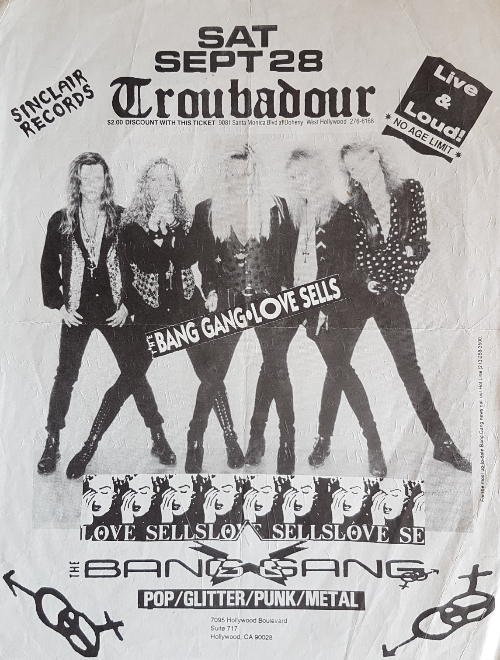 That's the power of Hollywood neon I guess! Yes when you did hit the live scene you stormed the place. I noticed that "Emotional" was played at that time did that just not make the cut for the record or had you written more (to your ears) better and cooler stuff?
S . E ; Well once we had a line up we went into a real studio to do a real demo. We started with 4 songs and then at a later date we did 5 more. It came out so well that , that just ended up being the songs on "Love Sells" CD.
YES! They came out great! O.k. so that's the demo side of things done now how did the deal come about for you? We know you made a major splash in Hollywood did that make you popular in the city or not? Being popular or unpopular are the same thing really aren't they?
S . E ; Well we started to play Hollywood and get a bit of a buzz going. We got lucky and the senior editor of Rock Scene Magazine from New York happen to catch one of our first shows. Beth Nausbaum! She started hyping us up in the magazine and putting our pictures all over it before we were shit. So people started taking notice.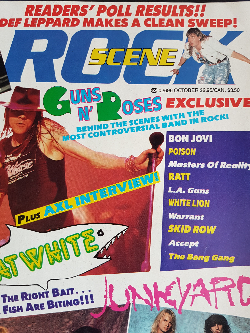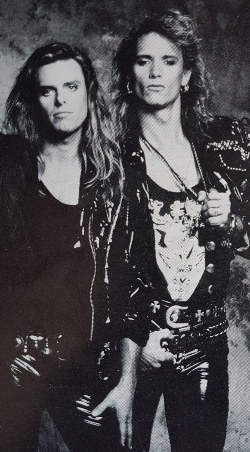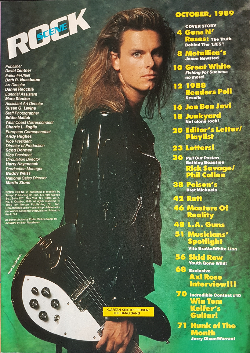 I remember one of the Rock Scene Magazine features in particular it was like a 4 or 5 page spread mainly photo's , but yes that was a total stroke of luck you couldn't have planned it any better if you have tired too!
S . E ; O.k so then we did a gig at the Whisky (A GO-GO) that really got things rolling. They used to have this show on like a week night called "No Bozo Jam" or something. Anyway 10 bands would get up and do like 4 songs each. We were told by our attorney David that some people were going to be there so we went nuts. Completely destroyed the stage. Throwing beer all over the place and then I threw my bass into the house drum kit. It was awesome! Unfortunately the Whiskey didn't think so and they had to physically remove us from the stage. That's where "Banned from the Sunset Strip" came about.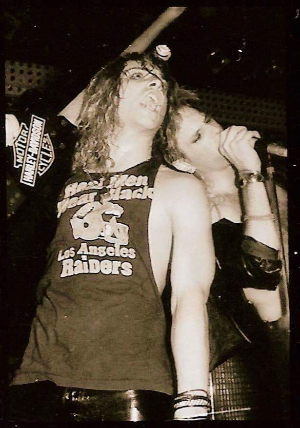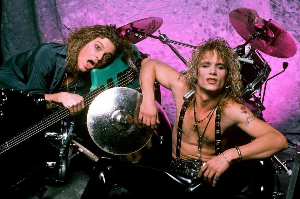 The new Sex Pistols , but banned is Hollywood is good yes?
S . E ; The next morning KJ was on the phone booking a flight back to Seattle , the band was done. We hadn't paid our rent in 3 months and were getting evicted. As he was on the phone booking the flight another phone call came in from the attorney that went something like this....."Well Scott you really fucked up last night didn't you" and I said "I'm so sorry it just got out of hand" and he said "Well BMG was there and they loved it , get down to my office right now they want to sign you to a publishing deal". So I told KJ you ain't going anywhere get dressed. We went down to the office and David asked if we would be willing to give up 25% of our publishing for the first three records and they would in exchange advance us 150 grand , buy us all new equipment, pay for demos and try and get us signed.We had no choice. Lol. So we went for it. The problem was we didn't get the money for like 60 days so we did get evicted. LOL! I went to NYC for a while to hang out , but we barely got by until we got paid. BMG saved the band.
WOW! I never knew that! Right place at the right time. Fuckin up the "No Bozo Jam" was a job well done! So after the BMG money showed up what was next for the band?
S . E ; Well because we were banned from the Strip we were kinda fucked on playing live.The only places we could play were The Troubadour" and "English Acid" . So what we did was go demo some of the songs and we started doing private showcases. In hindsight I think this was a mistake. With no crowd seeing it and just some guys sitting in folding chairs it's hard to duplicate a live show. I hated it we had to pretend to be playing in front of 100's of people and there were like 10 suits. Lol. We did have some big interest though. Jimmy Lovine , Clive Davis , Gene Simmons to name a few. Everybody passed and the main reason that they kept talking about was the singer. Nobody got behind Jet. So I could have replaced him. But man me and this guy had been through a war together and he wrote 98% of the words. What was I to do? My attitude was "Fuck 'Em! They are wrong". I mean he's not the best singer by any means but neither was Bret Michaels lol. I Probably should have listened to them but hey, I can sleep at night knowing I didn't fuck over my friend. Finally Sinclair Records decided to put it out. But it was just too late and then GRUNGE thing happened and it was over for us.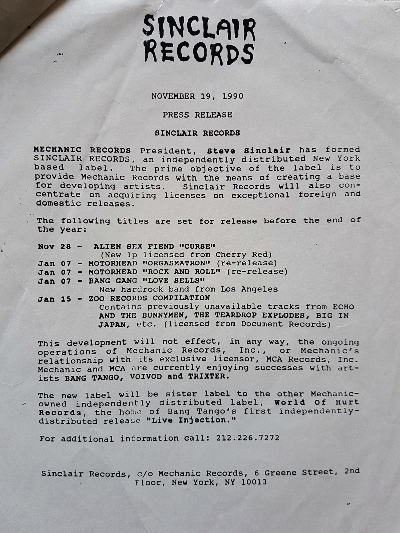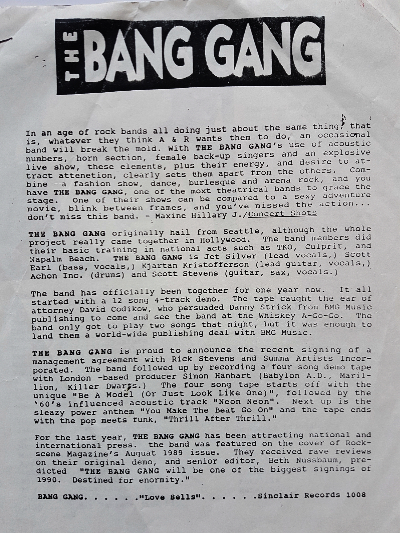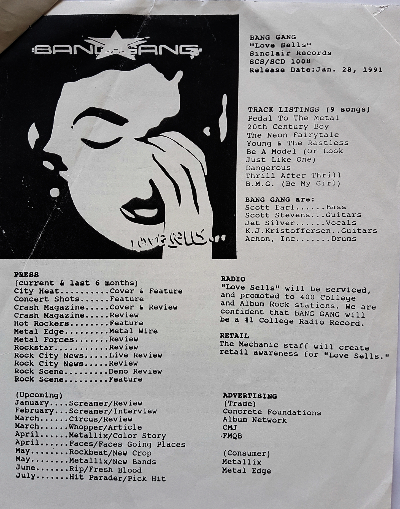 Yes , but why didn't they dig Jet? The guy is a star and no , not the best singer but dripping with attitude and swagger much like you all were. The other labels all passed but if they hadn't we wouldn't have the version of "Love Sells" we have today. Let's face it , if they had signed you we may not have had an album at all or even worse they may have tried to steer you into a more Bon Jovi / Warrant territory which would have not ended well at all for the band. As I (and many others) saw you as glam but for a new age and that set you apart from most of the other Sunset Strip bands , plus you had the crunch to back it up and not make it sound all retro in a dated way. So how did the recording process start , was there pre production?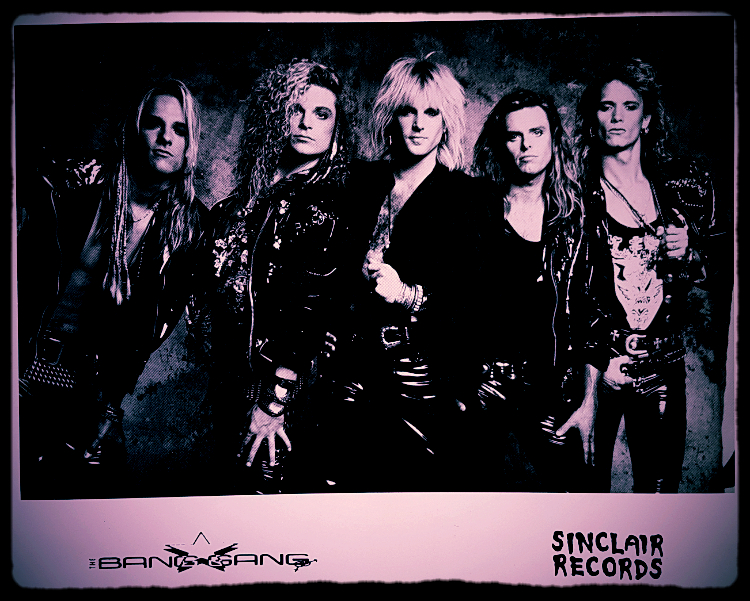 S . E ; Like I said they were demos that we had done in two different sessions over the previous 2 years probably. Once we got Sinclair involved they gave us a very small budget to go in and mix these demos and add a few things to the first batch of songs. We did those with a different producer Simon Hanhart. The second batch was produced my myself and Ryan Dorn. They sounded much better so we just fixed up the first 4 and then we started mixing. Basically those songs were written in like 1987-88 and they were recorded in 1990 , too bad it took so long to finally get it released. We already had a whole second record ready by the time "Love Sells" came out. (That 2nd record saw the light of day as "Vainty Kills")
WOW! So the record was demo's jazzed up? It does not sound like that at all , the record has balls to say the least!
S . E ; Is that a question? Hahahahahaha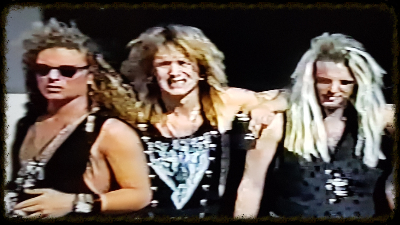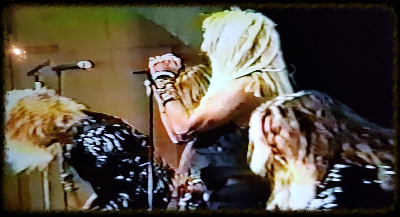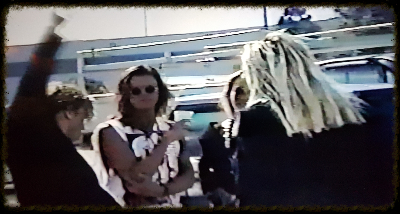 Screen shots from the "Sunset Strip Vol.3 " video
Hahaha guess not. So let's go track by track if we could. "Pedal To The Metal" is full force in your face no nonsense get outta my way kind of a song. A stunning opener for the record and also the live shows , was it?
S . E ; No not really we opened our shows with either "Be A Model" or "You Make The Beat Go On". "Pedal" was one of the last songs we recorded and I just thought it was a cool way to open the record.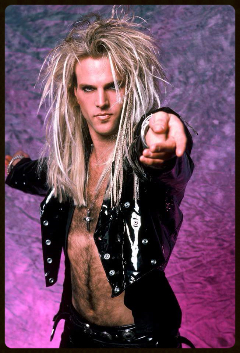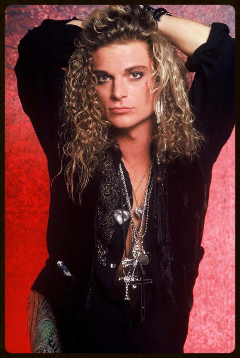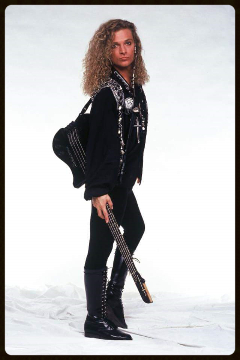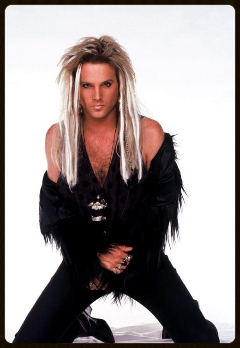 Press shots of Jet , Scott and Achon.
Yes an awesome tune , crunchy n punchy but also has total light and shade , love it. O.k. 2Oth Century Boy , you played this live so was it a no brainer to record it and put a cover on the record or did you think about it before doing it , because at the time it wasn't your usual cover of the time I guess the covers other bands would be doing would be more in the Motley Crue / Van Halen terority?
S . E ; What was the question? LOL
Haha , what made you put a cover on the record was it that you loved the song or for another reason?
S . E ; Because we did a kick ass version of it and wanted to show our influences were not Motley fuckin Crue or Poison
Totally and thank god for that! O.k. "The Neon Fairytale" possibly my favourite track. The song was called "Neon Neon" on the demo any thouhgts on the track and the title change?
S . E ; Jet trying to be artistic. LOL I don't know man
Hahaha Great song and the video for that would have been killer like neon explosions with a psychedelic twist.
S . E ; He was always into that . We had a song called "Love Comes Around" but he wanted to add "Love Comes Around" (The Romeo Song). I think they were his little short stories. You would have to ask him.
That would be cool love to...Anyhoot "Young and the Restless"?
S . E ; I remember MTV made us cut out like 30 seconds of the song. So in order for them to play it we cut the end of the guitar solo. I remember it was a hot fucking day and the shoot was really hard. I still have scars on my feet from the new boots I was wearing.The second day we went out to this abandon lot and shot some more shit. The thing was supposed to have a concept but I edited all that out and I really just wanted to show the band. So in the end is really makes no sense. LOL.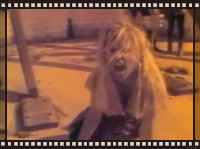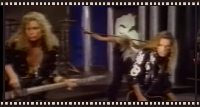 click here to view the video on YouTube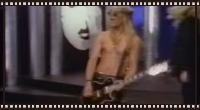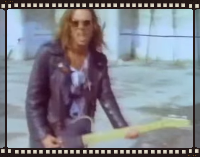 Suffer for your art Scott, that video was killer the performance footage the band looked on fire and really stood out against a lot of what was around at the time."You Make The Beat Go On" ? Love the drum sound on the whole record but this song inparticular.
S . E ; Yes it's huge. First song Jet and I ever wrote together. I came up with the chorus and he filled in the rest. That was really the song that made me want to work with him.
I can totally see why , again crunchy and glam but much like the whole record it had all things little nuances popping up everywhere so its not four to the floor straight up stuff , there is so much more for the listener to behold. "Dangerous"?
S . E ; The riff from that came from an old Culprit song I had called "Metal Heart". We just totally re-wrote it fo fit Jet's lryics. My roommate at the time was Tracii Gunns and he was really into it and the band for that matter. He used to play live with us all the time and when I asked him to do the solo for it he was there.
Nice Score! Tracii Gunns was a fan yeah?
S . E ; Yes
Cool , very cool how about "Thrill After Thrill"?
S . E ; Ummm that was a riff KJ had and then I came up with the intro and the middle bit. Kind of The Sweet influence on those parts.
Oh yes! The Sweet are all over this among many others of course , the roots of glam with a new twist. You had it in spades! So lastly B.M.G that was written in the studio yes?
S . E ; Yeah. We were just fucking around late one night and it just came out in like an hour. It was our way of saying thanks to BMG for all they had done for us. We waited for like an hour for a motorcycle to come by so we could record it off the balcony of the studio. I think that took longer than it did to write and record the actual song. LOL
O.k. you said you and Jet wrote the songs in the main was it a conscious decisson to make it all band credits?
S . E ; Well that's not totally true. KJ and Scotti also got publishing credit for certain songs. We always wanted to be a band. A gang that makes a bang!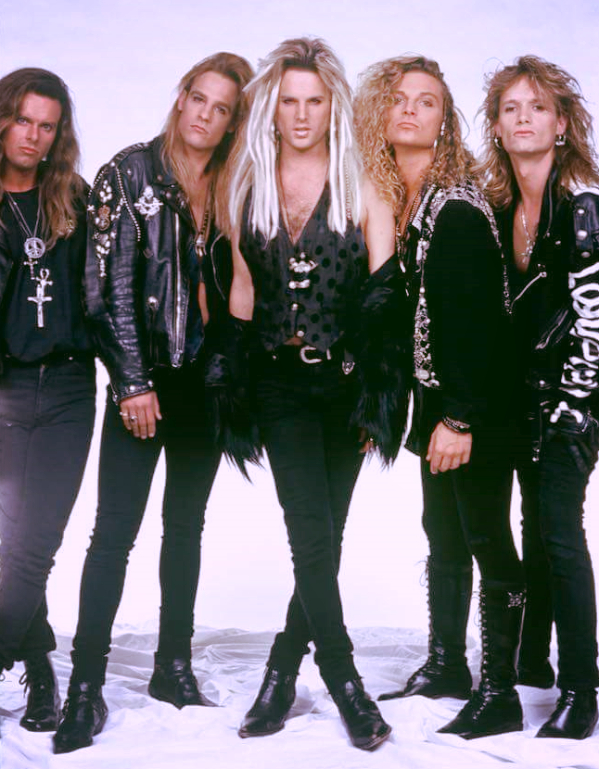 Press photo looking killer and sounding killer!
Awesome! Awesome! Awesome. I love the record. So how did the Re - issue come about?
S . E ; Thanks . Well wait until you see and hear this re-release. It will be remastered . I'm really lucky since I produced it I have the original DAT tapes. We will have new artwork and photo's of the band, plus the company "Demon Doll" records guy , Lance is a huge fan so a lot of love will go into it. He claims to have 30 to 40 minutes of video of the making of "Young and The Restless" video. I have seen something on youtube but not 30 to 4o minutes of it , so I'm dying to see it. It will probably be included on the re - issue. So it will be almost like seeing what we did live. I'm excited about that!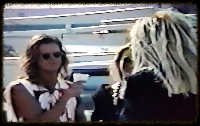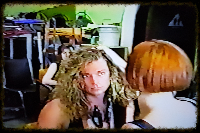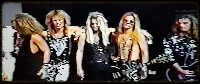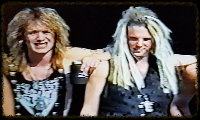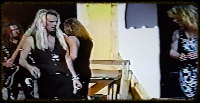 Behind the scenes of the making of "Young and Restless" video
Oh! I can't wait for that I shall be grabbing that for sure!
S . E ; Well as for this "Love Sells" thing these guys (Demon Doll) just contacted me and I just thought it would be fun since it has been out of print for such a long time , plus I was sick of seeing it sell for $100 on ebay lol.
Yes I hear ya but more importantly it should give "The Bang Gang" a new lease of life and maybe a whole new audience. Do you have a release date for the re - issue and do the rest of the band have a hand in it?

S . E ; The re - issue should be out by the end of May . No the rest of the band don't have a hand in it.
I know Scott Stevens went on to be in "The Exies" and Jet had the band "The Platinum Splash" are in touch with any of the past members?
S . E ; I only really speak with Achon the drummer at the moment. We got in contact because of Facebook and now we are best friends again , we both love American football team "The Raiders" and went to a game in Oakland together last year. KJ I have not seen since we did a TKO reunion gig right after 9-11 in Seattle. He moved to Michigan and is a successful Architect, Scotti , I went to see the Exies a few times years ago but the last time we ran into each other was at a Foxy Shazam gig at The Roxy. We got drunk and I talked with the guitarist all night, But we kinda fell out of touch after that. The original guitarist Todd Miller "SKULL E" calls me every few years. He unfortunately has M.S and is not so well. But he always sounds good when we talk. As for Jet the last time we spoke was after the "Vanity Kills" was released and he loved it but then he disappeared again , but I am hoping this re -issue will lead to a reunion gig or something who knows?!
O.k. Scott thanks for being so gracious with your time and thanks also for the DYNAMITE untold info you have given us I knew it would be killer and onward and upward for you and all things Bang Gang!
S . E ; Take care and thanks for your interest!





….STOP PRESS....STOP PRESS....STOP PRESS....STOP PRESS....STOP PRESS....STOP PRESS....STOP PRESS....STOP PRESS....STOP PRESS....STOP PRESS....STOP PRESS....
THE RE-ISSUE HAS LANDED AND IT IS FANTASTIC!
I GOT MY COPY!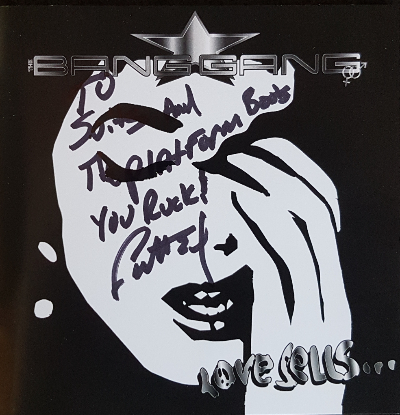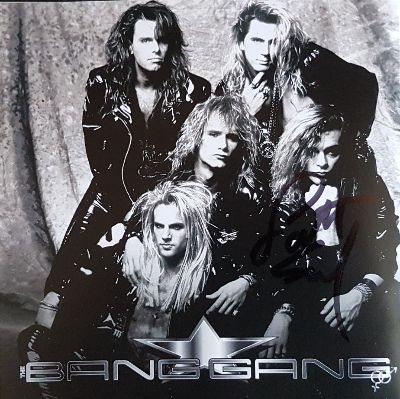 NOW GRAB YOURS HERE! FROM DEMON DOLL RECORDS!

I
nterview conducted April 2018
Photographs courtesy of Scott Earl , Video shoots and suitsandtheplatformboots.com vaults.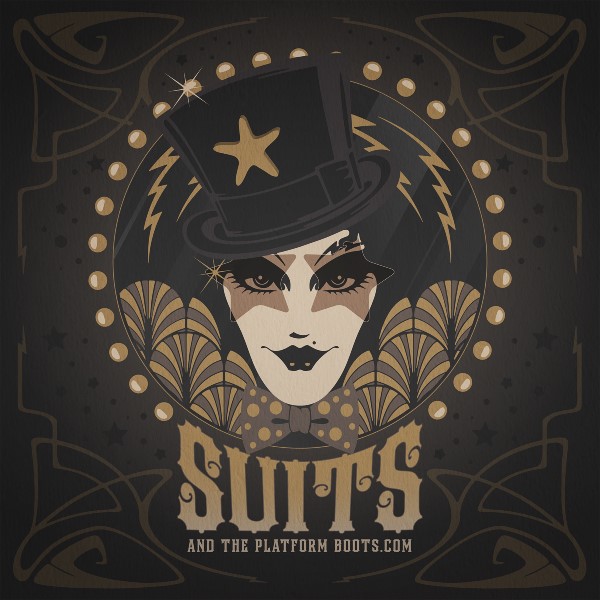 C.SUITSANDTHEPLATFORMBOOTS.COM 2018