"MAJOR" TOM LARSEN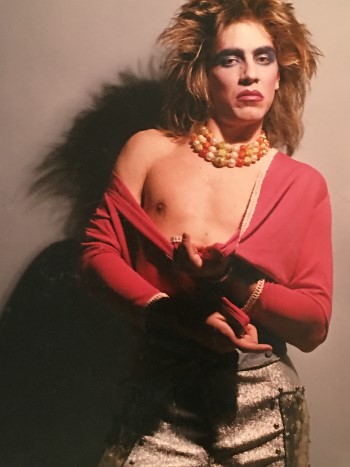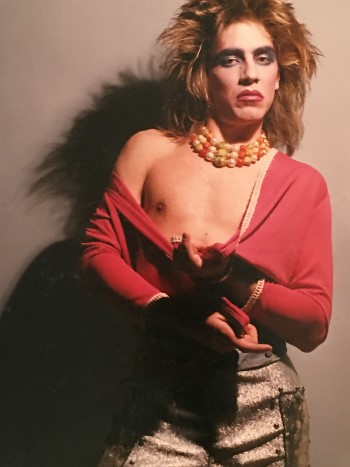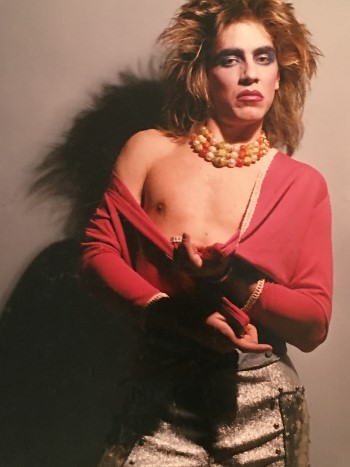 Well today is a great day for you all to get onboard with Mr. (Major) Tom Larsen. A man of many talents both musically and visually. Take a read of his journey up to this point and then strap in for what is about to happen in the future. It's a great tale of music, performing and everything else that goes with it, plus is it wise using screwdrivers and empty tequila bottles for protection? All this and more below, please read on you'll be glad you did!
Hey Tom. Thanks for joining us today, I know your story is gonna be a blast. I just grabbed The Vistanauts debut record, which I am really grooving to at the moment, but more of "Apollo Down" later. Firstly can we start with how rock 'n' roll first grabbed you, which bands and who's style flipped your wig?
Tom Larsen ; Thank you Darren. Well I remember being into music early. I was around three or four years old (in '66) when I had my first favourite song "Winchester Cathedral". Not long after that I was loving The Beatles' "Eleanor Rigby" and "Good Day Sunshine". My parents divorced when I was three and I lived with my newly divorced single mom. It was from her I got into Burt Bacharach / Dionne Warwick, Brazil '66. A few years later, now a full on music junkie I became an uber fan boy of Three Dog Night. Then at around the age of twelve / thirteen a photographer friend of my mother told me about this "strange, other-worldly" new rock star she had just been on tour with photographing. Enter David Bowie into my life. I was soon obsessed with Bowie and the whole "glitter rock" scene (as it was first called from what I recall). I started writing my own songs about that time as well.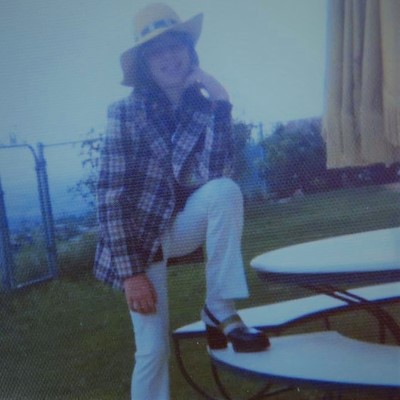 "Tom - the early years" (after I had just raided my mothers shoe closet)!
Three Dog Night who knew? That hit they had "Mama Told Me Not To Come" was like an early "walk on the wild side". A little bit of a tempting tease or a warning, depending on who the listener was. O.k. your mother had a photographer friend who had photographed Bowie. Can you elaborate how your mother knew her and how she got THAT job, pretty damn cool job to have, yes?
T . L ; My mother was a singer, not professional, though nearly. One night she and a friend were hanging out at a hotel bar (downtown Salt Lake City) and the band Chicago was in town at that point and in THAT bar. She met one of the guys in the band who told her Bette Midler was looking for back-up singers to take on tour with her. Somehow in pursuing the singing she met the photographer lady. I wish I could remember her name, but I can't unfortunately. She was at our home just that one time. She had long, dark brown hair and I recall that she was quite excited and animated and still buzzing from being on "the road" and being in that frame of mind she carried on about this fantastic exotic British rocker. I'm guessing it would have been the "Diamond Dogs" tour in '74, then I bought "The Man Who Sold The World" and was soon immersed in everything Bowie that I could find. From there I found out about Roxy Music, Iggy Pop, Lou Reed, Mott The Hoople and The Sweet.
Man time can be cruel to memories but these are just total stardust to us hearing them for the first time from you. So you got "The Man Who Sold The World" first, could you take us through first, the unwrapping of the record and then onto how did those sonic waves contained on the slab of plastic hit your brainwaves and what did you think to it all?
T . L ; The version we had in the States was the (re-issue) cover with David in Ziggy guise kicking into the air. That stark, dark cover combined in my mind with the foreboding, epic melodies within the songs about passion, madness and alienation. It was a heavy new world and I loved it, fell into it full force!
Excellent words Tom, that record is a mixed bag (for me) but "Width Of A Circle" was the birth of the new breed for sure. Was the next record you bought, another Bowie slab or something else?
T . L ; I had eclectic music interest always. Around the same time as "The Man Who.." I got and loved Stevie Wonder's "Innervisions" - my dad sent me Rolling Stones' "It's Only Rock 'n' Roll" for my birthday and I also dug all the prog stuff ELP, Yes, Kansas, Styx then Zappa and (Todd) Rundgren. But "David Live" was my next Bowie, followed immediately by "Space Oddity". Then "Ziggy stardust" and "Aladdin Sane". At fourteen I got my first Synthesizer, a "Mini- Korg", followed by a Roland and Hohner Pianet and then I started my first band with my drummer buddy. I still have the cassette of me sort of covering "Suffragette City" from that time hahaha.
Wowie, so nothing musically out of bounds then at all. I would love to hear that version of "Suffragette City". So when did the transition to playing happen? Was it an easy thing for you to do (something that you just HAD to do). When did it all get more serious plus was it just Bowie that inspired you to perform or was it all and everything you were seeing and hearing?
T . L ; Well going back a bit, in third grade and when I was in love with Three Dog Night, I would fantasize (and actually tried to put together) a Three Dog Night cover band! Lol, a bit ahead of my time as none of my classmates knew or cared about music as obsessively as I did. I was already writing songs and imagining stage clothes and stage props (I wrote my first song aged seven called "It's God Fault"). Fast forward to age fourteen when I got my keyboards and my twelve year old buddy (who had drums, electric guitar and amp) started a "two man band" called Bunyan Timber and we put on shows for the neighbourhood kids.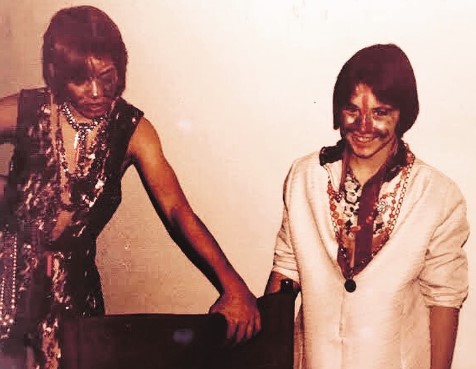 Bunyan Timber
I wrote about five original songs for that and still have the recordings of us (by the way, I actually just lifted a portion of one of those songs "Persia" and have built it into a new song that I am recording now! Yes recycling works! haha). Anyway, we screwed around for a year or so, then I moved to Davis, California (just north of San Francisco) to live with my dad. And I took my synths! As I was the only kid in town with synthesizers I soon found myself somewhat in demand. "Station To Station" had just been released and I was as heavy as ever into Bowie, spending many nights with headphones listening to all the instruments and production techniques in earnest, analysing. I was always trying to rig up reel -to- reel and cassette decks, ping ponging between them to create my own multitrack versions of my own songs. The first proper gigging band I was in happened there is California when I was fifteen. It was with a bunch of older guys, mostly black, called Madison Avenue and we played funk and jazz fusion. (side note; Tony Natsoulas, who is now a well known artist/sculptor played saxophone in that band along with another friend Shedrick Davis who still plays guitar now in Los Angeles with Drakes' dad and James Brown's old bass player. Shedrick and I (btw) still talk and plan on getting together again to play the entirety of "Station To Station" in L.A. when I can get down there, however, I digress).
Wow I knew this was going to be a trip. How did moving to California change your musical path. How was life different to living in Salt Lake City with your mother, I imagine that Cali offered more experiences?
T . L ; I lived in Cali for a year. It was a super creative time as I didn't really have any friends and spent much of my time composing on the family piano that we had. But I got homesick eventually and went back to Salt Lake City. That's when I picked up a guitar and started writing songs (on the acoustic)- campy folky stuff inspired mostly by "Space Oddity". In my junior year I got my first role as lead singer for punk / new wave band The Astonishing Spoons. Steve Egerton (AKA Steve O'Reilly) was our guitarist. As an aside Steve went on to play with the punk band The Descendants and was the inspiration for the main character in the cult film "SLC Punk"! Meanwhile, I was always quite spiritually minded and while still in high school became a "disciple" of the soon-to-be-infamous Indian guru Bhagwan Shree Rajneesh. I dropped out of school a month before graduation with the full intention of travelling to India to live in an ashram and become a monk. I, however became disillusioned and never made the trip. After that I moved back to California to live, taking with me my best friend who also played guitar. We were intending to make a real go of it in the music industry and we wrote many songs together.
Wowie! A monk, Bowie flirted with that too. Ok back to California it was, what was you friends name and what happened from the time your arrived back there?
T . L ; Sadly (now looking back) I had gotten rid of my keyboards and wrote mostly then, on guitar. Me and Jeff lived in Davis, played in a couple of bands here and there, partying, and doing more home recording adding more songs to our repertoire. I worked in a music store in nearby Woodland, where I met some older musicians who had a regularly gigging country-rock band and they needed a keyboardist. So I joined up with them, back on keyboards, playing around the region, while Jeff and I continued to collaborate on the side. I made my first solo studio recordings at that time, playing all the instruments on my song "She's My Yin". This time, however, Jeff got homesick after about a year and moved back to Salt Lake City. I followed a few months later and, getting back with my drummer buddy Scott (my early Bunyan Timber mate) we formed a glammy /new-wavey band called Innernational Man.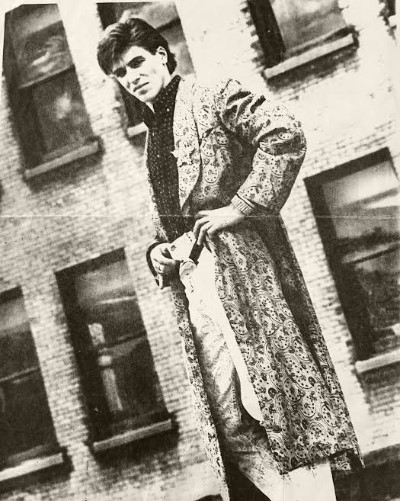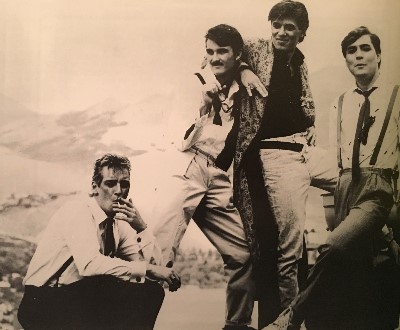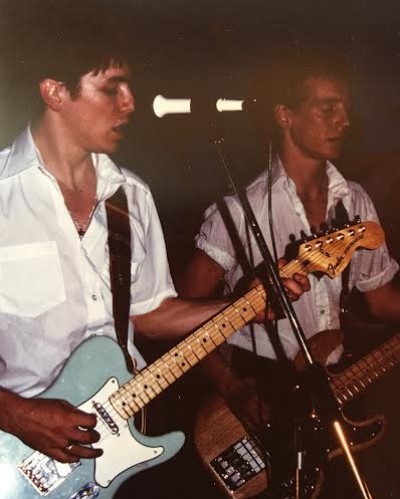 Innernational Man Studio and Live
Me and Jeff on guitars, Scott on drums and Vince Blight on bass. We had a 45 song set that included covers of Gary Numan, Iggy Pop, Bowie, Richard Hell Eno etc... although about eighty per cent of the set were all originals. We played around town, recorded a couple of albums worth of tunes at local studios and we were together for about two years in total. A couple of personnel changes then occurred and then a new band The Tremors eventuated. More recording and gigging followed, then in '83 I got married, heh, with a kid on the way! In '84 I landed a job as chief engineer/composer and studio head of a new post-production studio, Polymedia. HA! I now had the keys to a cutting-edge sixteen track studio which included a Kurzweil, DX7 and an early Mac computer with recording software, everything all Midi'd up and synched to a film projector where we produced one of (if not the first) all digital soundtrack for a movie. I scored music for both film and video there, while also honing my own songs using the latest tech during "off time". The motion picture I scored and wrote all the music for starred Neil LaBute who went on to be a director for such films as "Nurse Betty", "The Wicker Man" the TV series of "Van Helsing" and much, much more. I worked at Polymedia for a couple of years and started sending demo tapes of my songs to music labels, managers and publishers....all of this eventually ended up with me moving to Florida and recording with Butch Trucks (Allman Brothers drummer) in Tallahassee. Enter Ken Scott!!
The Allman Brothers, Florida and Ken Scott! Please tell...
T . L ; I forgot to mention during my time at Polymedia I joined up with another band called The Planets. It was a heavy band, sort as if David Bowie sang with Led Zeppelin, or a bit like Guns n Roses meets Tin machine. Again, I took us into the studio and recorded a number of original tunes.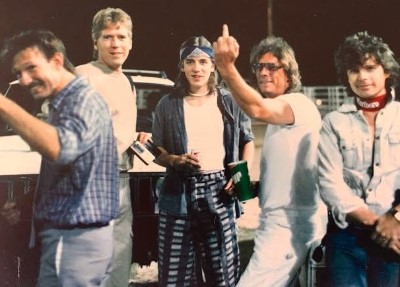 The Planets
Meanwhile, through some family connections, I secured a backer for my solo music ventures, John Browning (of Browning Arms Company)! It was an odd pairing, but, he believed in my talent and it was via his backing that I landed in Tallahassee, Florida with a small bundle of funds with which to pursue recording an album. From sending out tapes I had got interest from a local legend, manager / studio owner "Eli" band member Charlie Roberts , in Tallahassee. The plan was to have John Kurzweg produce me in Charlie's studio (John Kurzweg, musician / producer went on to produce Creed's multi-platinum selling albums). I met John and learned that his own Atlantic Records debut album was produced by (Bowie, Beatles, Supertramp) Brit producer Ken Scott!!!! The guy who helped bring us "Hunky Dory" and "Ziggy Stardust"! It took me less than two seconds to decide THAT is who I wanted to produce me! I got Ken's number, sent him some of my tunes and we talked fairly regularly on the phone, discussing the potential project. He was interested and said he just had to finish up a project or two then he would take a serious look at it. Now, one dilemma regarding Charlie Roberts studio was that I was writing songs using Midi and computer software programming, combining sequencers, sampling with analog instruments etc.. cutting edge techniques, his studio was more of the prior era of live band recording. I then found out about a new, ultra state-of-the-art studio just ready to open down the road, developed by Butch Trucks, the drummer of the Allman Brothers! They had all the latest tech that I was use to using from my time at Polymedia. So that's where I ended up going, being the first artist in the door. I remember seeing Butch still wiring up equipment while I was doing my vocals in the main big room! Oddly, he didn't have a car at the time and I use to drive him home after our sessions, and remember his (future guitar-wizard-to-be) young son Derek Trucks hanging out, playing around in the studio grounds. Also at this time, I'd attracted the interest of a wanna-be publisher of mine (Mike Gapinski) in Minneapolis who was also helping with some backing and shopping my music to folks in and around Paisley Park.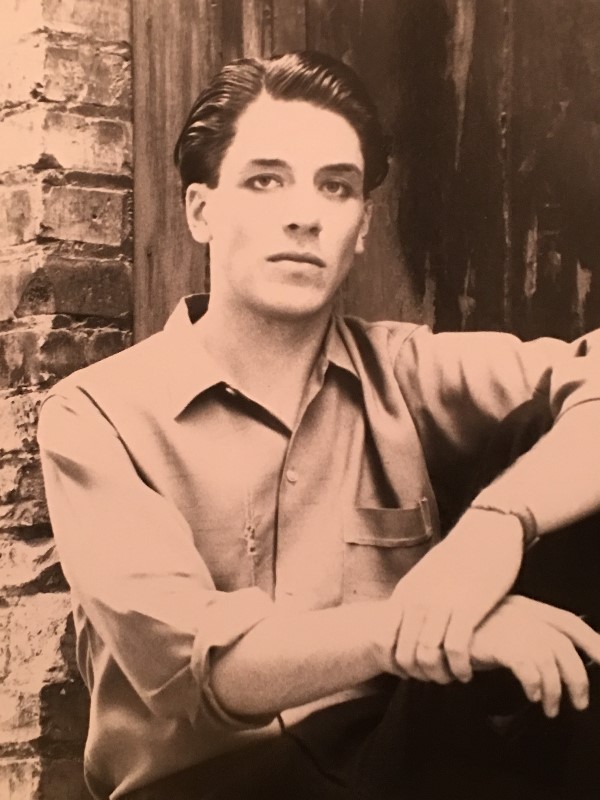 Tallahassee Tom
I recoded a slew of songs there, working with engineer / entrepreneur David Engleke ( who went on the buy Solid State Logic with Peter Gabriel). I shot a couple of music videos as well there, which debuted at the New Music Seminar in New York City, where me and my lawyer / manager (Fred Harris) and Gapinski went to shop my music at CBS Records and other labels. Gapinski also set up a demo recording session for me in Aspen, Colorado where I worked with two musicians / producers flown down with Paisley Park ties, Pat Makin and Rob Arthur (who is now touring and playing with Peter Frampton amongst other things). It was a heady time and I was poised to be "the next big thing", looking at a debut album produced by Ken Scott! When I finally got a record deal offer from a label who dug my stuff in the U.K. (Greenhill Records). They were called and they intended to fly me over to Britain where they thought my music would take of big, and then break me in the States. This was all happening around 1987-1990 The only critique I got at the time (which I perhaps naively took as a complement) was that I sounded just like David Bowie, "and there already IS a David Bowie". I couldn't help it though. He was such a big influence on me since childhood, that was simply how I developed my sound.
YES! Why wouldn't you want to sound like Bowie, odd thinking on their part I would say. So did you get to the U.K. with this label? This was at the time of the new glam rock/metal movement so you would have thought it was great timing. So what happened?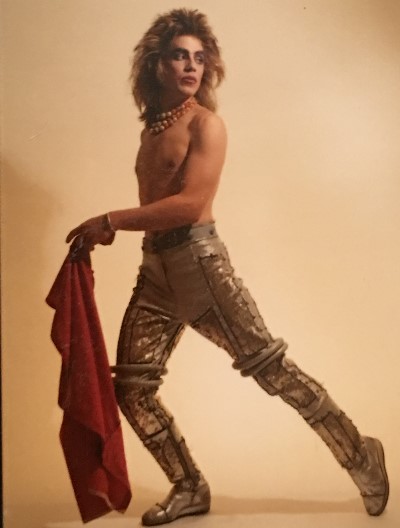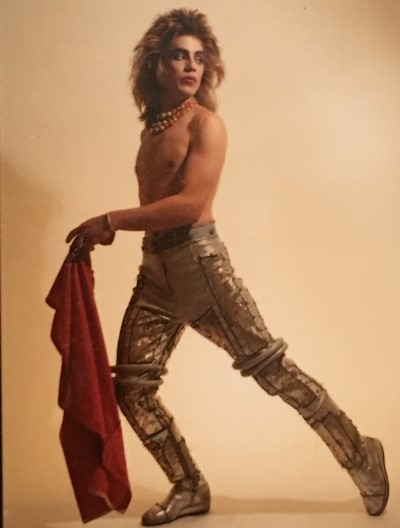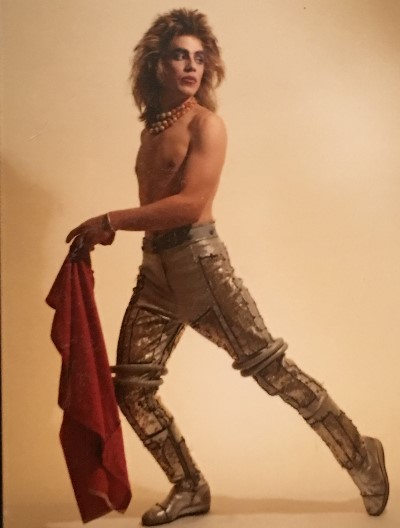 T . L ; Well, indeed and I was living the new glam look and attitude at that time beginning in 1986. Anyway, while prolific musically, I was also prolific having kids. My wife, Lindsay and I now had two little boys (the second one born deaf due to pregnancy complications) and a third one on the way in Tallahassee. I suddenly realized that if I took the U.K. deal, it meant touring and everything else associated, and this was not realistic with a young wife and three little boys (one with special needs). So, I walked away from it. Thinking perhaps later I could pick it up again when things settled. We moved back to Salt Lake City and I went to college studying Russian and International Law with a mind to try for Law school! This was the end of '90. I also got involved with "Talk Radio" appearing as a (satirical) guest regularly (with producer "bits") as "T-Ray : Reginal Director for New World Order"! I continued to write music and record it when able through the '90s, but mainly working as a speciality design house painter, going to school, raising boys (a fourth one arrived in '91). I had my own "talk radio" show for a year or so in '97, got accepted to law school in '99 and graduated with a law degree in '02. Then I immediately went back to painting and making music heh.
A busy man indeed. I guess life takes over and priorities change for sure. So you went to law school, was it a hard time leaving music and what might have been behind to go back to studying again? Also did you feel like you had lost your dream or was it more I could have done it in music, but I just can't do it NOW so let's see what a complete change of direction will bring?
T . L ; Privately, since the "walking away" I yet hoped that somehow I could swerve my way back into music. I wrote and recorded probably forty to fifty songs through the '90's and kept my eye open for possible ways to still get a recording contract. But it was the '90s and the whole music industry, especially toward the end of the decade, was changing drastically. The days of singing and cultivating an artist were fading quick and it was now harder than ever to make inroads. Around '06, my boys were teens and all showing musical interest and capability. I got the idea for a "family" band, called it The Larsen Ice Shelf and actually got them all involved in some recordings of the new original songs. HAHAH! But the other teen interests "broke the band" and it never came to fruition. In '10 I threw a quick band together called The Psychotronic Foil and we played once for a "New Music Festival" at the Sundance Film Festival in Park city, Utah. But that was it for that. I was just still itching to record and play out and so, when able, would put something together sporadically, just to keep my hands and voice in the game. Eventually, it came to a head, the day after Bowie passed away. My youngest son, Jackson was a musician in earnest and had a very popular local band called Westward The Tide. They were scheduled to play an iconic local venue Velour Live Music Gallery (haunt of early Neon Trees, Moth and The Flame, Imagine Dragons and more) the Monday night after Bowie passed. Jackson called me to ask if I would come sing "Heroes" with his band in tribute to David. (there a video of the show). Click here for video of the said track "Yes!", "Yes!", "Yes!" I said and we performed together for a teary-eyed, emotional and sold out crowd. Now, I had already been toying with the idea of starting a Bowie tribute band of sorts, and after that night I felt I could do it. And, I thought also, perhaps I can get an originals band together and record an album- two wings of the same musical bird. And this is what happened. Within months, I collected some fantastic professional musicians and created Major Tom & The Moonboys , a David Bowie "cover band" .. and a few moths later I created The Vistanauts, a vehicle for my new original tunes. A year later I also added Major Tom And The Pirates ( a Rolling Stones "cover" band). Through some "crowd funding" and a lot of personal money, I scheduled studio time and began work on "Apollo Down" by The Vistanauts, which was to be, at last, my debut album. It took almost a year to complete, 'cuz I'm still a "working man" and finally it was released April '18. All three of my bands have been playing regularly around the region (some of my performances recently featured in an Italian film produced by "BowieNext" about David Bowie and his affects on fans, with interviews of key Bowie affiliates ) and I've been having a BLAST! Yes, a bit long in the tooth now, haha, but as impassioned and convicted as ever for this love of creating and performing music! I'm still married and my wife (a former model) who helps with make-up, styling and various social media platforms related to all three bands. Currently, I'm writing and recording a follow up to "Apollo Down", a new ep called "Tri-Borg Monstrosity".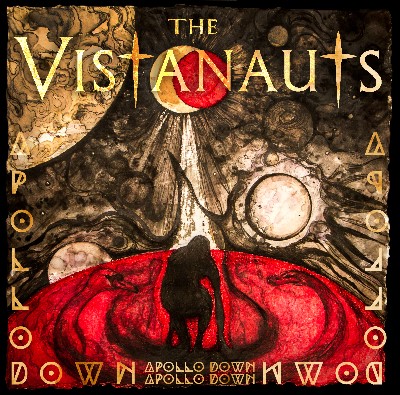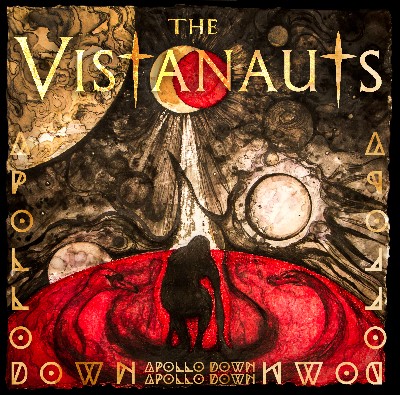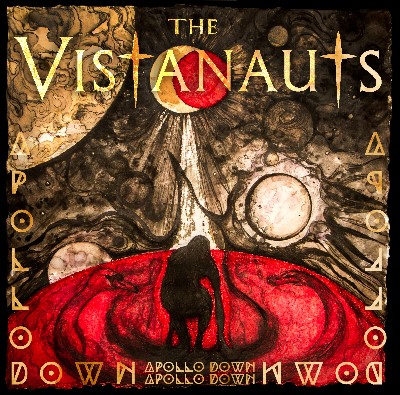 So it seems that not taking that deal really paid off, because you are making music with your whole family and that must be pretty special right there. O.k. great news of a follow up, but first lets go track by track with "Apollo Down". So "Missing You" kicks off the record. A straight ahead rocker of sorts with kind of a Velvets rhythm and a very pop almost Tubes-esque melody. what's the story behind this one?
T . L ; I originally wanted to record this album analog, find a studio with a twenty four track, two inch tape deck. That proved hard to find, but I did make a point to record a good proportion of the tunes live, with a band. "Missing You" is an example of that. I played the keyboard and sang at the same time along with the drummer, bassist and guitarist, first take! The I did a bit of background vocal overdubbing and a couple of little things added. In general I wanted to get away from the auto-tune, auto-corrected, over processed sound that is so ubiquitous these days. As much as possible I wanted to record the way albums like "Ziggy Stardust" and all those early seventies classics were done, a good live take with the whole band. With that "Missing You" is one of the most personal songs I've ever written. When I came home with the first demo version of it and played it, I cried. It's about someone who is not in my life, who should be, someone I haven't seen or had contact with for many years and a bit of the story of how that happened. Shame that, I think we all have those charters in our lives to some degree.
The record does have that seventies sound to it and yes back to basics and TALENT! O.k. next up is "Trails Of the Demisphere". A great, great title, another rocker kinds of reminds me of "Scary Monsters" era Bowie being played by Zolar X, a very spacey vibe but not too trippy.
T . L ; First off, thanks again Darren for giving me this chance to expand on this record. I love music, love to write it, record it, produce it and especially perform it! In a bold Glittery Glam fashion! I'm one of the last of a certain breed, like yourself! Anyway "Trails Of The Demispehere" is another song I recorded live with a band, then added a few overdubs. You can hear my drummer Stephanie speeding up a tad at the end of the track I think. I dug that kinda thing, which would nowadays too often "quantized" so -called "fixed in the mix". But she has a rolling, swinging style of play that to me is perfectly suited to the songs she plays on this record. Again, I prioritize capturing a moment, a live sparkling performance over computer controlled perfection. This song topically has a lot going on. Basically, however, it's about being and "outsider", "a stranger in a strange land", the "freak" surviving amidst the dark agendas and mind controlled mass conformity present in this world. LOL! Nothin' to heavy, hahahha.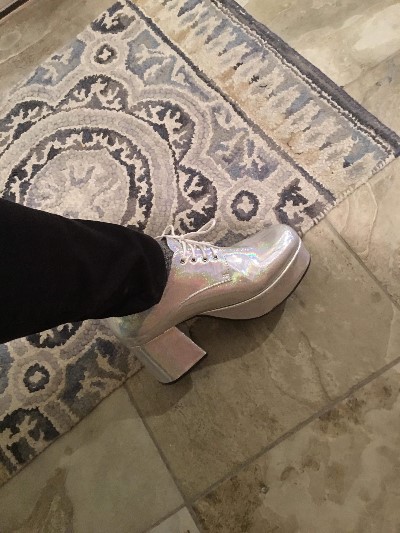 Walk it how you talk it!
So basically the life of a glam rock 'n' roller hahahaha! Yes we are a dying breed but there are little glittered pockets of cool new music out there, so we must not give up hope. O.k. title track "Apollo Down". Heavy stuff here with almost an industrial slant on the drum sound. Also tremendous light, shade, power and tenderness in the vocal, is this where the name The Vistanauts comes from? You know the whole outer space vibe?
T . L ; Yeah "Apollo Down" is heavy on a couple of levels. It's my wife's favourite song of any that I've written. There are a number of clues sprinkled through the lyrics regarding the specific subject....but generally it's about "gaining the world whilst losing your soul" - a sorta thought experiment to that end. It's another one I recorded with a full band. I played the main keyboard part while I sang the lead vocal-haha, which drives the engineer crazy 'cuz you can hear the keys clacking on the isolated vocal track! But I like those little audio anomalies left in. I plan on re-mixing it, a single version sometime soon. There's a lot of tracks there, a lot of dynamics that I'm not sure we quite captured, but having said that all in all I'm happy where it ended up.
That's great a single mix of it would be great to hear. The song is very dramatic and film-esque and the version on the record is still a killer track but to re-visit it could be cool again, you are the artist and if you feel that you could have done more then so be it. And it's your job to make the engineer crazy haha! Before we go onto "Shhh" where did the band name come from and why not just go as Major Tom (Larsen)?
T . L ; Well, I got back into music in '16, I put together the Bowie tribute band and called it Major Tom and The Moonboys (Moonboys being a reference from his song "The Belway Brothers"). For my originals band I wanted a unique name, evocative and easily found in search engines. I'm always surprised how many bands these days use band names that are already taken! It's easier than ever to search and see if a name is at least relatively unique. The Vistanauts just popped in my head. I wanted something forward looking, exploratory sounding. I made the word up and gave it definition, which is on our shirts; "Vistanaut: An explorer of distant views".
Nice slogan and great thinking. O.k. back to "Apollo Down", next up is "Shhh". This is very, very, Bowie and kind of reminds me of his track "Repetition". Very nice guitar lick in this one...
T . L ; Thanks!!!! "Shhh" I wrote on guitar and play guitar on it amongst other things. Having grown up during the seventies, I love diversity of thought, expression, ideas and fashion. The seventies had so much going on, and being a young eclectic/eccentric "magpie" I explored and sampled everything thing that was going on(I'm talking music, art and fashion) through my proclivities and my main love was the "glitter / glam rock " scene coming out of the U.K. Anyway, I unapologetically believe in "free speech", freedom of INDIVIDUAL expression. I'm not down at all with "group think" and one day, watching the news, watching this totalitarian trend toward speech and thought control.. well it pissed me off AND saddened me, so I grabbed my guitar and wrote "Shhh"
Nice, yes freedom for whoever and whatever should be the message, I hear ya and rock 'n' roll should be about freedom shouldn't it? Next up is "Symphony Above". Now this is very atmospheric, "The Hunger" springs to mind, The Bauhaus on a cheery day? I see it as a scene in a film like a re-birth or the break of day after a very long night, also great lyrics here, so can you tell us about this one?
T . L ; My youngest (musician) son was at out home messing around, creating some music on his laptop and I heard this basic sequence I liked. "I want that" I said, "Can you create a music track for me?". We have collaborated before. He said "Sure" and after he returned to L.A (where he lives) he sent me some tracks. I took these into the studio and added some guitar, some synth flourishes, did a bit of editing and wrote the lyrics. Being a fan of (and raised up on) Bowie's dystopian ventures (i.e. "Diamond Dogs") I came with a version of my own. The song is about watching the descending, dysfunctional madness of the current world scene and just wanting to "shut the door" and "jam", be that with a significant other or, literally "jam" as with musician mates and just let the world fall apart yano were ok were just having fun in here! It also has a message of eventual "transcendence" ("running to the peaks I see"). The world to come, so-to speak, "The Symphony Above".
Nice keeping it in the family! "Friend" is next. This starts up sounding like something from Paul Stanley's '78 solo record, then turns into something that wouldn't sound out of place on the "Man Who Sold The World", then just as you think you know where it is going its goes in another direction. A friend, and alien friend is that? Bowie?
T . L ; Like Bowie was listening to Neil Young in his acoustic phases... I listened to Bowie listening to Neil Young and that whole melancholy hippie-spacey, sorta ragged troubadour thing. This was me exploring that realm in "Friend" and then rocked it out! An old brilliant guitarist friend of mine who I played in The Planets with is still around (He now looks like Gandalf with a Les Paul) and I brought him to the studio to add the electric guitar parts. Me and another great guitarist Kent Rytting played the acoustic stuff and I did the keyboards. Anyway this song is really just about friendship. In this jaded, cynical time I wanted to recall something positive and all the various lyrical vignettes in there really happened, including the spaceship sighting! Fond memories of fun times with different friends through-out the years, a nostalgia trip. This was another track that was mostly done live with a band (the rocking part, that is). I was also listening to a bunch of T.Rex when I wrote this, which kinda comes through as well, I think?
Definitely! Some "T.Rexness" sound in there can only be a good thing! Next up "Rock n Flow", nice nod to Bowie / Roxy in the lyric. Nice paced rocker with lots of twists n turns, thoughts on that one?
T . L ; Feeling like....guess who, lol.. DB! I've had a string now of musicians flow through my nest of creative impetus and drive since I struck back up again. One fellow, in a second phase of The Vistanauts was "Cubby" McBride, a young kid, "'90s punk" bassist (now with The Mystic and All That Falls) dropped into the scene. In the midst of recording "Apollo Down" he was there for a moment, and wanting to "relate" I decided to write a "punk" song. Now, I truly came from the real post-glam punk era, so I felt I could merge some time frames. I wrote this song quickly, had "Cubby" over to practice it the next day, then told the remnants of my original Vistanauts band to show up at the studio a couple of days later, a few hours booked and I would then quickly teach them this song, "Rock N Flow"! Stephanie on drums, me on guitar and "Cubbie" on bass. We tracked this in an hour and a half, mixed it and got outta there with time to spare. It's a slightly cynical song, referencing how nonsense can take the day, YET, it really comes down to rocking it out in the end. And yes, a nod to Roxy and Tin Machine is in there!
Nice mix up of styles there, like the whole record really, which can only be a good thing, all the same can get too samey and boring for sure. Next "Maestro's Landing" this seems like another part of the title track "Apollo Down". Did your son have something to do with this track also?
T . L ; "Maestro's Landing", I've been doing ambient music since the mid '70s after I discovered Brian Eno's ambient works. So, since this album of mine is a sort of sonic travelogue through all the styles and influences I've liked, I wanted to have a little soundscape in there as well. One of my other sons, Isaac, has a mild condition of Asperger's (a form of Autism). He's a sweet kid, super creative and I wanted to include him in this project. We created a "character" (Maestro Riddelz) to be part of the whole Vistanauts story / mythology, a sort of a lurking "trickster" who sometimes helps or tries to sabotage The Vistanauts' cosmic explorations. For this track, I directed "imagine The Vistanauts have landed on one of the moons of Jupiter to play a gig. They disembark the ship, lugging their equipment, only to suddenly hear in the distance a rally going on in the town square. Oh Crap! Maestro Riddlez is stirring up the crowd, inciting revolution. "No gig tonight"! I brought Isaac into the studio and he (in character) read a poem that he wrote about what Maestro would have been shouting to the crowd. I created the music/ sound bed then musician son Jackson added the beat part, and Isaac played some guitar effects as well, along with his vocal part.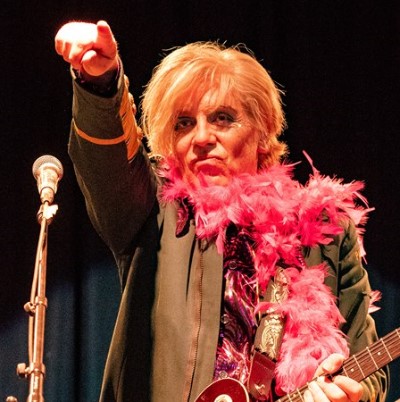 Tom ; launch night for "Apollo Down"
It seems you really like to involve your family in all aspects of you work and it obviously pays off! Funny you mentioned Eno because in my notes I wrote "wouldn't sound out of place on a latter day Eno record". Right, next up is "Pay The Price" This is epic and it would be easier to say what ISN'T in here than what is, so please tell us the story about this one
T . L ; Ha, yes! "Pay The Price" is where I wanted to create some unusual and hopefully new sound textures, though we all know there is nothing "new" under the sun. I played a twelve-string acoustic on there with certain effects, combined with synths, which I'm quite pleased with. With no care for commerciality or perhaps even sensibility lol, I gave myself no boundaries on this one. At the end of the track, I even (mischievously) used tones and patters that are precisely NOT what is currently trendy and expected. I used the "cut-up" technique lyrically (which Bowie was so fond of) and wanted a sort of "Sons Of The Silent Age" vibe. As with a lot of my lyrics, there is an amount of "coded" messages, things I can't or don't want to say explicitly but still want to get off my chest. Generally it's about being the "outsider", an alienated observer who, nevertheless is resigned to going along to get along, while at the same time remaining apart and critiquing. I did all the instruments and vocals on this one, though I think a musical mate Jerod Stutsman helped with the drum programming.
Yes it all came together great and as I said epic in all dimensions. Now we get to what is the greatest hits part of the record, for me, three killer songs in a row, first up "Dartanion" . Mentions of Cocaine and whores prick the curiosity immediately. Great guitar work here and at some point almost a Frippy kind of vibe. Sonically speaking very, very strong and hooks to die for. Would I be right in guessing this is a VERY character driven song and is very precise in what it wants to say?
T . L ; Yes, you got that right re "character driven". My sometimes collaborator Jerod sent me some rough instrumental tracks and I dug the gist of this one which became the basic foundation of the song. I fiddled with the structure and my (London born) engineer Rowan Stigner did some creative editing to hone it together. By-the-way, one reason I chose to record this project at Audio Inn Recording, a studio which sits in a very edge-of-downtown setting behind a biker shop and street walkers are not that far away, is because I liked the owner Eric Lo, liked the room and was thrilled I could work with a Brit as engineer, and also for its general ambiance. I imagined myself in a sort of "Cherokee Studios" urban situation like where Bowie recorded "Station To Station". A lot of characters about whenever I'd step outside for a break, to write some lyrics etc.., Jerod had created the basic guitar and rhythm bed, and I added lead guitars, synths and vocals. I am VERY proud of that Frippy guitar part. I did that on the fly during a session. I'm a voracious reader and happened to be reading the classic "The Three Musketeers", hence "Dartanion" on the mind. But in this case my character is either a revolutionary, cad-"saviour" of sorts, or he's about to upset the whole apple-cart. A lot of my lyrics are written to be taken a couple of ways. i.e. "They saw Dartanion calling, so they chopped up the lines" can mean "Ah-oh, shit! Dartanion's calling/coming we better sever the communication lines". That's what the bad guys (i.e. the establishment / the "man") might say, whereas, the folks, the oppressed people here might think Dartanion is coming back home it's time to "chop up the lines" and get the party started! Again I've got a fair amount of coded language in there that can be taken a couple of ways. I figure it's the only way to steer clear of the "thought" and "speech" police , hahaha!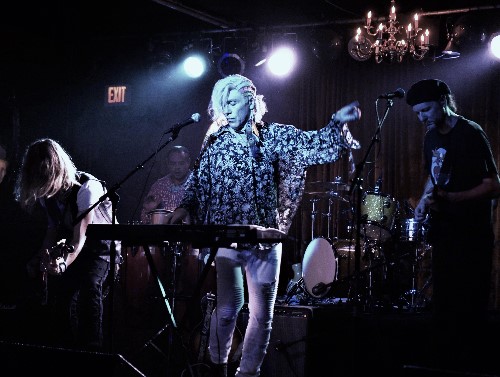 Yes coded language or double meanings really do work for the listener, they can take from it whatever they like and let their minds run wild and that there is the beauty of music, what one thing means to someone can mean a whole different thing to another its all in the mind of the person who is listening. Again great song and great work! Next up in The Vistanauts "Greatest Hits" package is probably my favourite from the record "Stealing Heaven". I like the foot stomping breakdown part. Also I think in relation to "Dartanion", this also has a clear message and meaning, the story telling puts me in mind of Lou Reed's killer story telling in "Walk On The Wild side". I was going to ask if these are real stories maybe being influenced by the edge of town situation you recorded in?
T . L ; Part of this album was me raiding my own past songs or riffs from songs I've written since a teen that never saw the light of day. The main electric piano progression goes back to when I was fourteen writing songs in Cali living at my Dad's on his old piano. I came up with some new parts, wrote new lyrics and this, is "Stealing Heaven". Again, there are three or so little narrative vignettes, characters I've come across; Jennifer, Christopher / Chrissy and Boy Genius, heh. Here's a clue to one of them.....As is obvious, I relate to Bowie in various real world ways. During Bowie's dark, Freddie Sessler-addled days in L.A., staying with Glen Hughes, David was known to roam the streets driving, alone, zoned-out and paranoid, in the wee hours of the night, both terrified and fascinated by his own alienated condition and behaviour and the mean streets of "La La Land"...between "Young Americans" and "Station To Station" and well, lets just say I've done much the same thing, in much the same condition, on the same streets. I know the horror and the fascination and have barely escaped my own demons and scrapes very similarly. Weird supernatural stuff going on...dangerous situations. Only I didn't have a record deal and another record to look forward to! I dare say my excursion was a bit MORE insane, lol! I got into a big Steely Dan kick. The height, the golden age of analog recording and the music of Steely Dan. So, partial to fusion-rock-pop as well as other styles, "Stealing Heaven" is my little stab at creating something like that. Poppy but, with lurking dark themes. I'm so thrilled you dig it!!
I knew there was a party animal in you! I think every artist or artistic person or personalities go there at some point. I think it's a case of seeing how far "one" can push it, some make it back, some don't so let's say right here we are glad you made it back to do your thing. Is there any little story you would like to share with us to show us a glimpse into HOW crazy your life was then???
T . L ; Heh, there's been a few excursions through the years. As a "Vistanaut" I've oft been an "explorer of distant views" so-to-speak. It was actually not so much during my musical times of playing, performing etc..., but when I wasn't or couldn't. Frustration. The angst that can "build up" when you're not doing what you know you were made to do and love. The nadir of that was probably during my time in L.A., quite a few years back, where I found myself in a motel room in the middle of East L.A.- "the barrio", no idea exactly where other than a white boy in no-mans-land for white boys, furniture barricading the door...waiting to get jumped, robbed and likely worse, finger ready to dial 911 on one hand, an empty bottle of Tequila and a long screwdriver in the other (my only weapons, lol), 4am, staring at the window for the shadows that I was sure were coming to take me out. How about that! It was a definite wake-up call as I thought to myself "what the hell are you doing here you idiot?!". I managed to slip outta there and got my shit together shortly after that. Yeah, I've pushed the envelope on a couple of occasions. Not too many thought just enough to inform my art!!!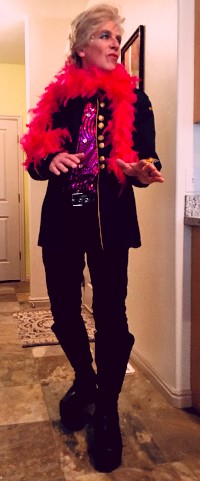 Glam Tom
Hahahaha! In a world of auto tune and basically no-soul performers it is great to talk to someone who walks it like they talk it. No google search here and that must be commended by everyone who has a mind of their own. I think more free thinkers and doers and less dull grey minded people is the way forward I hope!
T . L ; Thanks Darren, likewise pleasure to talk to someone who gets it! All the real, complex facets that encompass a life and love for real music by real artists and especially a love for the exciting, brash, no-holds barred glitter / glam showtime era!!!
Totally Tom, totally. O.K. back to "Apollo Down". The penultimate track "Holding Sway" another killer track for me and when people ask about The Vistanauts this is the track I shall recommend to them to get the vibe of The Vistanauts and what you do. Catchy as hell and touches on ALL aspects of your writing but all in a pop way, thoughts?
T . L ; I'm so pleased you like the song! "Holding Sway" was the first song I wrote for the album. It was the start! I've always respected the craft of attempting to write the perfect pop song. I know a lot more "artists" that would dare to admit are constantly seeking to do the same. Many feign non-interest or express outright derision at the notion of desiring to write a so called "pop single" but I don't believe it. Nearly everyone would love to have a hit record if they could, or at least craft an airtight tune, come what may. "Holding Sway" is one of my ongoing forays to that end. It is also a delve into writing a specifically standard power-chord genre type tune. And again, lyrically, it is refencing actual events, scenarios in my life. I wrote it just as I got back into music and the music scene a couple of years ago. It harbours my resurgent hope and dreams to be somewhat relevant at this new space / time, though recognizing I ain't no "spring chicken" anymore...and really battling the odds. It's "never say die", "down but not out" and also about me and my wife gearing back up to make another go at it (the music thing) and imaging it going well, hence.. "Holding Sway".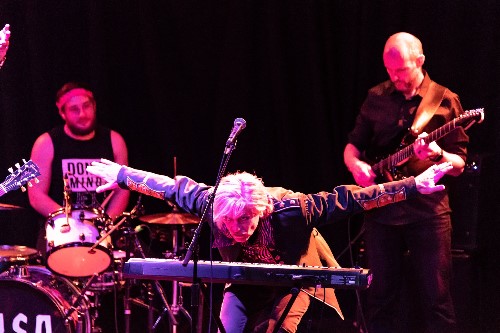 The Vistanauts ; Live!
Yes elegantly put. Music is for everyone, anytime and all the time. Music is an endless timeline, nobody starts at the start, nobody's at the end we just all drop in and take what we want and give back what we want, it is a beautiful thing that we must never lose. All music is timeless and ageless, great music is great music end of. Last up "Talkin for". I feel this is a track that is a resume of the world record, you know like have YOU been listening?! Tell us about this one, the lyrics and the laid back feel, but there is a snarl to it also yeah?
T . L ; "Talking for" is the last cut on the album. It was the last night of mixing along with some recording. My hours at the studio were wrapping up. I was still not thoroughly happy with the mix on "Apollo Down" and I had also added a few more parts to it. I had the idea for a kind of radical mix towards the end of the song, which we affected. Spontaneously, I came up with those blipy, random computer freak-out synths parts- as if "Apollo", in his "going down", was fragmenting into a digital fractal. Anyway, it was just me and Rowan (my Brit mate and engineer), late night in the studio, and after that there was still about an hour and a half left of studio time. He said "I've got an idea, will you try something?", I said "Sure!" So he isolated my synth blips and programmed in a drum and bass part and made a little sequence. I loved it. I quickly added some acoustic guitar and piano parts, then wrote some lyrics whilst having a smoke outside. One-take, well "lubed", I sang the vocal track and there it was, the last song--a sort of reprise, like you said, of the whole thing. It's also a pointer, sonically, I would say, toward my new material. I'm now working on a follow up EP, "Tri-Borg Monstrosity". I also might mention that for the album art I commissioned a fantastic local "up-and-coming" artist Cody Chamberlin. And there you have it, at long last, my debut album "Apollo Down".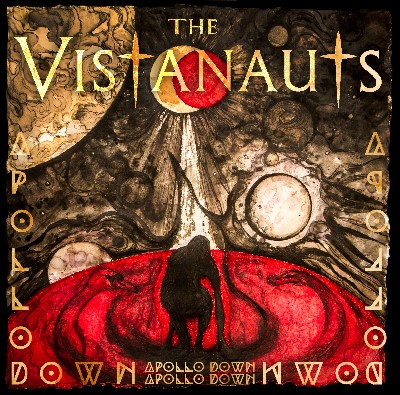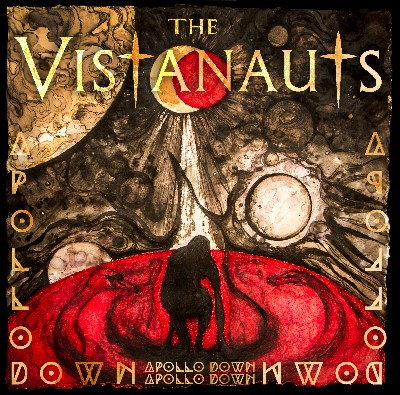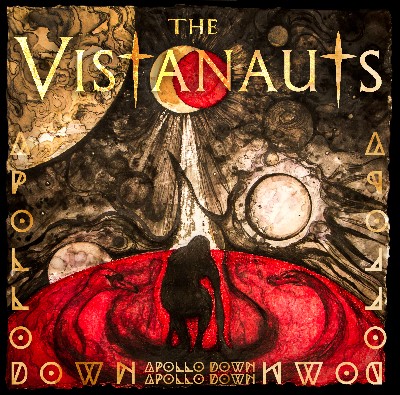 Yes your debut was many years in the making and a great record it is and any Bowie fan would love to hear this as well as many others! Oh I'm so glad you mentioned the artwork for each song has a image as well as the album cover. Was it all the new artist and if so did you give him a brief on what to do?
T . L ; My dad was an artist and my grandpa L.H. "Dude" Larsen was a renowned "Western" artist (painting cowboys, horses, "the west")(Grandma Dorothy L. Larsen was too), and so I got a bit of that talent and the value of art. Most of those "singles" art pieces are thing I had kickin' around that I did as a teen and I wanted that artwork to be part of the whole album package. I saw Cody's art online and dug it because he specializes in nouveau Western-cool, cool stuff! And I recognized he was going places! I gave him the basic concept of depicting Apollo descending into the underworld- the basic visual scheme I had in mind, but what was great is that he went and researched the Apollo mythology and added some symbols and motifs that reflected that! And I got to keep the original art piece he painted for it!
Wowie! It's the "Art House Of Larsen" it's easy to see that the "arts" called you with that background! O.k. before we leave "Apollo Down", after all the years waiting to get your record out did it fulfil what you wanted it to? Also do think that having waited so long to do the album the time that had past gave it more gravitas?
T . L ; Yes, I'd like to think so. I had a lot of stored up, pent-up creative energy and ideas. The songs for this just poured out, one after another, once I re-lit the musical fuse. Plus I raided my own past, reviving certain hooks, riffs and progressions in places, some going back to when I was fourteen or fifteen years old. So there's a lot here personally and historically, yet a lot also that is very currently looking and commenting on what is happening right now, both with me and the world. With that, I feel I've only scratched the surface. I've always been prolific and I am eager to continue to write and craft something new. I've kept a lid on it for a long time and would hope to be able to keep on keeping on with much more to offer. Although time and resources being the main and only inhibiting factors at this point because the ideas will certainly carry on flowing.
Great news and glad to hear it! Talking of moving on and forward you have plans for a new EP. I have heard a track in its raw form, killer stuff again, still cinematic but with more of a dance groove, however retaining its avant garde vibe, can you expand on the plans for the EP?
T . L ; Leading right up and into beginning "Apollo Down" I was listening heavily to Led Zeppelin, Roxy Music, Steely Dan, T.Rex and the Velvet underground (Bowie is just in my DNA and always there). Anyway, those were some of the contemporary influences I had going for "Apollo" at the time. Afterwards, I got into a major re-dive into early Prince (his "glam" era). Also Gary Numan. So, so far the sound I'm crafting for the EP is something live early live Gary Numan, early Prince, Bowie "Scary Monsters" era and Joni Mitchell!!! Where "Apollo" was a sort of travelogue through various styles I wanted to plumb, I'm intending the EP to be more cohesive sonically, although, once the songs come, they kinda come as they are and I just follow. OH! and I do absolutely intend to have a classic glam stomper in there, in honour of YOU and the current crop of glamsters you've scared up!!!
Yes sounds like a killer mix, and where Bowie is mentioned Gary Numan isn't far behind. Thanks a glam stomper will do nicely, thanks Tom! Ok The Vistanauts merch and the album where can people grab it all?
T . L ; Here are some links:
So Tom when you got back into music was it your own material you went with first of was it the tribute acts first?
T . L ; I put together a band to play Bowie first (Major Tom and The Moonboys) but intended both the Bowie and my own originals band (The Vistanauts) to be sort of two wings on the same musical bird, working together. After about a year with my first Moonboys line up, there were some personnel, uh, situations that came up which put it on ice for a bit. So to keep in performing fitness and to scare up some new musicians I quickly formed Major Tom and The Pirates (the Rolling Stones) as I've also got a fair amount of Jagger in, performance wise.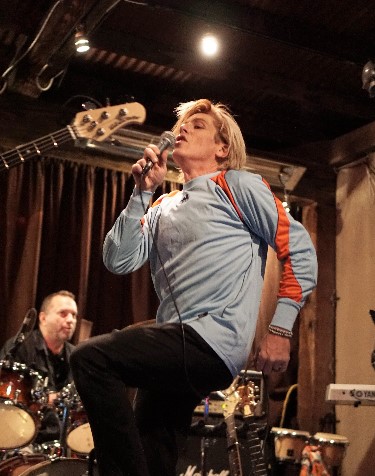 Major Tom and The Pirates ; Live
Yes I see that, the Jagger thing. I totally get the Bowie cover band thing, but didn't the Stones band seem a little bit limiting style wise? So was it (the Stones band) just to keep your hand in?
T . L ; I terribly missed working on new Bowie tunes, but I was also writing and beginning to record my own new music (which became "Apollo Down") which helped. Performing Jagger- style was a lot of simple fun, but he is actually quite a challenging vocalist to approximate. His range and control is so much different to Bowie that I find it interesting to study him more closely- the technicality involved, which is not so obvious on the surface when you listen to him. But yeah, it was a bit of a place holder until I could work up a new Bowie set with new musicians. It's easy to find musicians who will dive into the Stones- around here (Salt Lake City, Utah) , though knowledgeable Bowie acolytes are a bit rare and more difficult to find, unfortunately for me!
I hear ya, Bowie we love but most people just know the hits and the latter day ones at that. So yeah I get ya doing the Stones thing and like you say as creative as any art is, the bottom line is you have to enjoy it. So would you record any Bowie (or Stones for that matter) or is that just for the live arena?
T . L ; I have recorded already several Bowie tracks. Back when I was in Tallahassee, Florida at the Allman Brothers' Butch Trucks studio I recorded "Diamond Dogs" - and before that around '83 I recorded "Golden Years" with my then band, The Tremors. Then in '95/6 I did "The Supermen" and "Lightening Frightening" plus Bowie's original demo version of "Hang On To Yourself". I've never officially released them, maybe I should. And recently I've also toyed with covering a tune from "The Gouster Sessions".
Oh man yes you should release those Bowie songs. What with him gone it always great to hear new versions of his songs, that way they can never be lost. So do it Tom, do it! O.k. so you have played a couple of big festivals lately with the cover bands, what the schedule like with the two cover bands?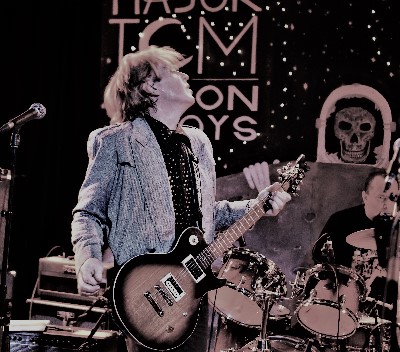 Major Tom and The Moonboys ; Live
T . L ; My main interest in the tribute angle is Bowie. I just love singing and performing his songs- it comes so naturally, without thinking or trying. Now, unfortunately I'm not really in "Bowie-country" Utah, lol, though there are some serious great fans here, so I'm hoping to get over to the U.K. and the European continent to do some shows there. I need a "Bowie Angel" to lend a wing, heh, and hook me up with some likeminded mates over there?! I am in the midst of connecting with some great players based in LA who I know and plan to get out to the LA scene at some point. When I do it would look and sound something like Bowie's Philly band and the "Young Americans" sessions. But yeah, I want and need to "get out of dodge" as soon as possible, but in a proper and solid way. Same with The Vistanauts. That will be the next focus.
As you said Bowie is in your DNA, so that takes you where it takes you I guess? Utah not known for its Bowie "files", however the more conservative the area the darker the underbelly, so with that in mind you would think that Utah was a Bowie strong hold hahah! O.k. re your plans we would love to see you over here and you never know who is watching, reading or looking, people it's over to YOU!! O.k. so you want to relocate is that possible for your at this time or will it take a lot of planning? Also the plans for LA are they in sight at the present or near future, if so please keep away from cheap motels and tequila!!!!
T . L ; Yes indeed there is quite a large "under-culture" here, at least in the capital Salt Lake City. I don't see relocating anytime immediately soon, but I can envision some focused visits and touring in the U.K. and thereabouts. I would love to play any of the various and ongoing Bowie festivals wherever they may be. I do plan to get to LA soon and meet up with my friend Shedrick's band to see what we can work up for shows there. That I'm thinking of highlighting and performing the whole of Bowie's LA album "Station To Station". Also some fun news just in, "Apollo Down" has just been licensed for "sync-licencing" for Discover channel, TLC, MTV and PBS programs! So, some of these glam friendly songs may end up on some series ya'll be watching!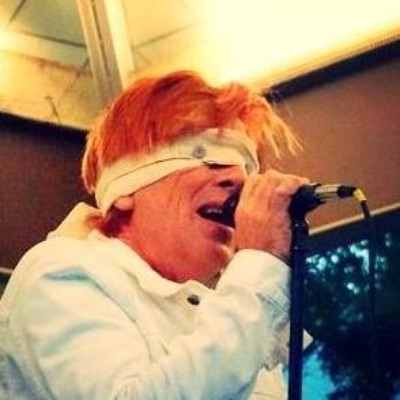 So plans are afoot but for the time being it's Utah, But we get to hear your music wherever you are based so no loss to the listener at all and maybe more for us to hear via the licencing deal, as I said some of the songs are very cinematic so should be perfect for that scenario. O.k. bang up to date you have the new EP dropping soon and you have just released the track "Electric Fire" as a teaser and I have heard an early version of the title track. When will we see the EP appear sometime soon we hope yeah?
T . L ; Well, regarding the upcoming new Vistanaut Ep "Tri-borg Monstrosity", I've got three (of the six) songs well along the way. I'm in the midst of writing the fourth--the first of a couple of glam stompers that will be on there. It's looking like a late winter release, not sure but, I'll get a couple of songs out before the full release. Next out will be the title track (which you have heard an early version of).
Nice! We wait with baited breath. O.k. this has been a killer chat and now we are on each others radar we will follow your story wherever it may lead. Thanks again.
T . L ; Yes, I've thoroughly enjoyed speaking with you and answering your perceptive, incisive queries! From one fan to another it's been a joy to delve!
This people is just the tip of Tom Larsen's iceberg stay tuned for what is next!
Interview conducted October / November 2018
photographs courtesy of Tom Larsen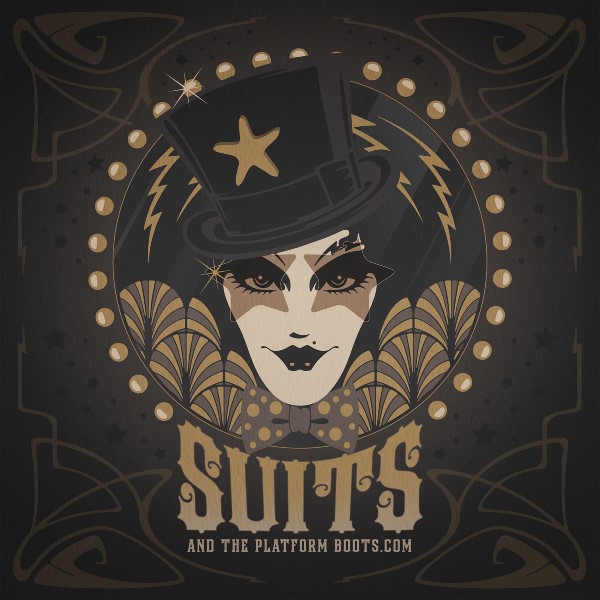 C.SUITSANDTHEPLATFORMBOOTS.COM 2019