White Witches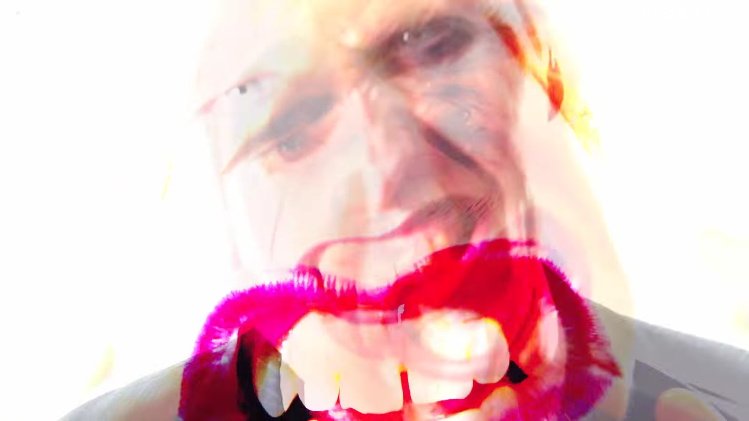 Welcome to the world of "White Witches" . Here we have some glorious new trashy art rock glam noise so let's get hip to the new breed! Singer and former Pink Grease vocalist Rory Lewarne joins us today to spread the word on his fantastic new project!
Hi Rory thanks for your time. I am loving the new white witches single "This Song Will Kill You" , but before we get onto to that and all things "White Witches" I want to know what lead up to you forming the band. I , like many others remember you from the Pink Grease days , could you tell me how that ended and what in turn led you to forming "White Witches"?
Rory Lewarne ; Hi Darren , we ended Pink Grease after we were dropped from our record label Mute , just before our second album was due to be released. We could have put the album out ourselves I suppose , but we were demoralised , and sick of each other , and our way of dealing with that was just to stop, which we did after a big roller disco show we put on in Sheffield in summer 2007. White Witches I formed with new friends , in particular Jeremy Allen , who I was surprised to find out had grown up down the road from where I did , in Penzance , west Cornwall! We were both working doing nightshifts in a newsroom at the time ; he was a writer and musician who had several stabs at the musical big time (the Evangelistas , Piranha , Deathray ) and played on records by Martin Carr , Akira the Don , Lethal Bizzle and others. Anyway as the Tories took over the country , we bonded during those nights over a shared love of Roxy , Bowie , Prince , Gainsbourg , Ballard etc.... and a shared hatred of the Tories , and set out to make a record together with bassist Charlie Webb and drummer Mikey Breyer (late of Art Brut). Personal issues mean the album took a lot longer than it should! But I love it. And for our upcoming live shows we've got two former Pink Grease members in the band Dan Pencavel and Marc Hoad.
So it's all come full circle! It's a small world isn't it! So before we get more into the world of White Witches I wanted to ask about songwriting. In Pink Grease you wrote or co wrote most of the material is that right? I just wondered when it came to writing with White Witches did any traits that you had in Pink Grease filter into your new stuff or was it a clean slate but with the same influences?
R.L ; Well , in Pink Grease , even though we all took a songwriting credit , our guitarist Steven Santacruz was definitely the driving force - he wrote or initiated all out best songs , and never got the credit he should've done for it , because we were keeping the idea that everyone in the band was an equal. My role in the songwriting usally came down to that of restructuring and editing songs - helping finish them , basically. I'm obsessive about that. In White Witches , Jeremy is the songwriting driving force , and then after a point he passes the baton to me and I restructure it , edit it , finish it , and he'll let me do whatever I want unless he really hates it. Sometimes he'll start a song using lryics of mine as a basis , which is what happened with "This Song Will Kill You" . In a way I guess the Sparks comparison is apt-with me cast as Russell and Jeremy as Ron! So to actually answer your question; The things that come through from Pink Grease are my commitment to high-energy glam , exciting overloaded pop music , and just in the way I do things. But the songwriting engine is now Jeremy rather than Steve , and Jeremy is more word-y , more eccentric , more cabaret , more Sparks-y , I guess! And Jeremy is closer in temperament to me ; he's very bookish , a writerly type , while Steve is primarily a visual artist - in fact , Steve is an experienced and interesting film-maker now , and has made a video for a song from the White Witches album called "Savages" that will be out in a few weeks.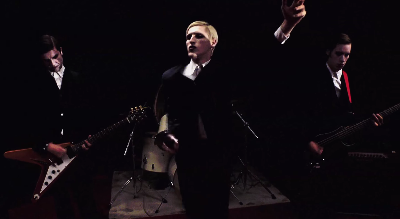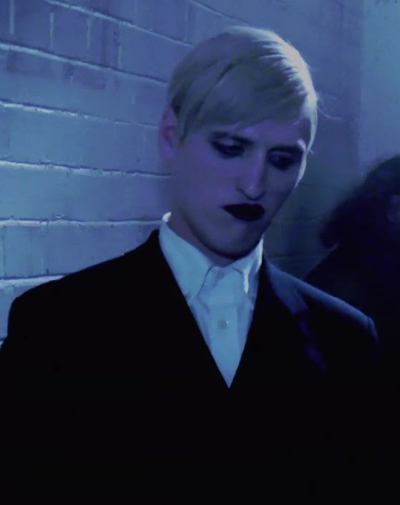 white witches "Secret Club" line up Rory (Vocals) , Jeremy Allen (Guitar) , Charlie Webb (Drums) and Jack Carr (Drums)
O.k. So Pink Grease is one thing and White Witches are definitely another thing but with your liking of glam and over the top pop. Yes the single "This Song Will Kill You" does sound like Sparks but less leftfield and more rock n' roll which to me , is the perfect mix. Who did the video for "This Song Will Kill You"?
( Click here to view the video. )
R . L ; The animation in "This Song Will Kill You" is by Daniel pencavel , who's also playing guitar in White Witches when we play live , because Jeremy can't make it and prefers to just help make the records these days. Dan also did the artwork for "This Song Will Kill You" and the album. Incidentally, Dan was also a seventh member of Pink Grease - he roadied for us , filled in on guitar when members forgot their passports , and played bass for us after our first bassist Stu left the band.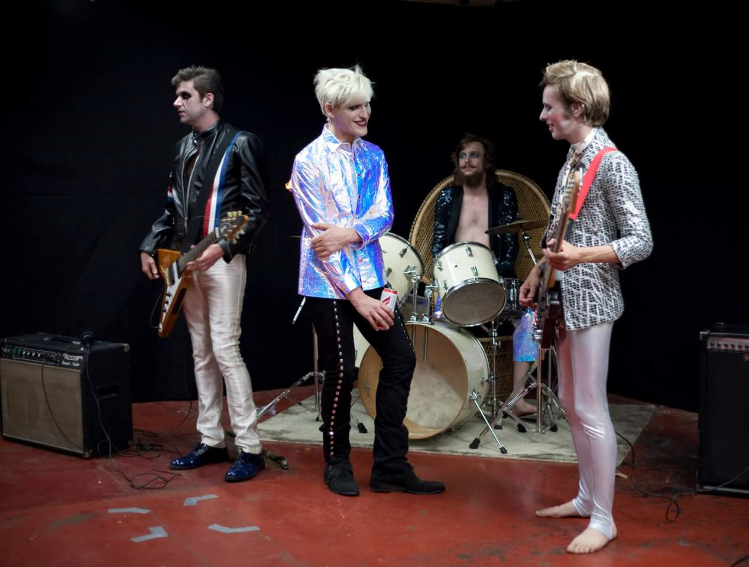 behind the scenes of "Secret Club" video shoot.
Keeping it in the family then. I like the low-fi imagery of the video , was that done on purpose to ease everyone in to your world of White Witches, and then the one for Savages is gonna be over the top? You say Steve Santacruz has done the video , so is it guess it will be a wild out there thing?
R . L ; Yeah pretty much the animation wasn't a video really , just a little visual thing for the YouTube clip.
Haha yes I thought so tease them in , so with a title like Savages is the video gonna be , well ,, er savage?
R . L ; Haha um maybe? It's very huge , overblown , gothic. One thing that probably doesn't come across yet given that the only songs that are out from the album are "Secret Club" and "This Song Will Kill You" is that we do try and make all our songs different.
Yes variety is the spice of life for sure music wise. The new video sounds killer! Does "Secret Club" have a video too?
R . L ; Oh Yeah! We did it years ago!
Nice! (click here to view the video)
O.k you said personal issues halted the bands progress hence the gap between "Secret Club" and "This Song Will Kill You" are they all sorted now with the album now being due?
R . L ; Yeah , there was a delay while it became clear that Jeremy wouldn't be able to do it live for various reasons , so I had to put a new live band together. It's now me , Charlie Webb- who played bass on the album and was in the "Secret Club" video , so is an integral member of White Witches - plus Dan and another Pink Grease refugee Marc Hoad on drums! I didn't want to release the album until I had a kickass band to play live with , basically. Jeremy is now playing the Brian Wilson role I suppose , at the stay-at-home songwriter. This makes it all sound more complicated than it should, but yeah , I didn't want to release the album 'till I was ready , and now I am and it's all systems go!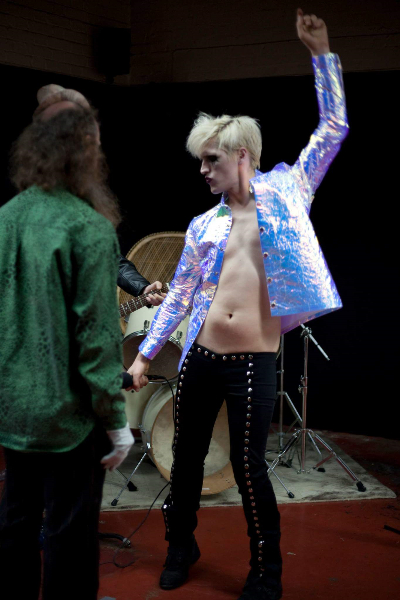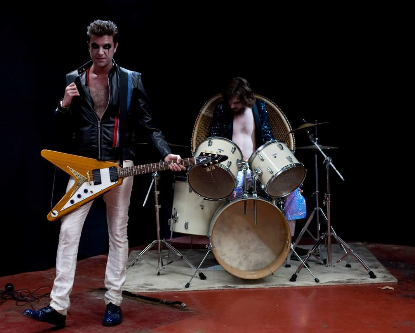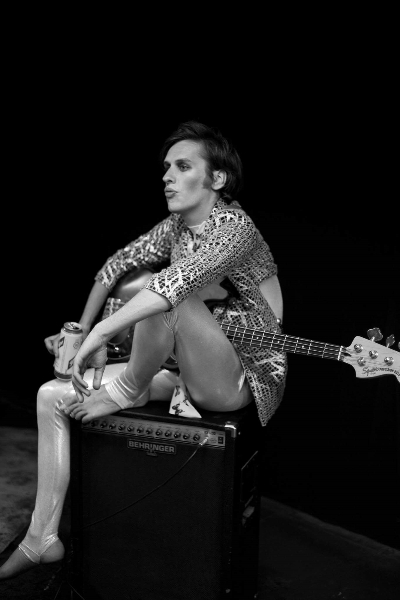 left to right Rory , Jeremy , Jack and Charlie
That is awesome news I can't wait to hear the album as I love "This Song Will Kill You" and "Secret Club" .Do you have a date for the "Savages" release yet and will that be before the album?
R . L ; The video and album are both coming April 27th , the week before the tour starts! ("Savages" is not going to be a separate single.)
What is The album is called?
R . L ; Oh! "Heironymus Anonymous"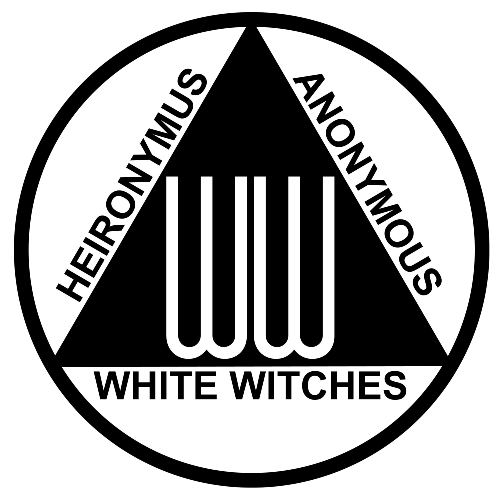 Excellent and kinda Sparks-y sounding. What was the idea behind the title?
R . L ; Well , it's a song about a man-about-town who's literally addicted to art so , um , I guess he goes to Hieronymus Anonymous.
Cool , inspired maybe by "Outside" era Bowie possibly?
R . L ; Inspired by a real person , and addict , but then made surreal. I Don't think "outside" was a conscious influence (certainly wasn't on me) but I can see the parrells . and I'm certainly happy with that!
Sounds awesome can not wait for the album! Having been a big Pink Grease fan it's a joy to see new music from you. What can people expect from the album and what would you like them to pick up on most from it?
R . L ; Thank you-I hope you like it ! Um , it's glam , it's silly , it's heartfelt ; there are themes of addiction , cultishness , love and loss , surreal stories ; there's bawdy cabaret , weird art-rock , alien rock 'n' roll , gothic si-fi ballads , and hopefully a wodge of great tunes aswell. All in 10 songs and 33 minutes. Music doesn't have to be boring or similar sounding , you know? and I guess I hope people appreciate that we've gone a very different route from that!
Music should be anything but boring and similar. It sounds like you got it covered there and all in 33 mins! People will pick up on what they want and that's the cool thing about music , why one person likes it can be a world away from why someone else likes it because we are all different (well some of us). So April 27th is the day , will it be download only or are there plans for a cd or even a vinyl release?
R . L ; It will be download and streaming only for now , I'm afraid. I would love to press vinyl but there are budgetary issues , and I have no idea how much demand there will actually be! Obviously , it's been a long time since I released a record.
Let's hope the response is huge then who knows where it will go! Not that and album , new video and tour aren't enough for the White Witches , what's next on the horizon for White Witches?
R . L ; I would like to make something different with the next record ; to use the current live band , plus Jeremy , to make music that's both much harder- because the live band really do rock hard , in a heavy art-rock kinda way- but also elsewhere softer , more romantic. Jeremy has a Serge Gainsbourg obsession (he's currently crowd-funding a book he's writing about him) which I'm sure will seep in , in odd ways! I dunno - it's taken a while to get here , so my focus is on getting this album out into the world like a child that's been living at home too long. We've got 5 or 6 songs that will form the basis of the next album , and I'd just like to get it out soon , like , early next year!
Awesome news! O.k Rory thanks so much for your time and nothing but good thoughts from us here and onward and upward for you and yours , thanks again
R . L ; Thank YOU!!!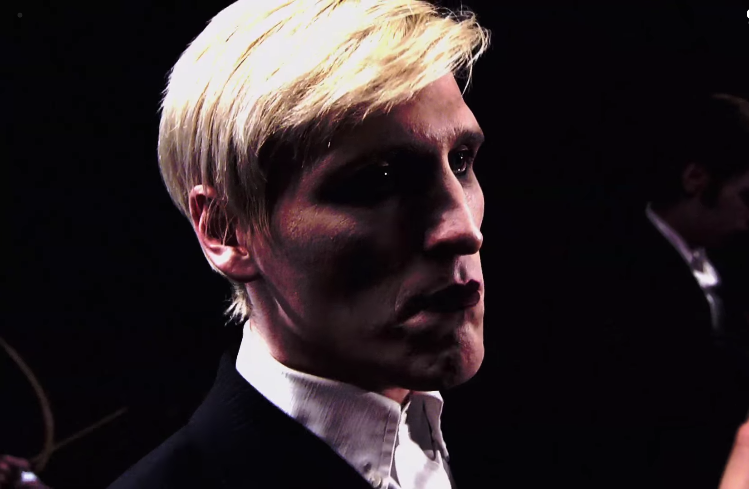 click here for White Witches bandcamp page.
STOP PRESS....STOP PRESS....STOP PRESS....STOP PRESS....STOP PRESS....STOP PRESS....STOP PRESS....STOP PRES....STOP PRESS....STOP PRESS....STOP PRESS....
The White Witches album "Heironymus Anonymous" is OUT NOW!
Click here for the ways you can get this album into your life!
click

here

for the new awesome video for "Savages" hot off the press
Interview conducted march 2018
Still shots taken from "Secret Club" promo video and the behind the scenes shots copyright Cally Begg.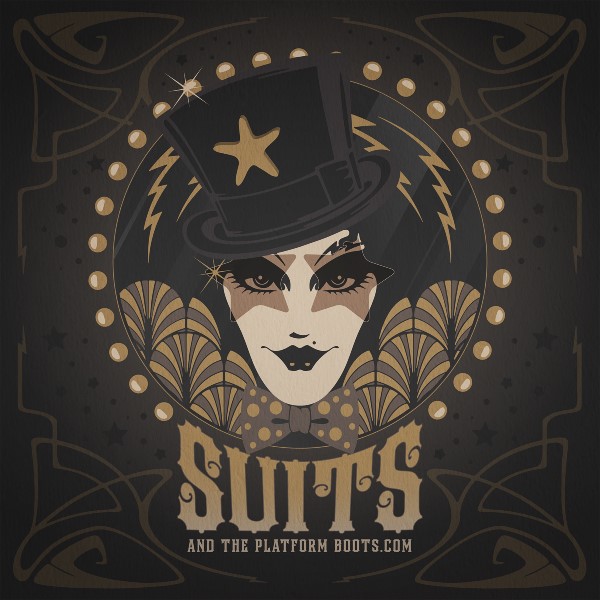 c.suitsandtheplatformboots.com 2018