Ziggy Stardust's soundman with Robin Mayhew
Well I have had Robin's recording of the last Ziggy Stardust show for quite a while and as you do, things come back into your conscious thought at some weird times. I had been off form for a while, but as I awoke on a Saturday morning my thoughts were not let's get to the Nespresso as soon as possible it was something along the lines of..."well I wonder if I could do a page on the last Ziggy show and then I could plug his recording of it?" So as I like to get insight into what I write and put on the site I thought it might be kind of cool to see if Robin would like to say a few words to add a little kudos to the page and make it well, more engaging. I asked and he came up trumps, a good day indeed. So please read on and much like I, I think your will not only dig but want to get hold of that recording RIGHT NOW! Here we go with Ziggy Stardust's soundman, the one and only Robin Mayhew;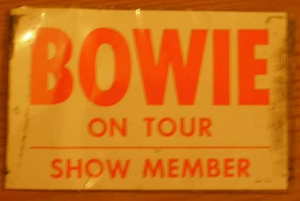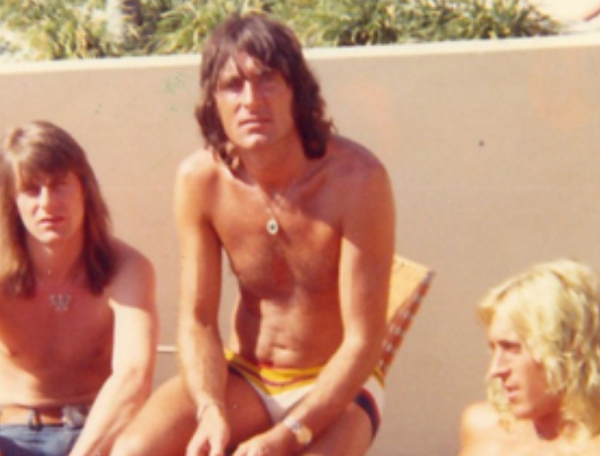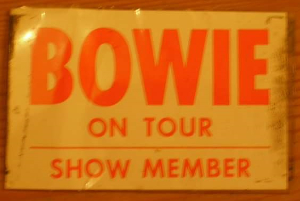 In the day and in the sun! Left to right Peter Hunsley, Robin Mayhew and Mick Ronson
Hi Darren. Thanks for the message and yes all is well here, especially right now for this old rocker as we have been blessed with a bit of a story of our own. But firstly the book I'm putting together is an autobiography and needless to say there is a section relating to my wonderful time working with DB on his Ziggy Stardust project and subsequent commissions with some other acts of the 70's. Great days that will ALWAYS be part of me.
Here below are a couple of paragraphs from my book "Ambition" which you are welcome to use..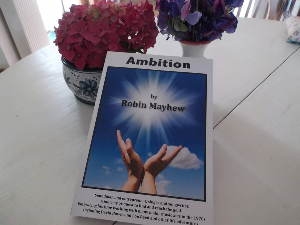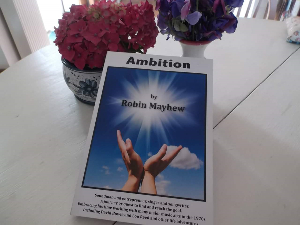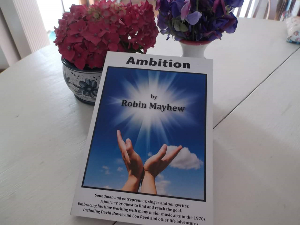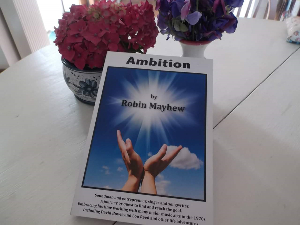 The said book. Please click here to buy the book and the accompanying CD "Shallow and Deeper"
"The Ziggy Stardust show went on as did the momentous tour and with the great team we had every show was given the same professional treatment and when we finally got to the Hammersmith Apollo the feeling of achievement was with us all. We had a bit of a problem when we assembled for the second and final show because many of the microphones had been stolen during the night. The security had failed and none of the Hammersmith staff seemed to know what happened. The only ones remaining were the AKG D12s and others which were securely tapes to the stands. The D12s has a captive lead and rather than disturb all the wiring harness we had left them out. Luckily we had enough spares and soon had everything ready to go. Some of the cymbals from the drum kit had also been taken and again, luckily Woody had spares.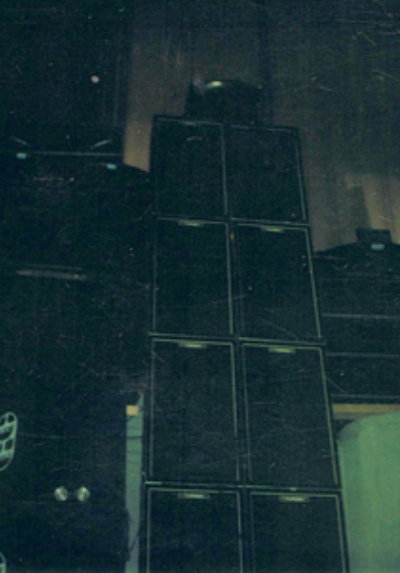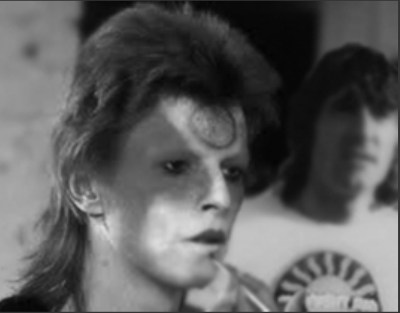 The Ziggy Stardust PA tower of power, Ziggy & Robin and Robin back in the day.
As always I recorded the proceedings and the 2nd night at Hammersmith was no different, except about half way through the section after the interval my intercom light flashed and I put on the earphones to hear Peter Hunsley, the stage manager and chief techie say that he heard something that made him wonder if David was going to break the band up tonight. I actually thought what a great idea that would be as after all David had achieved everything he had set out to do and now it was time for a change. This was a breakthrough, the 512 days that I had worked with him I saw a man realise and achieve his ambition. Sure enough at the end of a fantastic rock n roll session with Jeff Beck joining the Spiders on stage, David announced that, "Not only is it the last show of the tour but it's the last show we'll ever do".The audience gasped and then the opening chords of rock n roll suicide started and at the end of the song David says, "Goodbye we love you all".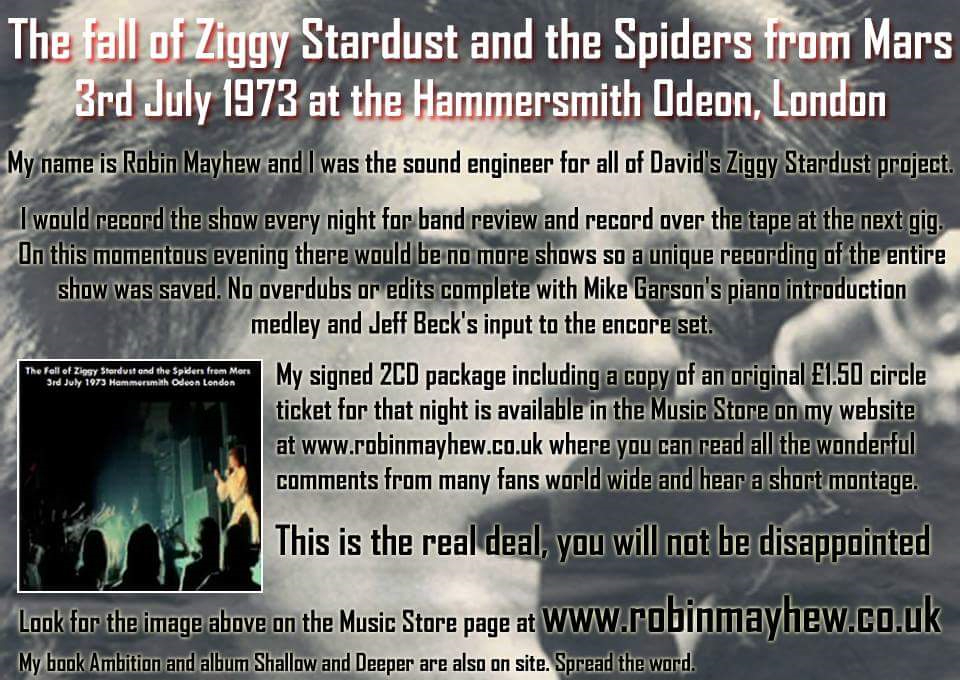 The show still sends shivers up mine (and any rock fans) spines! This is THE REAL DEAL recording, click here to buy
After the show I left with my wife Mardy to attend the farewell party at The Café Royal in Regent Street. We danced the night away with some wonderful people including Angie and Bianca Jagger and everybody generally had a stunning time. When we decided to leave I went to say goodbye to David who was sitting with Mick Jagger and Lou Reed chatting, I wished him luck and he said; "Don't worry we'll be working together again, quite soon" so he must have been reffering to the up coming '1980 Floor show'. Jagger was rather rude making sort of pussycat noises at me and I have always since wished I'd told him that it was me that got The Stones those first gigs at my bands' The Presidents' highly popular club at The Red Lion in Sutton 10 years earlier. (Hope you read this one day Mick!)
Wowie! What a window into a truly iconic time period! What about your bands good luck story?
Yes back to my own bands 'bit of luck' story. My band, (The Presidents) was signed to Decca records and in the mid 60s a recording we made of a song titled "She Said Yeah" as a follow up to our "Candyman" release (which was written by Roddy Jackson and the late Sonny Bono) was passed to Decca but somehow the acetate (the original cutting) was lost. 53 years later it was found and subsequently released by ACE records (based in Harlesden, London) on a compilation cd (click here to buy the cd) on June 29th (2018). As the lead guitarist was over here from Australia for a holiday I managed to get all the original members back together and make a video of the recording (click here to see the video on you tube). We have a combined age of 380 years so just a little older than the Rolling Stones we once supported!! The late Ian Stewart (the 5th Stone) was a good friend of ours and he loved the song! In fact The Stones actually included the version they recorded on their Decca album "Out Of Our Heads". I always thought that was a bit odd, I mean our version got lost and then they bring their own version out?!!!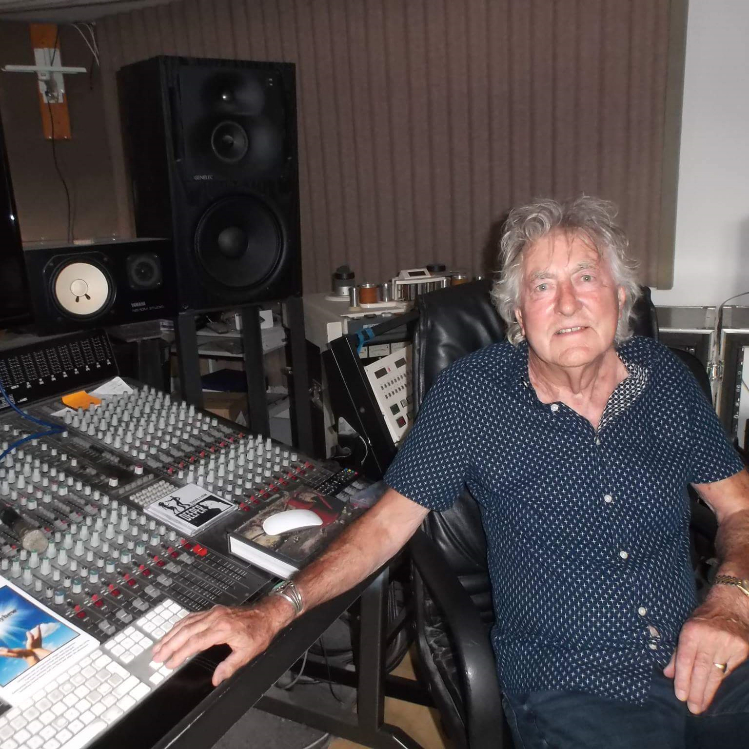 Robin at Ford Lane Studios near his home in West Sussex UK
Robin's story didn't start with Ziggy and doesn't end there either, click here to read his biography on his website.
Robin has unearthed a new David Bowie picture enjoy here it is....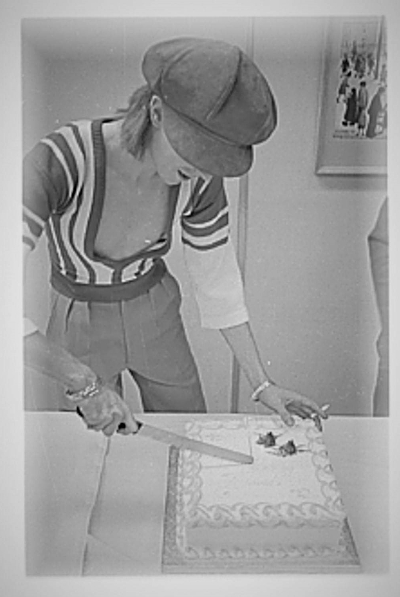 However for a more in depth read, click here to get the book "Ambition".
Happy reading!
Interview dated July 2018.
Photographs courtesy of Robin Mayhew.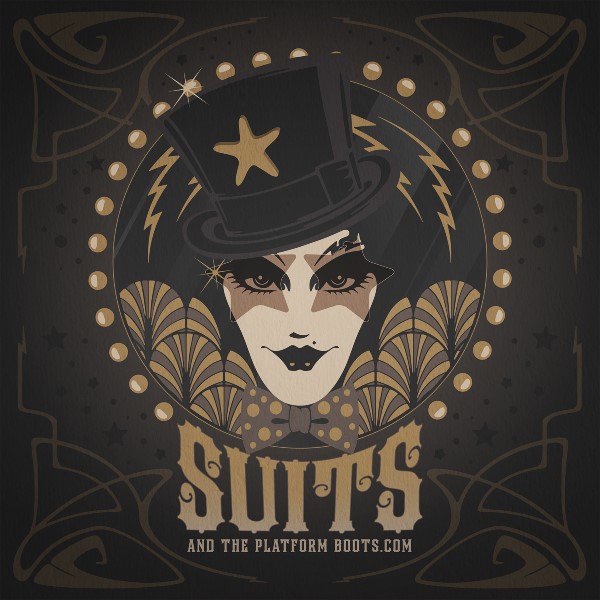 c.suitsandtheplatformboots.com 2018