The Glam! The Glitter! The Glory!
A View From Inside The Machine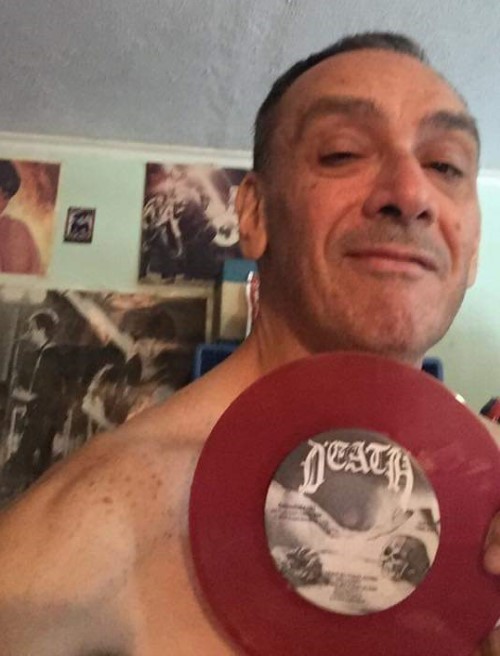 Welcome one and all to the world of Mr. Jimi LaLumia. A name you may or may not have heard of, but whatever you may or may not know all is to be put straight starting right here, right now!
To give a brief resume of what Jimi has done and is still doing would be nothing short of an injustice, so instead we go with Jimi on his life journey, hold on tight it may curl your hair!!!
Grab the poison of your choice and settle in to;
"The Glam! The Glitter! The Glory! A View From Inside The Machine!"
Hi Jimi, thanks so much for joining us here today we are honoured! So let's start with your Mae West impressions at the age of three in Suffolk County, Long Island. Can you tell us what that place is like and what it was like for you growing up there?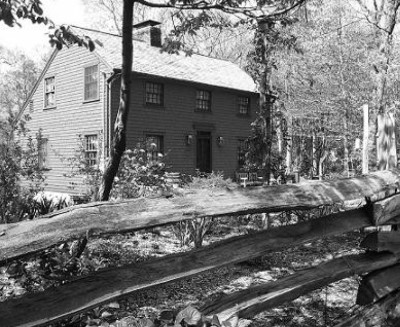 Suffolk County in 1954 and Mae West in 1954
Jimi LaLumia ; I was born in Woodside Queens in the early fifties and then moved to Suffolk County, Long Island in the state of New York in 1954 when I was two years old. In a traditional Italian family, I quickly was spotted as non traditional; doing Mae West impersonations in the living room after seeing her on TV in old movies was an early warning sign. I'm sure panic set in as it was after all the 1950's in ultra conservative Republican Suffolk County. I was made to feel like "the other" from early on, even when I didn't understand why.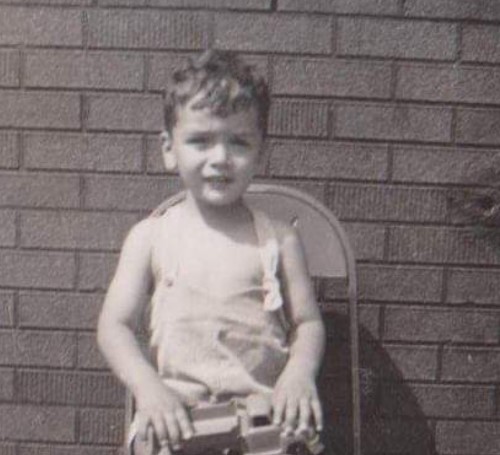 Early James 1954
Feeling quite alone, I instinctively knew it was time to sink or swim so, I decided to try and swim, while sashaying around the room to the first forty five that I recall owning; "Lollipop" by The Chordettes, which was a huge radio hit in 1958, when I was six years old. It would be quite a while before I came to realize what that song might actually have been about!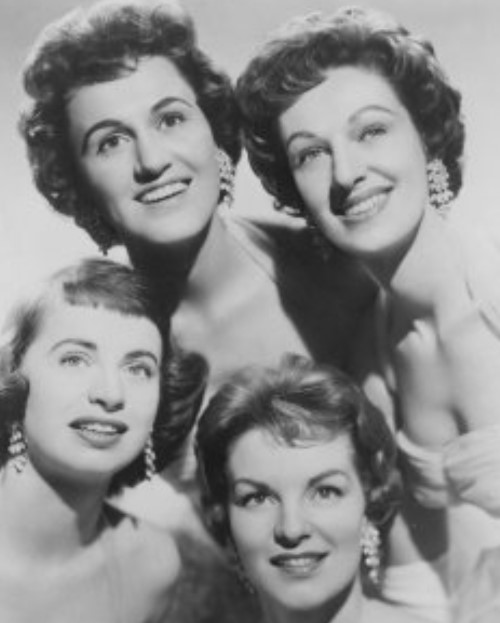 The Chordettes
I am sure panic set in it was the fifties and some people still think like that today, more's the pity. So I am trying to imagine what life was like for you at that age, was it an idyllic childhood in what was a rural setting or was it fraught with trouble and strife. If it was hard (as it seems) is that why you clung to music, art and literature an escape from the situation you found yourself in?
J . L ; Yes, fraught with trouble and strife and that's why I escaped to the world of music, art and literature.
Must have been tough. So at school you end up writing for the school magazine. I guess the school you went to was the same as every other school, you know the jocks hang together, the degenerates drop out together and well everyone else in between. So how did you get in with the magazine crowd?
J . L ; In the wilds of Suffolk County, I made one or two actual friends, but was mostly shunned because, I suppose of how I presented naturally, or for the haters un naturally, so reading books (and comic books) out loud in the basement, listening to records (starting with a classical collection of forty nine cents specials at the local supermarket) and watching movies on Tv became my world. The entertainment business is often referred to as "escapism" and in my case it literally was, not to sound melodramatic but I literally had no real support from anywhere or anyone. Cumulatively they made it clear if they could wish me away, they would have done so. My mom was the one salvation, except when she wasn't but mostly she was. So as I had no fans I became my own biggest fan, a very wise and valuable move. Everyone should learn to do that, whether it's out of necessity or not. I did go to sleep some nights when I was eight, nine, ten years old, praying to God that I wouldn't wake up the next morning. As it turned out, God had other plans.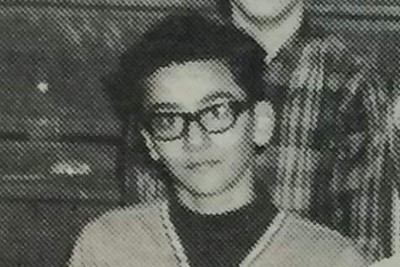 James, school daze
Oh man! One's own worth is so important and people find it out at all different times of their lives, so thankfully you found yours early. Sounds tough but I think it really held you in good stead for your future activities. So you found your inner star early which as I say was great so, did you just wake one morning and think.. "I am here, I am on my own and I need to take control, what do I do now"?
J . L ; No, that had to do with quitting school, high school became torture, bullying was the national sport and the teachers (especially the gym and physical education people) encouraged it. When it became too much, I'd had enough in eleventh grade I quit, just dropped out I'd just had enough. Then came the task of finding a job, high school drop outs were not in very big demand. But by the summer I got a physically gruelling job in my uncle's cardboard manufacturing plant, which was filled with black and latino workers who were older than me but not that much older. Amazingly, they took me under their wing and they told me that nobody was better than me and to stand up for myself and I saw them in action and absorbed some of that energy from them. As summer ended I went back to school, the alternative / hippy culture was in bloom and I just absorbed in to that too. I acted in a high profile part of a play, "Black Comedy" and stole the show literally as the gay character. Then I started a highly circulated underground newspaper. I led the school's first walk out when they refused to acknowledge a brand new thing that was happening then called "Earth Day", and I led more walk outs after that. I then alerted the "higher ups" that I would not attend gym class anymore but they told me that If I didn't I would not graduate. I told them I'd be happy to return the following year, lead more walk outs, underground newspapers etc.. So then they decided to graduate me without gym class just to get me out of the school. James was now gone Jimi LaLumia was born.
So were you still James when you got the records to review at the school mag or was that part of how you graduated?
J . L ; When I returned to finish school, everything changed. Where I was timid I was now arrogant, where I had no ego I now was the definition of ego centric. I took a hand in the student radio station, ran for class president and wrote for the student newspaper. When I reviewed a brand new concept album called "jesus Christ superstar" the English teacher told me I should send it to the record company. Decca Records. So I did just using the address printed on the back cover. After that the label started to send me different albums to my house for free, a light went off in my head. So I wrote about other albums on other labels, mailed the reviews and then suddenly my house was over whelmed with these free records showing up. I then decided to test the waters and sent a letter to Liza Williams at Capitol Records. It was 1970 and the Beatles had disbanded and I told her that I'd like a copy of each of the Beatles albums to do a career overview and held my breath! A week later the crate of Beatles albums showed up at my house free of charge. I was now in the music business and as an aside I never actually wrote that career overview but no one at Capitol seemed to mind, it was after all their job to distribute promo copies, right here bay-beeee!
From the ashes rose the phoenix that is Jimi LaLumia! You make it so easy, just write off and get records! Was it really just like that with everyone?
J . L ; Yes it was! I didn't realize that there was a system. They had stacks of promos and they were expected to deliver quotable reviews that they could pull lines from for print ads. I figured it all out instantly and then some!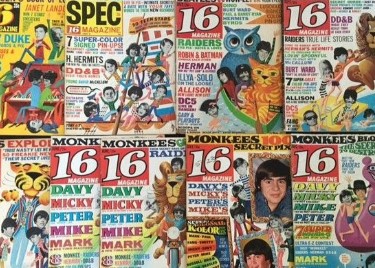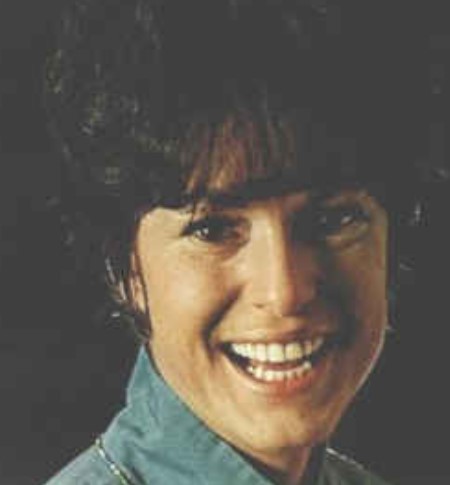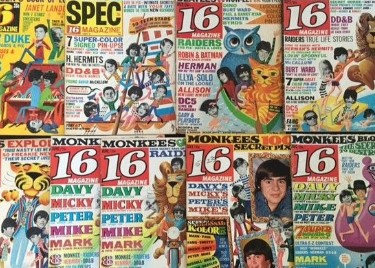 Great, so how did you end up meeting Gloria Stavers?
J . L ; In my early teens money was tight, but I always found twenty five cents to get each month's issue of 16 magazine. 16 magazine originated at the time when Elvis Presley was new! 16 was the first magazine aimed at teenagers, featuring their fave Tv shows , movies and music stars. It was all presided over by a woman named Gloria Stavers, the editor. She was constantly pictured with The Beatles, The Dave Clark Five, The Monkees, The Doors, Paul Revere and the Raiders, just whoever was hot and happening. I would listen on my tinny transistor radio and pore over the latest 16 constantly until the next month's issue came out. I got to thinking what must it be like to be Gloria Stavers? What a job! Is she really a person?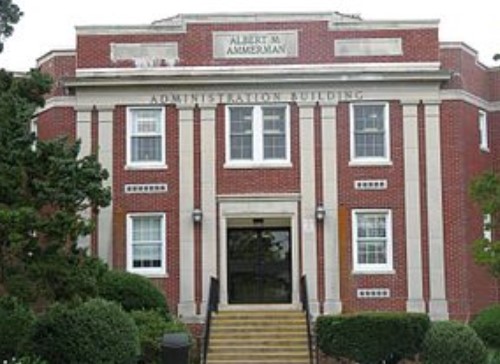 Suffolk County Community College. Where Suffolk County met New York City!
As I left high school and enrolled at Suffolk Community College I became their pop culture / music writer. I was pushing all my then favourites Alice Cooper, Ziggy era Bowie, New York Dolls, Wayne County GLAM! There was one event I was assigned to against my will, it was a jazz concert by the highly regarded Thad Jones/ Mel Lewis, I didn't know just how highly regarded they were until years later. I just didn't like jazz. So I wrote an article called "Now I Know How My Mother Feels(When I'm Blastin Black Sabbath from my bedroom). I described being at the show like being held against my will in a s & m club, I was SO proud of myself. Then I got a visit from a legendary bass player, head of the music department at college, the late Sonny Dallas. I thought he was going to take my head off! Then he actually complimented me as a writer, we chatted and at one point he asked me who I would most like to interview if I could, without missing a beat I said "Gloria Stavers", he looked at me puzzled, so I started to explain who she was and he said "Why her?" so I said because the stars may come and go but the star makers are always around! As it turned out that when Gloria wasn't hanging with pop royalty she would allow the jazz guys to come and jam in the basement of her NYC penthouse and Sonny was one of the guys! So Sonny did the impossible and got me into see Gloria Stavers. She had an unapproachable "Devil Wears Prada" kinda rep but when Sonny told her about me she agreed!
I showed up in NYC soaking wet from a rain storm, my friend Vini remaining in the car, my glasses held together with scotch tape and I think I bought out her maternal instincts and she took me under her wing and it just opened a million doors to me. "How did HE get to see Stavers, NO ONE gets to Stavers." I still can't believe it when I recall it. It was just uphill from there anything was possible. She sadly passed in the early eighties and is still greatly missed.
Wow what a chain of events. So the sadness of before had now been replaced with joy!
J . L ; As I began writing for publications and doors began opening for me, I realized that in some way I had become part of pop culture and more so than politics, pop culture steers and changes the world. Books, Movies, Plays, Hit songs and concept albums all change the world and while politics always seemed to want a sterilized colourless world, pop culture brought the rainbow, no more so then when Judy Garland clicked her cherry red heels. I was now in a position to help steer the ship out that way, to keep FABULOSITY in the world. The seventies brought Alice Cooper, Marc Bolan & T.Rex, Ziggy era Bowie, The Velvet Underground and the New York Dolls, I knew in which direction I would be steering, away from reactionary California/ earth shoe rock and back towards those ruby red shoes!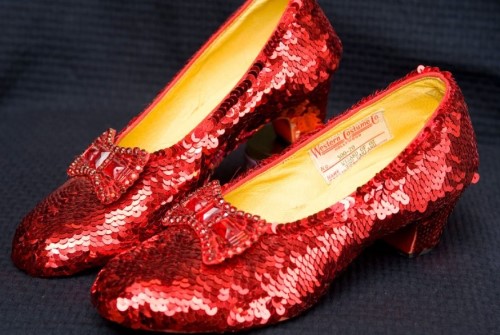 I had a taste of infinite faboulosity as a sixties kid, enamoured of Diana Ross. Embracing every inch of glitz and glam as she led her Supremes to number one record after number one record, despite being a woman and despite being black. Times were changing and I intended to be part of making that change continue, with the greatest weapon of all...POP CULTURE! In no time at all I charmed my way into hanging out at Tony Defries management company, MAINMAN, where the "queen" of glam David Bowie, was selling the world (well, actually MAINMAN was selling the world...).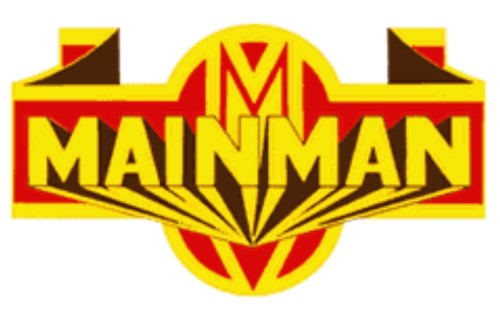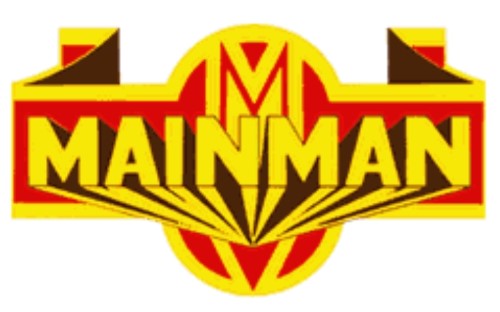 Angie Bowie, Cherry Vanilla, Tony Zanetta, Lee Black Childers, Jamie, Dory and Marilyn all welcomed me with open arms; I was now a Bowie boy. MAINMAN was also handling Lou Reed, Iggy Pop, Dana Gillespie and a drag rock creature named Wayne County who stole the show in the Warhol play, "PORK", it was that show in London that lit the fire for the Bowies when darling Angie dragged David to see it at the Roundhouse, and now much of the cast had been hired to help David conquer America. Then, one day MAINMAN sent me an invite to see a stage / music production downtown at The Westbeth Theatre called, "Wayne County At The Trucks". Once again my life was about to shift dramatically.
Wowie before we move on can you tell us the first time you went into those MAINMAN offices and what sights you saw as you walked in? I'm sure ANY glam fan would have loved to go in there, so please tell
J . L ; Well it was just an office with people at desks. There was no Andy Warhol Factory element to it, it was just a business. The excitement came from who the people were, what they were selling and where I hoped the MAINMAN ship would sail to. As well all know the MAINMAN ship went aground much too soon but it was fun while it lasted.
As an aside ever go to the Factory at all?
J . L ; No, I was a teenager on Long Island in 1969/1970. I was just getting out of high school at the height of the Factory madness. I was just finding my sea legs having returned to high school after quitting the year before. Plus by this time the factory has become more fashion oriented and less avant-garde.
O.k. back to MAINMAN..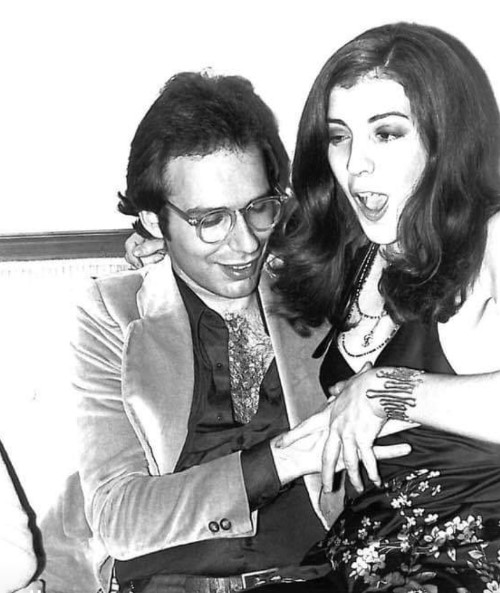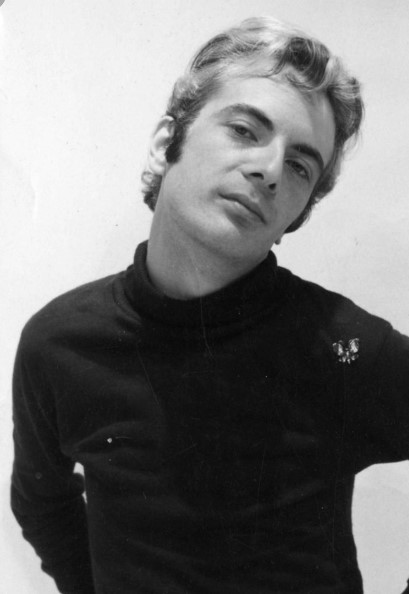 Tony Zanetta with Suzi Ronson and Lee Black Childers
J . L ; Making my way into the NYC offices of MAINMAN was an exciting moment for me. Nothing lavish, a typical business set up, but as I said the people who inhabited those offices, that was the story. As I sat and chatted with Pat Wadsley and discussed Bowie's difficulty in getting hit singles off the ground in America, Tony Zanetta (who was running the show) came in and sang my praises and then Lee Black Childers, who had become a star in his own right, walked up to the desk and told Pat that "Jim LaLumia is the only hip person living on Long Island" I was thunderstruck, then Jamie De Carlos was telling me all sorts of unsavoury and suggestive things... it was totally electrifying! Shortly there after I was invited to see "Wayne County At The Trucks" as MAINMAN had signed Wayne as an artist, having made a major dent in "Pork" alongside Childers, Zanetta and Cherry Vanilla. The show "At The Trucks" was being staged at The Westbeth Theatre downtown and would showcase County's over the top theatrics and scandalous rock 'n' roll songs. I dragged along two friends from Long Island and we sat in a row in front of Johnny Thunders and Sable Starr, all of NY's downtown rock royalty was in attendance. It was a mind altering experience!
No doubt Jimi all that decadence in one place. So now you were the cool kid what were your thoughts about it all the next day?
J . L ; The MAINMAN visit was one of the numerous things going on at the same time as I had been interviewing people for magazines and dipping into radio so I actually sort of took it for granted that I belonged there. Don't want to sound haughty about it but I was on a roller coaster by then after Gloria Stavers opened the flood gates for me, I was rather full of myself.
Totally as you would be, your childhood a memory and you were riding the crest of a wave that you created you were IN. So back to Wayne At Trucks..
J . L ; Wayne County At The Trucks was a product of theatre meets rock 'n' roll bowing towards County's star turn in Andy Warhol's Pork. The band was off to the side, with County centre stage and with each song the scenery changed and the outfits changed and this to my knowledge had never been done in rock 'n' roll before plus not to mention the triple x subject matter of County's songs; "Stick It In Me", "Wonder Woman" and a trans anthem in the making "Queenage Baby". I was thunderstruck by County's open embrace of her sexuality and it resonated with me like nothing ever had before. I wrote a vivid piece about Wayne in a college publication, with a picture of County and at the end of the piece I wrote "cut out this picture! Hang it on your wall! The world changes now!!!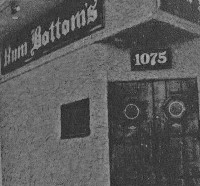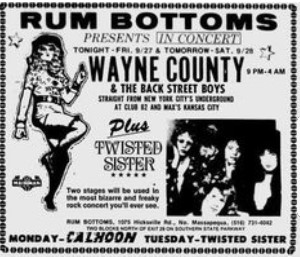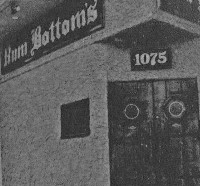 This was circa 1973 and a month or two later County played "Rum Bottoms" in Suffolk County (an early version of Twisted Sister was the opening act) and that night I met Jayne for the first time, as I walked into the dressing room, her first words were "I cut out the picture! I hung it on my wall!" I was again thunderstruck and from that moment on we were instant partners in crime and forty five years later we still are. I openly did publicity relentlessly and managed County on and of and on again, torn asunder by outside forces.
It was me in the nineties who pointed out how MAINMAN took the at the trucks concept and used it for Bowie's Diamond Dogs tour and not too mention the trans confusion of Rebel Rebel, which was written after Bowie got the demos (and listened to them) that Wayne had been working on while being signed to an unproductive contract / deal with MAINMAN. I pointed this out in the 90s and it has been re printed everywhere every since, it started with me as well as at the same time it was County who was the first of the "punk" acts to play CBGB in December 1973, months before Television played there in the spring of 1974. They claimed to have discovered the club but they discovered the club the same way everyone else did; when they saw the ad in the Village Voice in Dec 1973 that famous NY rocker was playing Hilly's on the bowery (CBGB).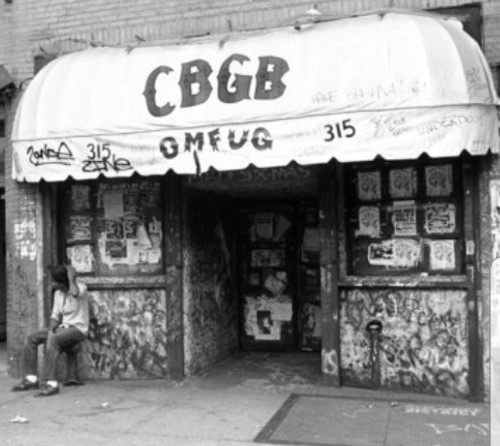 CBGB's in the day.
Now we hand the microphone over to Mr. J to tell a little more about his journey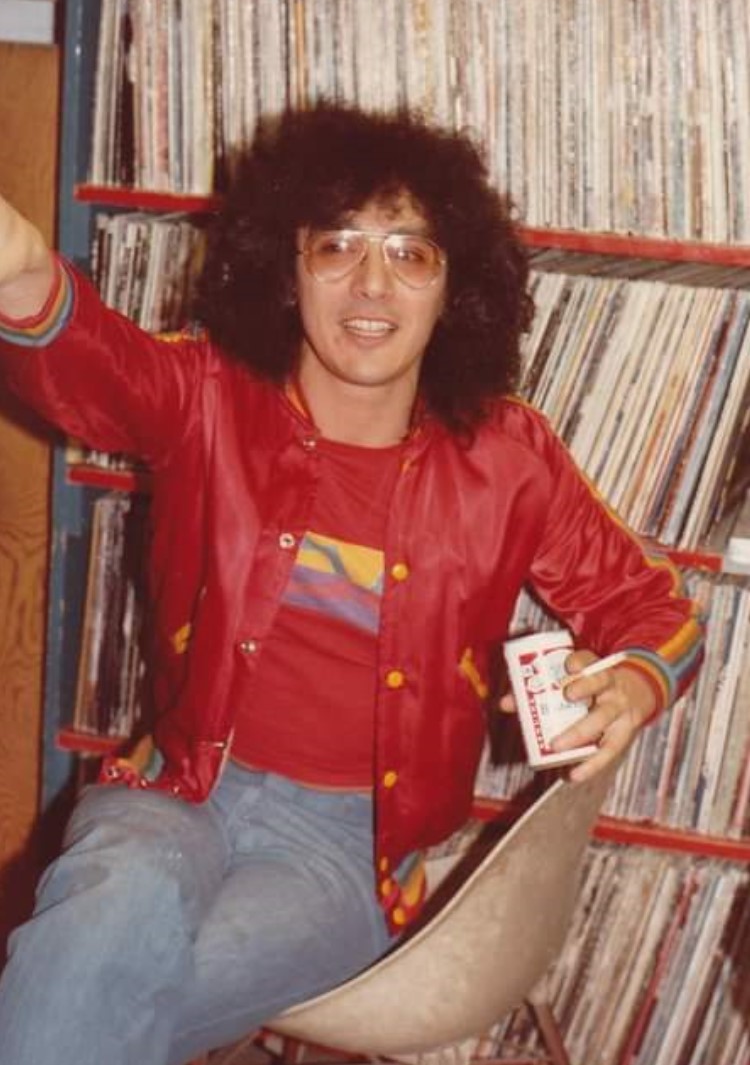 Jimi LaLumia ; As it turns out, Long Island had it's own rock and roll / pop culture newspaper called Action World and I contacted the publication to offer my services; my first feature was a cover story about "Greasers At The Commack Arena" disrupting music concerts at the venue, the Arena was the closest thing Long Island had to a Madison Square Garden venue, but it only held four thousand people unlike the close to twenty thousand the Garden could hold.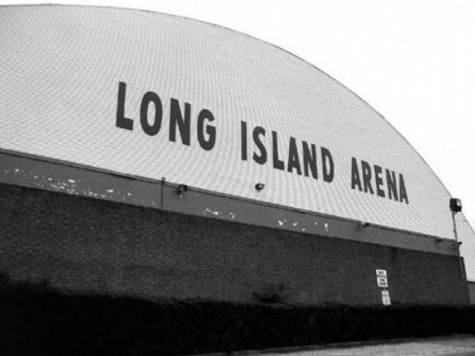 This was my first ever cover story and it got the attention of two men who managed to get my home phone number from Action World, they called me, complimented me on my writing style and offered me fifty dollars if I would write a letter of introduction for them, now, I was always low on cash anyway, so fifty dollars in 1969 was a lot of money to me. I wrote the letter, we met up a block from my house( for some reason) and I got my cash. It turns out that the guys were Larry Vaughn and Tony Ruffino, concert promoters and my letter got them the rights to promote shows at a brand new building in Hempstead, Long Island called The Nassau Coliseum, a venue the size of Madison Square Garden. I got fifty bucks and they got the Coliseum!!! I think they made out quite well with that deal I think!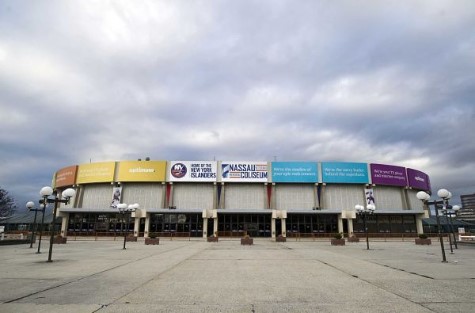 From that point on I continued to write for Action World, which soon became Good Times Magazine, which I continue to write for to this very day, with a regular column called Rhythm Tracking.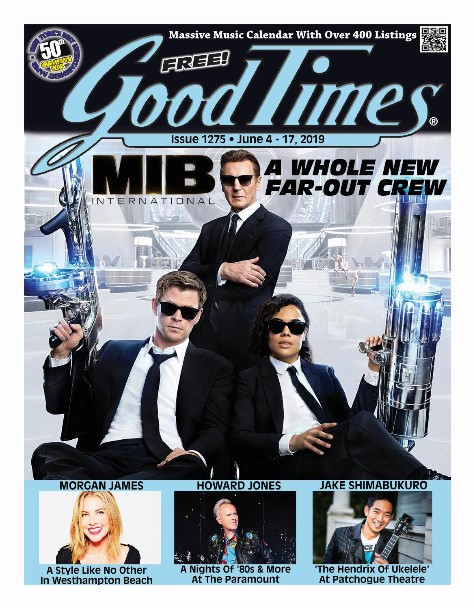 I've done features for Good Times including one of the very first cover interviews with Billy Joel in 1977 and co wrote a lot of the PUNK issue along side of my then editor, the soon to be famous Kurt Loder, who later became a fan / supporter of the Psychotic Frogs, but that's getting a little ahead of this timeline.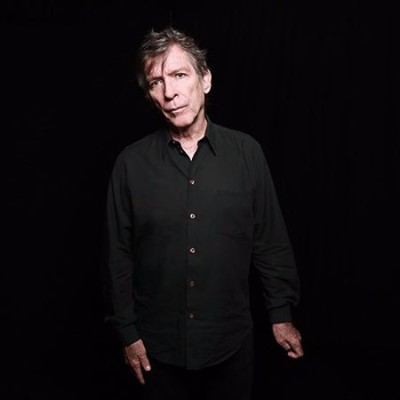 I had toyed with being a radio voice in high school on WSHR-FM at Sachem High School, I was kicked off the air for playing "The Beer Barrel polka" and dedicating it to Mr. Bebe as he looked like a beer barrel.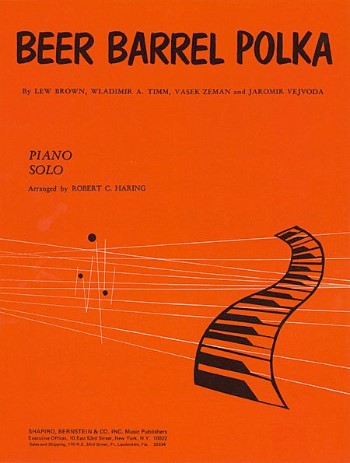 I was student DJ on WBAB-FM in my early teens and was dubbed "Captain Voice" by the engineer at the boards; years later I would become a guest on the Sunday night talk show. We sat with The Good Rats, James Nipo Antonucci and I did a Beatlefest episode as I became a mainstay emcee/panel moderator at that early version of the "cons".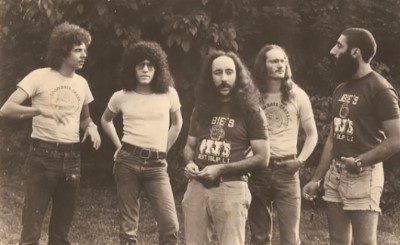 As I was now a writer for Long Island Publications, and doing radio, I soon landed on the mailing list of publicists Al Ross and Susan Munao; this resulted in invites to parties and shows, and deluxe treatment; limo service to interview The Osmonds in New Jersey, David Cassidy in Manhattan and Steve Katz of Blood Sweat and Tears in Dobbs Ferry. Also I arranged my own interviews with sixties radio idols of my own; Cousin Brucie (Morrow) of AM 77WABC and the last interview ever with the late, great Murray The K (Kaufman) "the fifth beatle".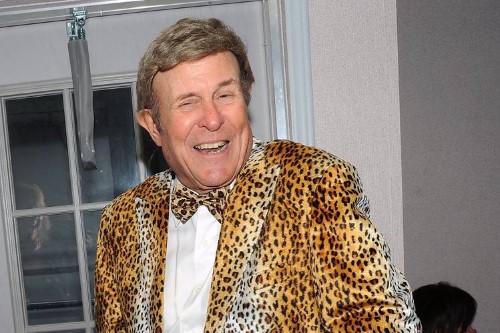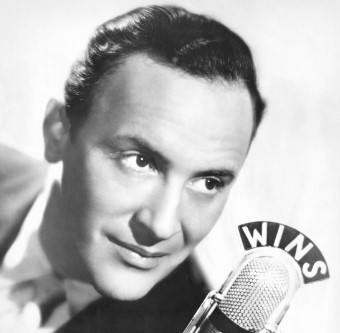 I brought Wayne, and then Jayne County to do one hour interviews; Cherry Vanilla and Leee Black Childers to talk about Bowie/ MainMan and a spectacular two hour sit down with Lou Reed to promote his then new album "Rock and Roll Heart". I also got a short lived segment on album rock WLIR FM doing "The Avant Garde Rock Report" ,they called themselves Avant Garde Rock Radio before shifting to "New Wave" in the eighties, the Dare To Be Different channel. I invented the music news / gossip sixty second segment on music radio; Mike Harrison who ran the station at the time, objected when I got political talking about the then current "Patton" films and told me "no more politics". Me, being me, I hung up in a rage and never came back, that was just one of times that my anger probably put a damper on a potential career in radio. Decades later Mike Harisson was a force behind talk radio of a conservative political bent, Rush Limbaugh and all those types. Ironic isn't it, but I was Mike's first political voice, before he wanted one!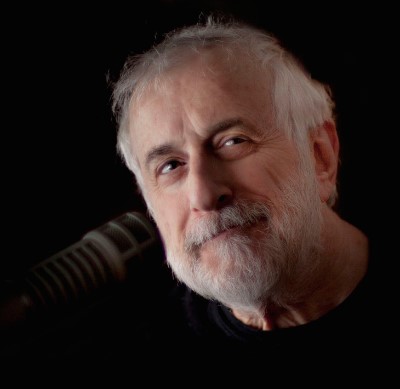 During this period I also became a player in the glam rock radio wars. As a fan of Bowie/MainMan, T.rex, Slade and all the rest of the stars dominating the UK singles charts. I noticed the less than welcoming welcome they received at U.S radio. One hit for each and then, goodbye. For Bowie, it was "Space Oddity", for T.Rex "Get It On/Bang A Gong" for The Sweet it was "Little Willy" and for Gary Glitter it was "Rock n Roll Part Two" and the follow ups ran into closed doors as they attempted to climb the charts.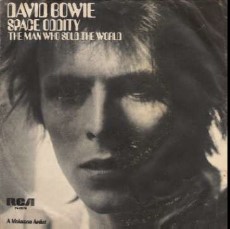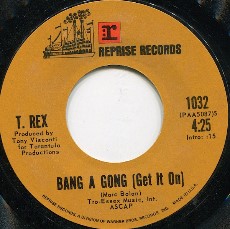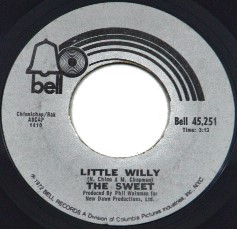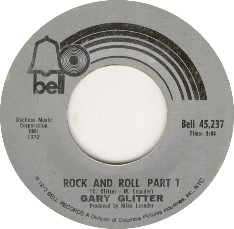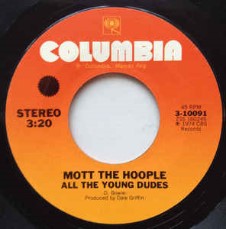 Mott The Hoople couldn't even get New York Top forty airplay with the anthem "All The Young Dudes", so I decided to dig a little deeper into the reasons why.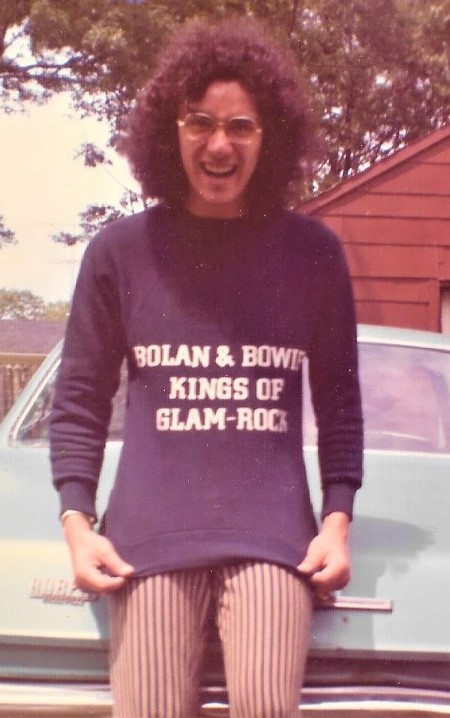 I found out that radio in America thought then, glam rock was an attempt to turn the youth of America gay, as if someone who was attracted to the opposite sex would "change" due to a song or a visual, if only!! Young gay men in America in the fifties grew up surrounded by hetro influences in songs, movies, books, TV shows and public life and all that media brainwashing did nothing to deter their God given intentions.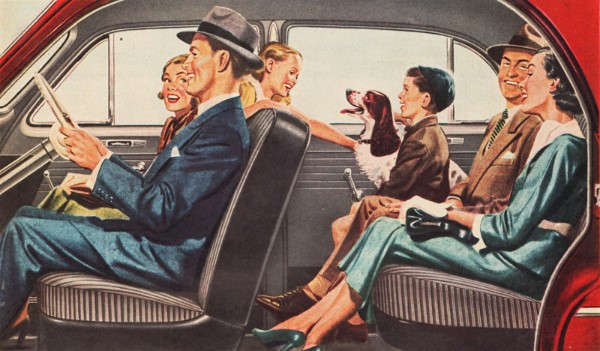 I went to war in print and otherwise with radio and many of the homophobic rock writers like Bob Christgau and my sometimes friend the late Lester Bangs but to no avail;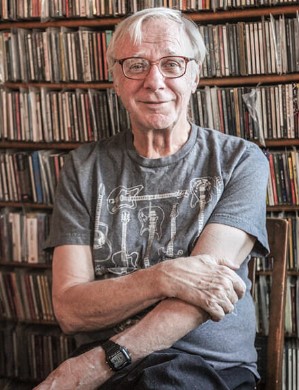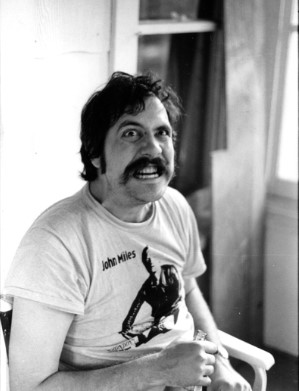 the dark forces won and America was denied the classic tunes of Slade, The Sweet, T.Rex, glitter era Bowie, Sparks, Suzi Quatro, Roxy Music, Mud and all the rest, radio was the domain of FM hard rock and southern hillbilly roll whilst AM Top forty hit radio became an easy listening nightmare of John Denver, Helen Reddy "You Light Up My Life" and a new phenom called Disco!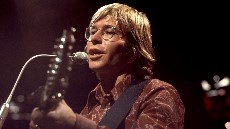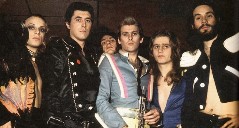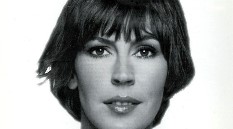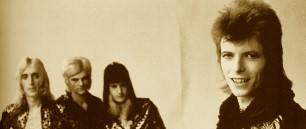 Outraged, I decided to do something about it, little did I know that my outrage at it all would lead to a decades spanning recording career and a "cult" following of my own.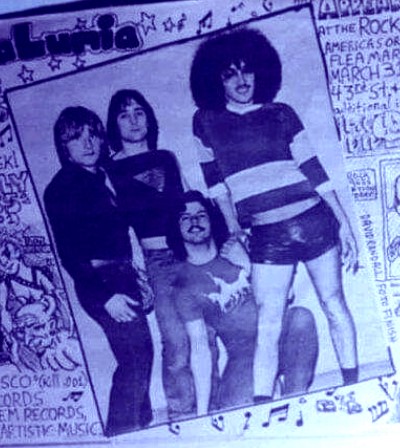 interview conducted oct/nov 2018 and ongoing.
Photogaphs courtesy of Jimi LaLumia , Tony Zanetta and suits and the platform boots.
c.suitsandtheplatformboots.com 2019