Welcome back one and all to the world of GYASI. Now that ep (Peacock Fantasies) was excellent and the Teacher vinyl single was a joy but, now we have the first full length album by the man, the myth and the soon to be legend and it is out of this world!!!! It is out right now so what better time to catch back up with the main man and get the inside story on the record and much more.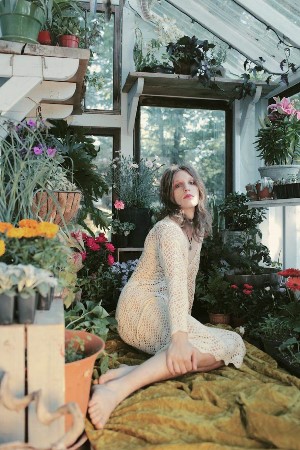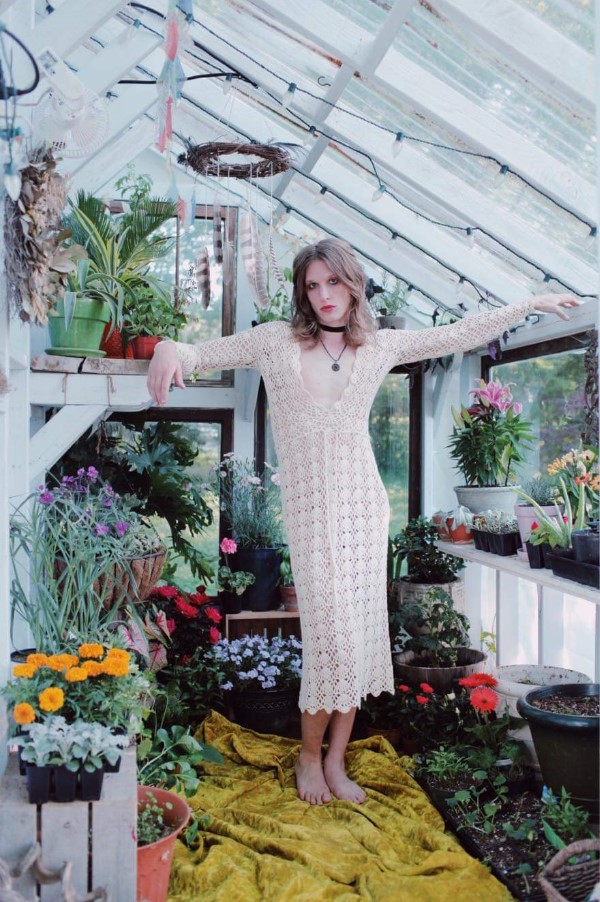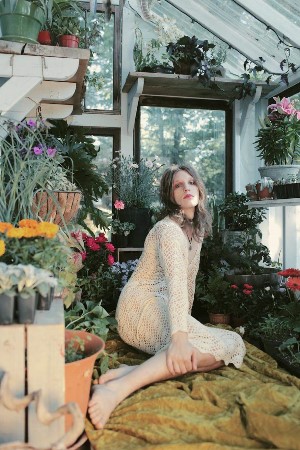 Welcome back Gyasi, a pleasure to have you back and not only that you have brought a killer full length album with you, but more of that later. So fill us in on what happened after the last time we spoke, the Teacher single was about to be released and more shows were planned, so can you bring us up to date there and then we can go track by track with your new record.
Gyasi Heus ; Hey Darren, pleasure to talk to you again! So after we last spoke and the Teacher single came out, I began writing a lot of new material and was thinking I might go and record all of the new stuff for my first release. I still had a whole batch of songs that were largely part of the sessions that birthed Teacher and some songs from the ep (Peacock Fantatises) that I was considering just not releasing. So I began writing new stuff but it just felt like it wouldn't have made sense if I didn't release all the stuff from before, plus those were the songs we had been playing live at shows. So I went through all the material and began final mixing and overdubbing the songs and putting them together as an album. In the meantime I went into Blackbird Studio here in Nashville and cut my next record with the new songs I'd been writing in four days. It's in the overdub / mixing stage now and the plan is for a release by the end of the year for that one. Once that record is mixed we'll be booking a lot of shows for the rest of the year and next spring so keep an eye out!
Awesome news man this record and another due later in the year! It seems like the seventies again when bands did put two albums out a year or if not that an album and lots of different b sides and such, so good on ya for getting your music out there people need to hear it! O.k. so before we get to the tracks on ANDROGYNE, did you use ALL the tracks you had left over or did you cherry pick from the whole batch? I say this because as I loved the ep (peacock fantasies) it had lots of different vibes on there where as ANDROGYNE has all the light and shade a killer album should have but I think it's a very much more cohesive release, do you think this too?
G . H ; Yeah I do feel that. There was definitely more thought to the flow of ANDROGYNE as an album. Initially Teacher and All Messed Up from the ep were meant to be part of the full length album but when I decided to put out the ep first, I took those two and then added four that were newer tracks to showcase the range I could do more than to necessarily make a cohesive statement. The full length was more cherry picking and building a track list that felt cohesive and had a flow from song to song. I write all the time and my songs can end up very different so it can be definitely be a challenge for me to make all the things I do fit together. I suppose I'd rather have that problem than the opposite problem where everything sounds the same. I will say that even though the album fells pretty cohesive the songs are not all from the same batch. Usually I'll write a whole album of songs in one go (a few days to a week), but this album was done over such a period of time that it represents about four different creative periods, and I basically just picked whatever tracks from those periods fitted the best together. We've also played quite a bit live which has helped me figure what songs worked the best and where they fit next to other songs.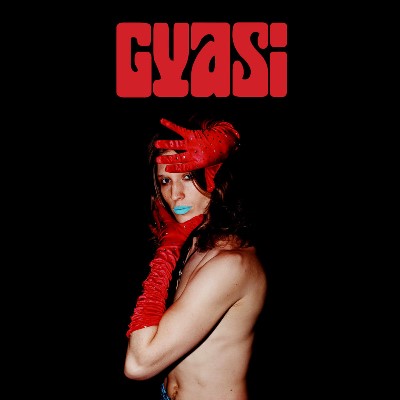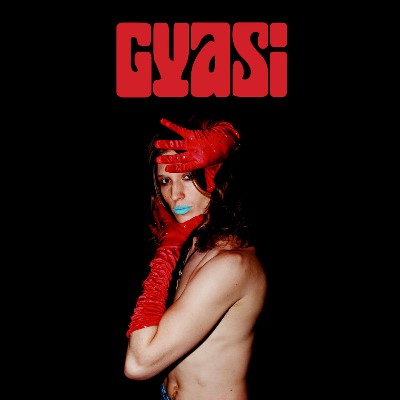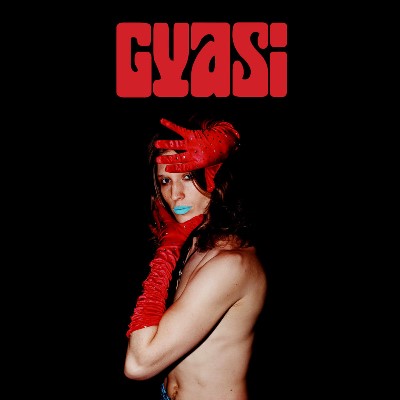 O.k. right on. So all this talk of the new record, lets get down to the track by track. First up is Intro / Colourful, "if you can't hide it hang bells on it baby!" is a war cry to warn the listeners to leave their hang ups at the door and then head first into Colourful, which could be the future anthem for glam rock what with is driving beat and clear statement in the lyrics, so tell us about this one?
G . H ; That tune wasn't initially on the record. About a month ago I had the album finished and even sent it off to mastering and when I got the masters back and listened through, I felt like it needed a different opening song. Something with a lot of energy. I started looking through some old material and came across a jam from a recording session with my friend Gaelen Mitchell playing drums that had a lot of energy but no lyrics and no real song form. I basically took the skeleton and wrote the song around it and re-tracked the guitars and bass in two days, so that's certainly the newest song on the record. As for the lyrics, the music had this energy and attitude to it that I felt it needed powerful and different lyrics that were making a statement, and as such setting a tone for much of the record.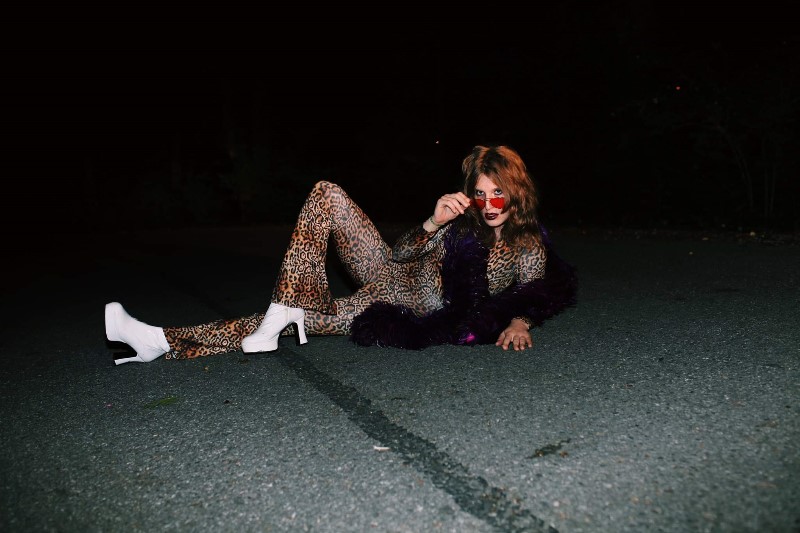 Yes it does set the tone for the records and the next track puts an exclamation point to that. Androgyne first saw the light of day on the Teacher single (for a chance to win a signed copy, please read on..) so what changed with the track to make it the title track of the record? It is a killer track and did you think it's just too good just to leave as a b side?
G . H ; Yeah I wasn't planning on putting it on the record initially let alone it being the title track but as I was building the track list it just felt like a part of it. I tried leaving it off but it made the album feel incomplete to me. I do like having exclusive b sides that aren't on any album, so for the next seven inch there will definitely be a proper b side on it.
OH! So another single is in the works? Will that be from the album with an exclusive b side or two brand new tracks?
G . H ; That would be two new tracks. It's not in the works yet but I'm planning it
NICE! The more music from you the better for us! Back to Androgyne, next up is Young Love. You start the album with "if you can't hide it hang bells on it baby", which is a great slogan and talking of that, when you are influenced by someone or something, you aim high and here it's Zeppelin, so tell us about this one
G . H ; This one just came out of a jam one day. It was actually part of our live set before we even recorded it. It was definitely a subconscious Zeppelin influence when we first jammed it as it all came together without any forethought. Good little simple rocker. I really like the energy of the recording for that one. We did that completely live in one take except the vocals and it really feels alive to me.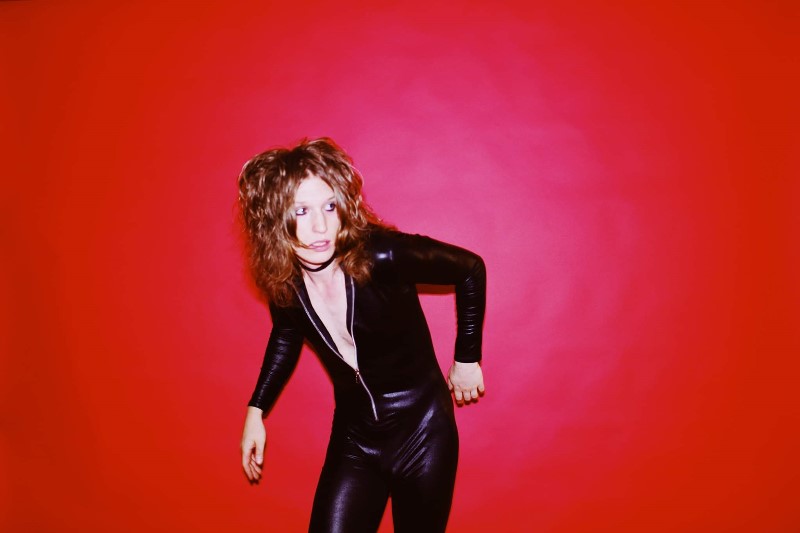 Yes it does it has a real quality sound to it but also a free flowing quality too, great one. Next up is the teaser single for the record, Tongue Tied. I love the seventies drum patterns and also its almost late night sleazy vibe. The video for it is excellent too, dark and sultry and has you cast as an almost glam James Bond character. How did the song and in turn the video come together?
G . H ; That song is an older one I did in the initial sessions for the album. I remember having the idea for the beat first and then getting the riff. It initially had different words that weren't that strong and I re wrote it into Tongue Tied. The video for it was done super fast. I think we did it all in under two hours. Brynn Route, who dances in it, was in town from LA for a performance in Nashville and my girlfriend knows her and was able to get her to be in it. She was great. I wanted her to be kind of like a snake. It was shot by Roger Pistole, who's an amazing cinematographer. He worked super fast so we just improvised through it and he captured a bunch of great moments.
Yes very stylized and very cool. Blackstrap is up next and another video, I like the late night vibe to this song kinda like the Velvets jamming with Bolan, and the video adds to that vibe. Glam should be fun but also there has to be a sense of danger and cool with it also, which the song and video has in spades
G . H ; Blackstrap was done pretty early in the recording process. That one came together pretty fast. I really like the guitar solos on that one. There's a lot of energy there. I wasn't really planning on doing a video for it, but my girlfriend was insistent on doing something. When we were done shooting the video for Nightcrawl, she had me shoot her just playing around to the song with various black straps. It has a very dark sexy thing about it but also playfulness. We shot it and edited it very quickly to have more visual content to put out.
Yes cool, in this age of information overload one can't have enough material out there so good thinking on that. Next up a little Bolan vibe but mainly Wilde Childe is a great almost psychedelic rave up. How did this one come together and is it about a particular Wilde Childe at all?
G . H ; It actually is kind of based off a particular wild child, There's a member of the band The Black Lips named Zumi Rosow, who has become a muse and model for Gucci in the last year for her fashion and lifestyle, and when I was writing this song I came across and interview with her and found her an inspiring character. She just had a rebelliousness and just an energy that I liked based on the photos and the interview and I felt she had similarity with other characters I had met who were pursing their unique identity. What's interesting is that I had decided to call the song wild child and in the interview with her, at the very end, she called herself a wild child and so I knew I was onto something.
Next up Bring Your Love. Killer riff and killer solo and a great groove, what's the inspiration here?
G . H ; That's a riff I came up with while I was producing record for a songwriter friend from LA who was visiting my studio in West Virginia in 2017. We were taking a lunch break and the band had left and I was jamming on the guitar alone in the studio and since all the mics and everything was set up I recorded the whole acoustic guitar part and the drums right then and there before they were back. Then I went back the next day and finished the bass and electric guitars very quickly. I think I only did two passes on the guitar solo. It was all done on tape. It was about a year later when I was beginning to put a song list together for the album that I decided to finish the idea and wrote lyrics and melody to it. I wanted to be routed in being an acoustic song but still heavy with a lot of energy
Yes nice track. Next up is Nightcrawl, the video is out also, my view on this is a wayward soul who is endlessly looking for something they just can't get? Also nice keyboard work on this track and a simple but striking video to go along with it, tell us about the inspiration and in turn the execution of that inspiration
G . H ; Nightcrawl was very free form lyrically. I just kind of went where the music was going and didn't really stop to analyse it. It was really just capturing a mood, but yes there is definitely a character there going through some things. The video was very spontaneous as well. The dance sequence was shot in two takes with my girlfriend's daughter, who is a great intuitive dancer, and once I saw the footage I knew that was the video. I had a lot of different concepts for it and planned on shooting more, but once I saw it I realized adding more would take away from her performance.
Yes simple but oh so effective. Next up is one of my favourites on the album Kiss Kiss. This is, I think I'm right, an older track yes? This is foot to the floor glam rock which hints at many artists, but you tell us your take on this track
G . H ; Yeah it was done during some of the first sessions. It's been a live staple for a while. It's one of my favourites as well. I remember coming up with the chords and really liking the feel of it. I was in NYC a month before so I was still buzzing with some of that New York energy and that's what I was really trying to capture in the lyrics.
Yes I totally can hear that and as I say a great, great song that ends the rock of the album off perfectly, then onto the real closer Little Tramp. Love the imagery that goes along with this, it kinds reminds me of something from the first Leo Sayer album. Nice melancholy type ending to the record, this is a more recent song yes?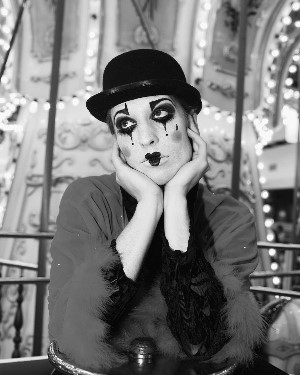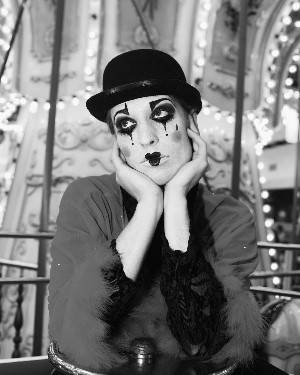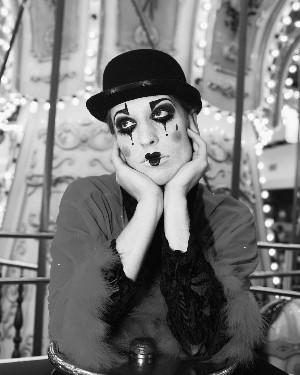 G . H ; Actually it's the oldest song on the record, at least in terms of origins. I wrote the first version with an old band I had but never recorded it. I kind of re wrote it a bit when I recorded it but that one's been around since 2014 or so. I took a different approach to writing it than I usually do because I actually imagined it as a painting first and then sort of painted it out into the song. I've always been a huge Charlie Chaplin fan and wanted to write a song about him, It ended up being quite psychedelic and I though it would be an interesting closing song for the record.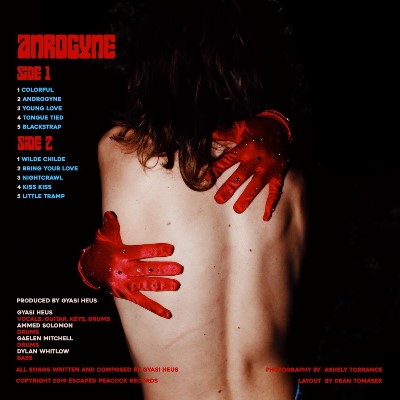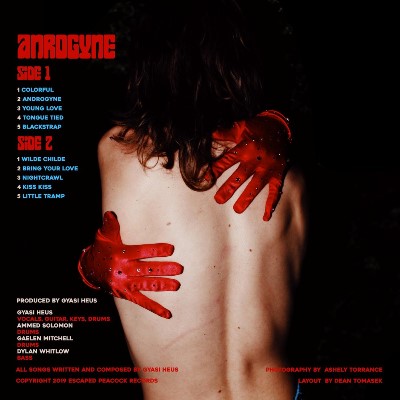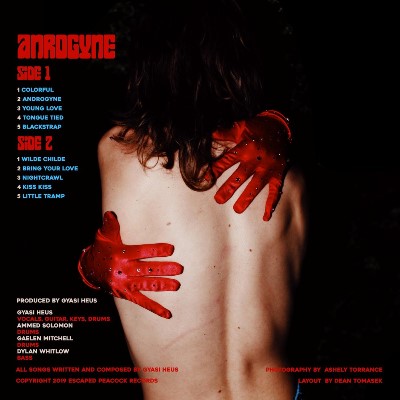 OH nice! Glam always borrows from ages gone by, so to find a voice for Chaplin was a very cool move and also an excellent ending to the album, i.e. a slow thoughtful song in the same vein as Sea Diver on All The Young Dudes, Goodnight Ladies from Transformer or indeed Rock N Roll Suicide from Ziggy. Ok that's the album all wrapped up for everyone, so I have seen some reviews all good, so how have you found the initial response?
G . H ; It's been good, I decided to just drop it out without much publicity this time so the response has been a bit slower but more organic than the EP but still all very positive. There seems to be quite a few people in the UK and all over Europe who are really picking up on it, which I think is great. We really want to get over there for a tour when it logistically makes sense. Rodney Bingenheimer in LA has been playing the record very week on his show, which is a thrill. He's THE D.J for glam rock, at least in America, kind of how John Peel was for Britain. I mean he helped Bowie ink his deal with RCA in '71. So it's quite an honour for him to be playing the record and supporting us.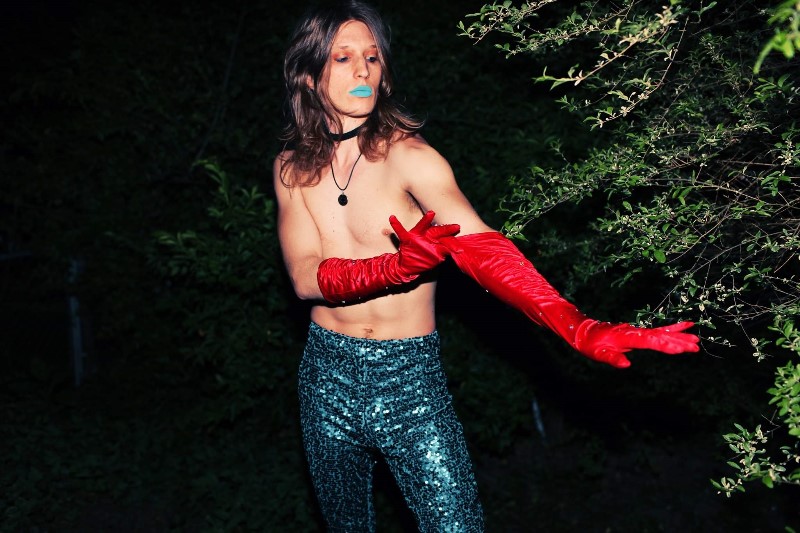 Excellent, like many American bands and artists before you, England and Europe do take to them much quicker, much like Alice Cooper. Hopefully we here at suitsandtheplatfromboots.com have had a part to play in spreading the news, let's face it that's our "job"! Yes, Rodney is the man, he was there at the start and has continued to champion cool music ever since so yes you are in esteemed company for sure. A tour would be great we will be waiting for the news! O.k. so what's next in Gyasi's world, any more blues music?
G . H ; You certainly played a part in spreading the word and I'm very grateful for your support! Yes more shows coming, mostly in November. Right now I'm finishing up some overdubs for the next record and plotting that release. We wanted to get it out before the end of the year but it looks like it'll be better to wait 'till early spring, probably February, and we'll be booking a tour around it. I have some solo blues gigs in December in Mississippi but that's it for those at the moment. I have some all blues CDs that I sell at those shows but I haven't made them available to order. Perhaps I will in the future.
Kind words indeed thank you, great music needs to be heard. New album in Spring and a tour let's hope the rest of the world can see what Gyasi has to offer, exciting times. But there is a whole world that hasn't heard Androgyne yet so let's get everyone on board and I can feel 2020 is going to be Gyasi's year, of that I have NO doubt. Thanks again for joining us and continued good luck and let's catch up again next time around. Be well keep keeping on.
G . H ; Thanks so much Darren! Cheers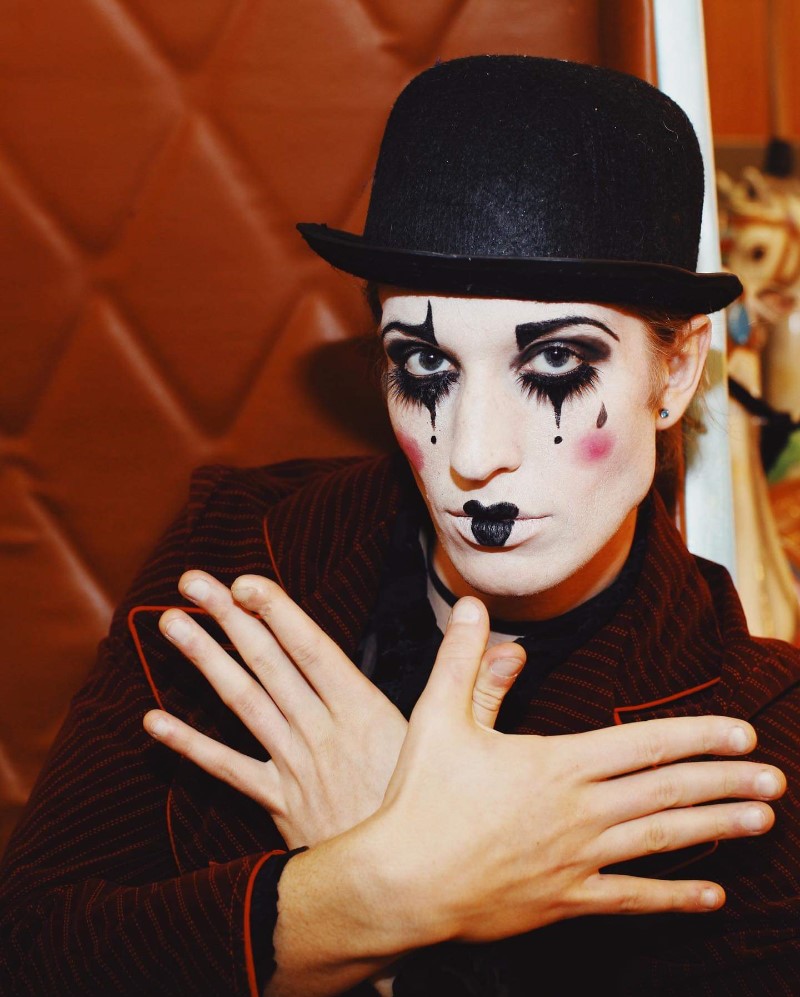 INTERVIEW CONDUCTED AUGUST/SEPTEMBER 2019
PHOTOGRAPHS COURTESY OF GYASI.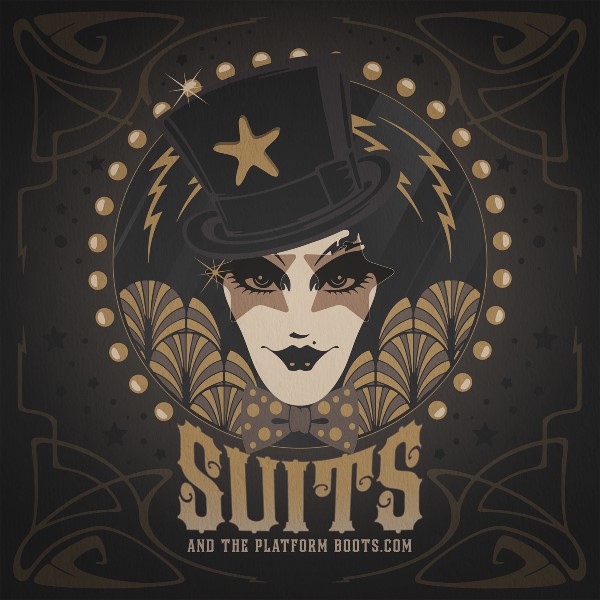 c.suitsandtheplatformboots.com 2019