On "Glam you may knowor may not " we aim to root out some undiscovered (to some) gems in the glam rock world , past , present and future! Maybe some of us know about them or maybe some have just forgotten their greatness , but either way hereon this page is were we can find some diamonds in the rough.
PANDORA "SPACE AMAZON"
Here we have "Space Amazon" by Pandora . A hard glam rocking classic! The band features members Martin John Butler (Guitars) , Frank LaRocca (later played for Tom Petty , Bryan Adams , John Waite , David Johansen Band) (Drums) , Buzzy Verno (later played for David Johansen Band & Cherry Vanilla) (Bass) and Rick Prince (later worked with Plum Nelly and Mick Jones of Foreigner) (Vocals).They were all from NYC and played the major clubs there in the early 70's. They recorded a demo in a Cleveland Ohio loft by a cat from a band called "Granicus" and it stayed unreleased . However in 1997 Arf ! Arf ! records released a CD of that demo recording.
But back to the music , which is what it is all about really , it is rocking to say the least. Lots of influences on the record , like a new York club Roxy Music crossed with the rockier moments of Led Zeppelin all with a splash of the glitter attitude of the time , "King Queen" indeed. The drums sound particularly awesome , the vocals are screaming and yelping and the crunch of the guitars cuts through and makes this a hard rocking glam release that is a must in any glam fiends collection. News is abound that a vinyl release is due on "Got Kinda Lost" records and a documentary is in the works. However the CD is easily available just go to the usual on line sites and whilst you wait for your CD or wait for that vinyl issue just search "Space Amazon" on You tube. Try before you buy indeed!
PINK GREASE
The Sheffield based Glam punk electronic explosion!
left to right Steve Santa Cruz (Guitar , Vocals) , Marc Hoad (Drums) , Rory Lewarne (Lead Vocals) , Nicholas Collier (Machines , Inventions ) , Stuart Faulkner (Bass) and John Joseph Lynch (Guitar , Sax , Synth and Vocal).
This Sheffield six piece were a riot of Glam , Punk , New Wave and well just about anything else on offer really. Plus they toured in a pink double decker bus! Really what is not to like?
The band released three early singles and the mini lp "All Over You" , but it wasn't until they got in the studio with producer Steve Lironi that the melting pot all came together. The songs and dynamite performances were set to tape and then we had "This Is For Real" in our hands!
above "This Is For Real" 2004 vinyl pressing with limited poster insert.
The record is a full of attitude and most importantly great music. Stand out tracks are "Remember Forever" , "The Pink G.R.E.A.S.E" and "Fever". The record just drips attitude , conviction and yeah glamour!
The "Fever" 7" uk only issue.
There are a few video's on YouTube to check them out , but , for me it was the music that clinched it. After the release of "This Is For Real" the band issue "Strip" (a non lp track) as a single which charted in the U.K at number 36!
above "Strip" U.K Picture disc and CD
and then "Peaches" (which was a lp track) which charted at number 44!
"Peaches" U.K 7" picture disc
The band seemed on fire at this point and looked like going upward and onward , but time was not on their side.
They did issue a further 3 singles ("Ordinary Girl" , "Alien" and "Carlights") from a promised forthcoming album but this never was released, but you can find copies if you search , it is titled "Mechanical Heart". Indeed read on to see how to grab a copy. "Mechanical Heart" had its moments (which I must revisit) but it doesn't have the chaotic joy that "This Is For Real" has.
Their vinyl and cd output is readily available , just go to the usual on line sites and go discover some attitude drenched glamorous music!
Also a film was made by "Sheffield Vision". Filmed between 2003 and 2007 it followed the band onstage and off and everything else in between click here to buy! Not only do you get the film but you also get a free copy of the "lost" "Mechanical Heart" cd.
Welcome to the world of Pink Grease!
To see what Rory is doing now with White Witches click here !
THE YOUNG OFFENDERS
London based with Cork roots they looked set to set the indie world alight!
Above left to right ; Steve Hackett (Bass) , Ciaran MacFeely (Vocals) , Ian Hurley (Guitars) and Brian Dunlea (Drums)
Starting out with roots in Cork , Ireland they then became a London based band and were together from 1996 to 1998.
They inked a major deal with Columbia Records and released 3 singles in this period.
The first was "That's Why We Lose Control"
Above red vinyl 7" and Promo only black vinyl 7"
followed by the glam classic "Pink and Blue"
Above Pink and Blue 7" vinyl , stock cd single , insert and outer sleeve of promo copy.
and then lastly "Science Fiction" e.p
Above 10" vinyl with sticker and insert and signed promo cd.
They toured pretty extensively including the festivals , Glastonbury , T in the park and Reading and received some great press and hype.
Above some typical MM press
They did record a full length lp called "Once Upon A Time In The 90's" that was never issued at the time and they quickly became disillusioned with the whole music biz and split.
Not all is lost though , as only just recently some kind soul put a video on YouTube of the whole album! Click here to view the video on YouTube .
I am sure you will agree with me if you give them a listen they were a breath of fresh air in the acrid air of lad culture and Oasis nonsense.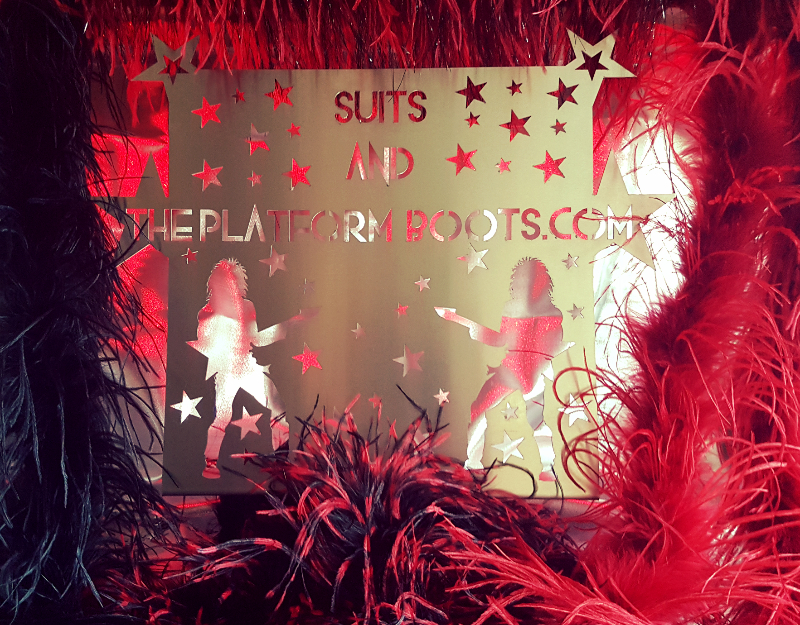 c.suitsandtheplatformboots.com 2018
"RAGS"
New York city rock 'n' roll!
These cats are AWESOME! They were around at the same time as the New York Dolls and KISS (Indeed they supported both of those acts) and they rocked New York (Max's Kansas City , The Coventry etc..) the U.K. way.
Super influenced by the UK bands ( the Rolling stones plus many others ) they rocked their feather cuts around New York and then some. Not much is known about them apart from them being a 5 piece band , but it is the music that does the talking. Just great New York Dolls , Rolling Stones influenced rock n roll , rock and Rags if you will. They did record 8 demo tracks that stayed unreleased until 2006 when PRT released a CD of those recordings.
Later the band striped down to a 4 piece and went into a more Power Pop direction and they did release a single at that time 1975 on Beaver Records in a picture sleeve in which it showed them looking a little less rock n roll .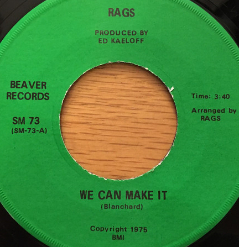 Above the self released "We Can Make It" / "Scrambled Eggs"
But as good as the power pop was it is the early music that trips our trigger here , track down the cd at the usual on line sites if ya can it ain't that easy to find but very worthwhile! Also find some uploaded tracks on You tube for a small taster of what is on offer and I bet that will leave you wanting more!
STAR STAR
Clockwise from top left; Weeds (Bass) , Jay Hening (Guitars) , Johnnie Holliday (Vocals) and Deon Molyneux (Drums).
Imagine if you will "the Rocky Horror Picture Show" with less show tunes and more rock n' roll , welcome to Star Star.
Having started life in LA and playing around for a year or so with a girl singer and slightly different line up , in fact they did record an lp "Go Go Girls In Love" but that line up fell apart , so the main core of the group ( Johnnie & Weeds) deciced to return to NYC and that's when things started happening.
Vocalist and front Star Star Johnnie Holliday
Solidifying their line up to the one you see above , the band really hit their stride and honed their influences and style into what can be heard on the AWESOME "The Love Drags Years" lp.
The record was promoted well and indeed they did shoot a video for "Science Fiction Boy" (click here to view on you tube) introduced by non other than Michael Monroe ( Who Jay played with briefly in Demolition 23 after the demise of Star Star)!
But the climate for fun rock n roll was gone and indeed the band split and now only two members are still with us (Jay and Deon succumbing to the usual pit falls of rock n roll , sadly) So Johnnie and Weeds do play from time to time still although nothing has been seen that recently , which to be honest , is a shame because this band really did rock out in the best trashy and glam way. Don't believe me? Then go to the bands website (click here for the site) and grab the download of "Love Drag Years" for FREE! It also has the 2 extra tracks that were not on the album to begin with , although one track "Whore Whore" was on the 12" version of the "Science Fiction Boy" single and the other track is "Break On Through" a "live" version of The Doors tune.
But if you want the real thing just check the usual on line sites as their output is still easy to find which for me can only be a good thing!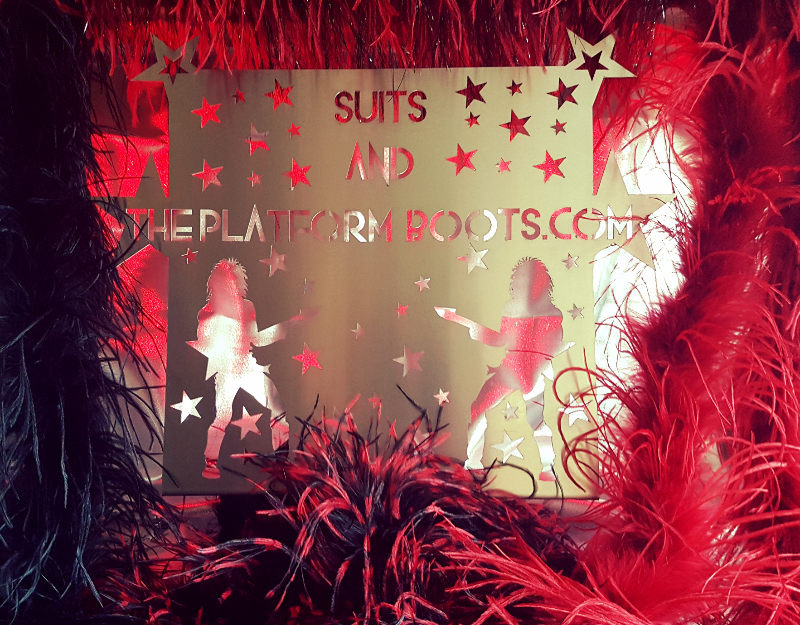 c.suitsandtheplatformboots.com 2018